A BAPTIST Church Pennsylvania is wriggling on the hook this week in an attempt to explain away the sexism that led to a parishioner being disqualified from joining a fishing trip.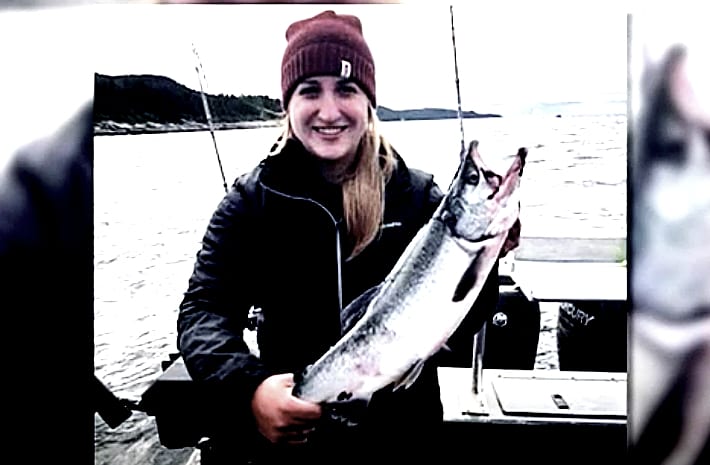 Trouble began after Bethel Baptist Church in North Union Township, Fayette County, held a raffle at the weekend for various prizes, including a fishing trip. Keen on fishing and hunting, Emily Smaniotto, above put her name forward, as did another woman whose name was drawn first.
Said Smaniotto:
She was the first name to be called. As soon as they called her name the pastor immediately shut her down. He said, 'Absolutely not. This is a male-only trip. Females are unable to attend so we're just gonna keep drawing names until we get a male.'

So, surprisingly enough my name was the second one to be drawn and I got the same letdown. They pretty much scolded us for being female.
Women are a temptation to men who can't control their tackle
In a statement, Bethel Baptist Church Rev Bryan Kelley explained that the person who donated the prize stipulated that only men were qualified to enter the draw.
Living in the days of sexual scandals and accusations many pastors including myself, take the personal position that we will not put ourselves in a position that could bring about a false accusation and thus bring a multitude of problems, hence why he personally offered them for men only.

It was a matter of personal standards and protection and there was no intent of discrimination. So when the cards for those particular prizes were collected, it was once again announced that the stipulation on behalf of the donor was for men only.

Unfortunately, at least two ladies, for whatever reason, put their cards in that container although the stipulations were given twice and their names were drawn and declined because of the stipulations that were announced.
He added:
I learned yesterday that the young lady was offended and tried reaching out to her dad today, who has always done the communicating for the event, unfortunately, there was no answer. I would like to sit and talk with them both to express a sincere apology and to assure her it was a lack of communication on our part to explain all the information more clearly and a lesson learned to think things through more clearly so we do not make the same mistake again.

I spoke with the gentleman that offered the prize and he is more than willing to arrange a time for her and her dad to go out together and fish together.

The church highly respects all women and would by no means do anything intentional to make one feel they were discriminated against and once again express our deepest apologies to the young lady and will exercise greater caution moving forward.
Smaniotto hit back:
I absolutely will not partake in any fishing trips with anyone from that church. I was denied once and don't want a pity prize. I want equal rights …

They're implying that women will always accuse them of sexual scandals. If they were afraid of this, maybe they should have made it a rule that more than one woman has to attend the trip, to even the numbers so to speak, to prevent this, but they didn't.

They strictly kept it to only men and that was their 'personal choice.' It was not even an option to discuss the trip details if a female would have won. I would do anything possible to attend a trip like this. It was very very wrong. I'm sorry I had to sit through that.
Mosque misogyny
Meanwhile, it was reported this week that the Annandale Mosque in Edinburgh, Scotland, has been hit with a lawsuit that alleges that seven men at mosque sought to remove an unnamed woman of her duties which involved regulating entry for prayers during COVID-19 restrictions in August and September last year.
In one instance when she turned up to fulfill her duties, she claims to have been told by one man that government instructions stated that:
Women were not yet allowed in mosques.
Defendants in the claim are all members of the Pakistan Association Edinburgh and East of Scotland (PAEE) which established the Annandale Mosque and Community Centre (AMCC) as a charity in July 2020.
The woman worked there as a volunteer. Her lawsuit, demanding £27,000, claims the "unlawfully discriminated against" her and did so:
To exclude her from the Annandale Mosque because she is a woman.
The lawsuit alleges that one of the men wrote to the mosque convener at the time to say:
Also please refrain from sending your secretary … to the mosque on Fridays. She has no right to interfere with our work in the mosque.
On one occasion when she came to the mosque she found two other men sitting at her desk. She claims one suggested that if she sat between them she would be breaching the two metre social distancing rules.
The lawsuit states that the defendants' conduct was part of a campaign of discrimination and sexual harassment.
It says the woman has suffered "embarrassment, anxiety and upset" as a result of the men's actions, that she found it "hostile and daunting" and that the effect of this has been to injure her feelings to a substantial degree.
The lawsuit also says that the woman had sought to resolve her dispute with the defendants and claims that they refused or delayed to engage in that process, resulting in her civil action.
The PAEE declined to comment on the case.
Hat tip: Robert Stovold
• Please report any typos/errors to barry@freethinker.co.uk
If you'd like to buy me a cup of coffee – and boy, do I get through a LOT of coffee keeping this site active – please click the link below.
I'd love a cup of coffee