THE former President of the Virginia-based Christian university is accused in a the lawsuit of a breach of contract and a conspiracy to mislead the university's board.
According to Religion News Service, Falwell Jr, above, resigned as Liberty's president in August 2020 after years of controversy over his support of Trump and allegations of misconduct.
A complaint in the lawsuit claims Falwell "fashioned a deceitful scheme to manipulate the Executive Committee of Liberty" while negotiating his last contract.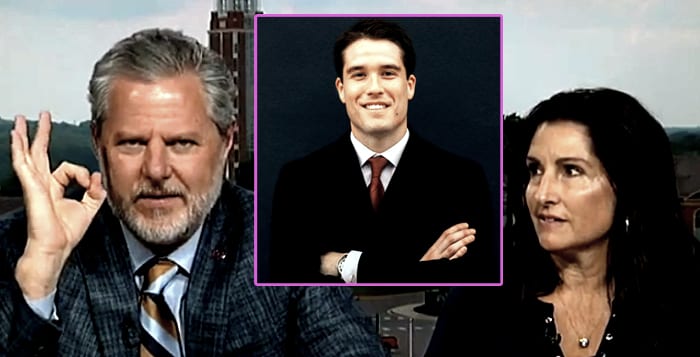 The complaint also states Falwell created the so-called "Granda plan" to conceal the relationship he and his wife, Becki, forged with Giancarlo Granda, inset, a young man the couple had met while vacationing in Florida.
Granda has claimed to have had a long-term sexual relationship with the couple. The Falwells have denied that claim but have admitted that Becki had an affair with Granda. They also bought a Miami beach youth hostel in 2013 that Granda managed and also had a share in.
The complaint claims Falwell devised a plan to cover up the relationship, fearing Granda would make it public, and that Granda asked Falwell for payoffs in order to keep racy photos of Becki Falwell out of the public eye.
The lawsuit says:
Most damaging, Falwell Jr. knew that Granda would be able to provide details about the fact of the affair with Becki, its duration, Falwell Jr.'s role in abetting it, the attendant circumstances of the affair, and the specific activities in which Granda, Falwell Jr. and Becki engaged in during the affair.
The complaint claims Falwell had a fiduciary responsibility to refrain from acts "harmful to the university" but did not do so. Specifically, the complaint points to the coverup of the relationship with Granda during the time he was negotiating a new contract as harmful to the school.
Then, in 2019, he negotiated a new employment agreement with the board, which included a raise and a more favourable severance if he were fired. The complaint claims Falwell continued to conceal his dealings with Granda while trying to create a "safety net" for himself.
Had Liberty's Executive Committee known in 2018 or 2019 that Granda was attempting to extort Falwell Jr., and thus planning to harm Liberty, and had it known the full circumstances of Granda's extortion of Falwell Jr., then the Executive Committee would have refrained from entering into the 2019 Employment Agreement.
The complaint maintains Fallwell Jr – net worth $100-m – should not have accepted a severance payment of $10.5-m.
The university said that Falwell's actions clashed with the school's moral code, known as the "Liberty Way" which requires faculty and administration to agree to a statement of faith and to adhere to "Biblical standards of morality," including strict rules limiting sex to within a heterosexual marriage.
The school's president was expected to be "a standout spiritual leader for the college," according to the complaint.
Falwell Jr told Religion News Service that the lawsuit was filled with "lies and half-truths" and was an attempt to discredit him.
The Executive Committee of the Liberty University Board of Trustees has made yet another attempt to defame me and discredit my record, following a series of harsh and unnecessary actions against my children, Becki, and me.

Throughout all my years at the University, where we built a multi-billion-dollar enterprise that reaches Christian's worldwide, I always abided by the requirements that applied to everyone on the University staff. This lawsuit is full of lies and half truths, and I assure you that I will defend myself against it with conviction.
Dustin Wahl, Liberty graduate and co-founder of Save71, which describes itself as "a group of alumni and students advocating for reforms at Liberty," said the Liberty board of trustees had long ignored Falwell's problems.
To this day, the board of trustees has not apologized to Liberty students for allowing Falwell to abuse his power as president. They ignored warnings about Falwell's behavior for years … That they are now making these claims and admissions in a lawsuit and not in a heartfelt apology to Liberty's student body reveals their misplaced priorities.
The complaint also claims Falwell had refused to return computers, phones, laptops and other devices provided to him by the university. Liberty claims in its complaint the devices contain confidential material belonging to the school and has demanded that Falwell not destroy that information.
Said former Liberty English professor Marybeth Davis Baggett:
While I am grateful Liberty is taking more decisive steps to separate itself from Falwell, the suit unwittingly implicates the board that for so long propped him up and gave him free rein. Even as they criticize Falwell for his failures as a spiritual leader, they highlight their own repeated failures to keep his corruption in check. My hope is that this suit underscores the need for real penitence, deep repentance, and sweeping reform at Liberty.
Liberty's lawsuit also provided details of the Falwell family's business dealings with Granda. According to the company, Falwell Jr loaned $1.8 million dollars to a company owned by Becki Falwell, Granda and Falwell's son, Trey, who was also a Liberty staffer at the time. The company's youth hostel, which catered to college students, also housed a liquor store.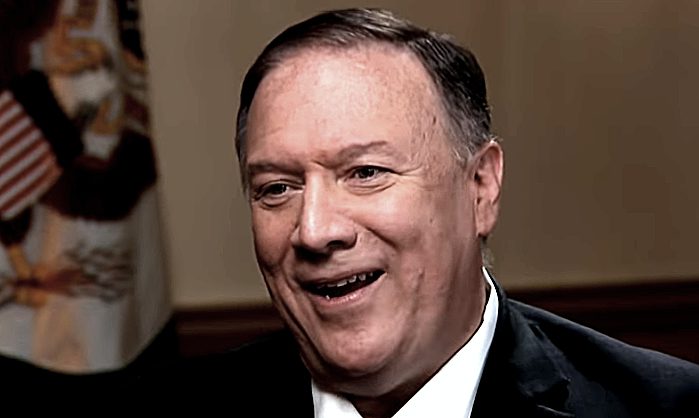 Meanwhile it is reported by the Christian Post that former Secretary of State Mike Pompeo has been named as a senior advisor at Liberty's Standing for Freedom Center "where his foreign policy experience will be used to help advance religious freedom."
Pompeo told CP in an interview on Tuesday that as a senior advisor he will further advance the religious freedom rights he promoted worldwide as secretary of state under the Trump administration and preserve the values he's held throughout his life.
I've watched this Center begin its development and its deep commitment for a set of issues I've cared about for a good part of my life – the capacity for every human being to exercise their God-given rights to practice their faith or if they choose not to practice their faith."
Another Trumpite appointed to center is Mike Huckabee, former Governor of Arkansas.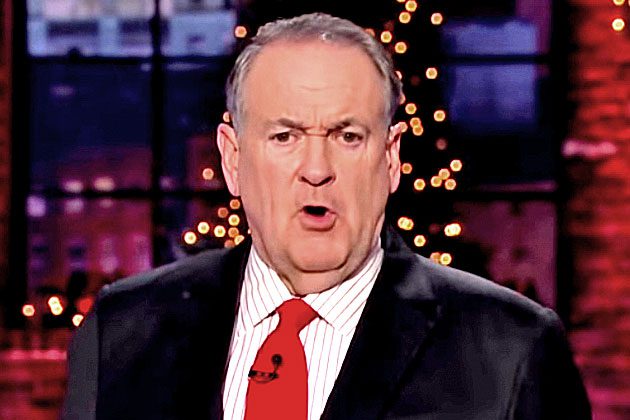 According to this report, after the Supreme Court's decision in Obergefell v Hodges, Huckabee above, penned an editorial in USA Today saying same-sex marriage:
Directly conflicts with the long-standing traditions and teachings of many faiths, setting up a collision with the First Amendment guarantee of religious liberty.
He also advocated for Kim Davis, the Kentucky county clerk who refused to issue marriage licenses to same-sex couples, to be released from jail.
Hat tip: Stephen Harvie and Robert Stovold

• Please report any typos/errors to barry@freethinker.co.uk
If you'd like to buy me a cup of coffee – and boy, do I get through a LOT of coffee keeping this site active – please click the link below.
I'd love a cup of coffee