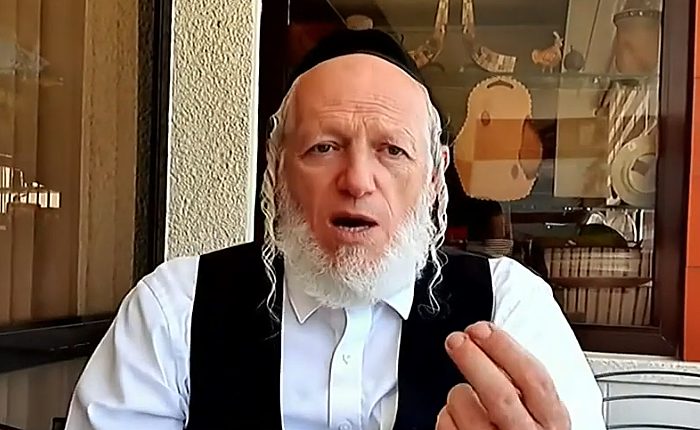 WHAT happens in ultra-Orthodox Jewish communities and cults like the Jehovah's Witnesses are often kept secret, and dealt with internally without the involvement of outsiders. So the alleged sexual exploits of a recently honoured Israeli – Yehuda Meshi-Zahav, above – were ignored for years.
But, according to YNet News, his abusive behaviour reached such pitch that a "purity patrol" in the his Mea Shearim neighborhood – the Committee for Preserving Our Camp's Purity – decided enough was enough and considered nabbing and castrating him.
However, he managed to escape from patrol members who caught up with him, and narrowly escaped a beating.
One member, speaking on condition of anonymity, told the news outlet:
Meshi was a despicable man and everyone in Mea Shearim knew it. Everyone's been talking about it since I was born, and I personally know names of people who have slept with him. It's no secret. We're talking about loads of people.

For him, everything goes – women, children, boys and girls, and if animals could talk and tell their stories, I've no doubt we would've found out he was playing around with them too. Everything that moves, essentially.
He added:
Everything that is surfacing now is just the tip of the iceberg. All the things we know have yet to reach the media. Not only did he do things himself, but he also forced others.

I remember a story where he went to a matzah bakery and groomed young boys who worked there ahead of Passover so they would have intercourse for his enjoyment. He was truly the Haredi Jeffrey Epstein.
The committee member further told Ynet that despite the group's best efforts, Meshi-Zahav continued his behaviour.
Rabbis and spiritual leaders knew very quickly about his deeds, they warned him and threatened him – but he simply ignored everyone. When we decided enough was enough, our plan was to simply castrate him.
He revealed that after his near beating, Meshi-Zahav fled the neighbourhood:
That was his last day in the ultra-Orthodox community … He then fooled the Israelis, presenting it as 'a disillusionment from a zealous ideology' and as 'rapprochement with Zionism and the state', building a career off of this – but everybody in Mea Shearim knew the real story and what got him out of here.
He noted that such incidents could only have happened in the past, in an era when the community's spiritual leaders refused to cooperate with law enforcement agencies. Since then, he contended, the ultra-Orthodox community has undergone a profound change in everything regarding sexual misconduct.
Today everything is out in the open, and there is no chance in the world that such a case would not reach police and that they wouldn't deal with it.
Earlier this year Meshi-Zahav was awarded the country's highest civilian honour, The Israel Prize, for his work with a ZAKA, a search and rescue organisation he founded in 1989.
Shortly after, ZAKA said in a statement that its members and volunteers learned with "shock and astonishment" of the allegations.
The same statement contained an announcement from Meshi-Zahav that he had relinquished the honour. He claimed that the allegations against him were unfounded and that he was the victim of "gossip" and people "settling scores against him."
The BBC reported last month that Meshi-Zahav was investigated by police over sexual assault allegations in 2011, but the statute of limitations had run out on five of six complaints, meaning police are unable to investigate them.
However, they have now launched an investigation into the sixth case, in which a woman says she was raped by Meshi-Zahav when she was in her 20s.
The Times of Israel reports that Meshi-Zahav, who had initially denied the allegations against him, will defend himself by claiming that all sexual relations were consensual, and had taken place in exchange for money, gifts or other benefits.
With this defence he hopes to evade conviction for more serious alleged offenses, including rape.
It was not clear how the defence would apply to alleged offences against minors … or animals.
• Please report any typos/errors to barry@freethinker.co.uk
If you'd like to buy me a cup of coffee – and boy, do I get through a LOT of coffee keeping this site active – please click the link below.
I'd love a cup of coffee