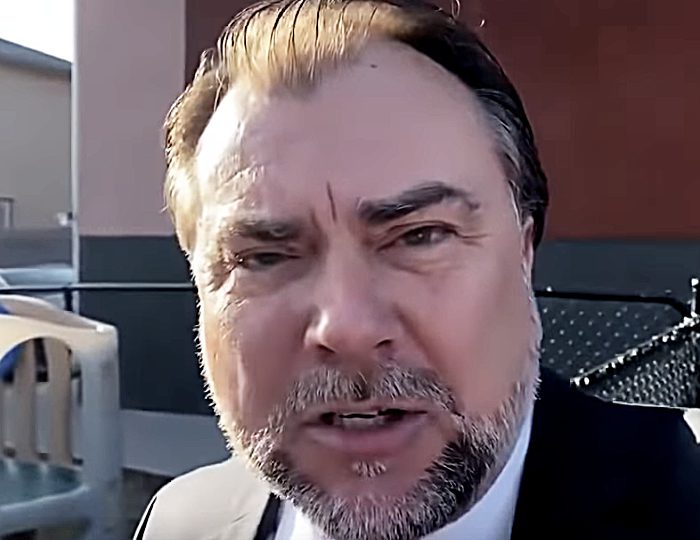 POLISH priest Artur Pawlowski, above, went batshit crazy when cops showed up at his Alberta, Canada, church to check for COVID-19 violations at an Easter service.
Video of the incident at the Cave of Adullam Church shows Pawlowski screaming repeatedly at officers who entered the church.
According to Faithwire, Pawlowski said:
Police came to disrupt Church gathering! Gestapo came again to intimidate the church parishioners during the Passover Celebration!!! Unbelievable.
Pawlowski became emotional, saying:
Nazis are not welcome here! Do not come back you Nazi psychopaths. Unbelievable sick, evil people. Intimidating people in a church during the Passover! You Gestapo, Nazi, communist fascists! Don't you dare come back here!

Can you imagine those psychopaths? Passover. The holiest Christian festival of the year and they're coming to intimidate Christians during the holiest festival? Unbelievable. What is wrong with those sick psychopaths. It's beyond me. How dare they?
The rant continued:
Unbelievable, we're living in a total takeover of the government with their thugs, goons, the brown shirts, the Gestapo wannabe dictators. Coming to the church armed with guns and tasers and handcuffs to intimidate during Passover celebration?

Well I guess that's what it is, they want to enslave us all like the Egyptians did. They want to be the Pharaohs of today, that's what they're doing. Unbelievable. People, if you don't stand up, wake up, I don't know what will happen tomorrow.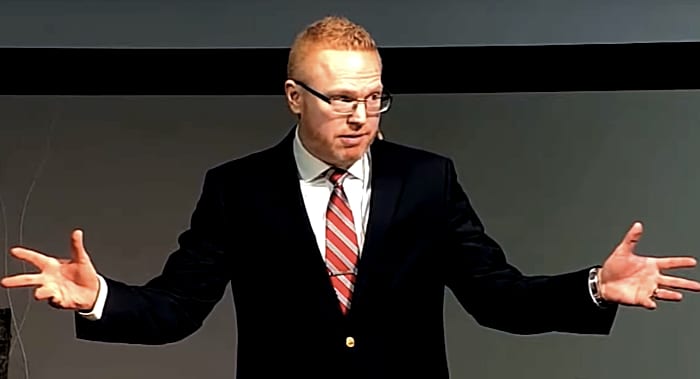 Faithwire says that incident occurred just days after pastor James Coates, above, was released from prison for holding services that exceeded arbitrary restrictions on attendance.
Coates was released late March following the Alberta government's decision to drop its criminal charges against the minister. He is, though, still facing financial penalties for violating health orders.
Meanwhile, it's reported here that police broke up a Good Friday church service in south-west London for breaching coronavirus regulations.
Footage that emerged on social media on Friday shows two Metropolitan Police officers suspending the pre-Easter service at the Christ the King Polish Roman Catholic Church in Balham.
One of the members of the church invited the officer to the sanctuary to explain to the congregation why the service was being disrupted.
The Met officer outlined that gatherings "with this many people" are unlawful under the government's coronavirus restrictions.
The officer also directed people to return home or risk either being fined £200 or arrested if they refuse to give their details.
He added that even though it was Good Friday, and he understood people would like to worship, they had to leave due to Covid regulations.
Ladies and gentlemen, this gathering is unfortunately unlawful under the coronavirus regulations we have currently. You are not allowed to meet inside with this many people under law. At this moment in time, you need to go home.
A message posted on the church's website on Saturday said:
On Good Friday, 2 April 2021, during the Liturgy of the Lord's Passion, at the time of the Adoration of the Cross, the police arrived at the door of our church at around 6pm.

We were not allowed to finish the celebration. The police officers found our liturgical assembly illegal, ordering everyone to leave our temple immediately or face a £200 fine for each parishioner present, or even arrest.

The faithful obeyed this order without objection.

We believe, however, that the police brutally exceeded their powers by issuing their warrant for no good reason, as all government requirements were met.

We believe municipal police officials have been misinformed about the current place of worship guidelines, claiming that the reason for their intervention is the continued ban on public celebration in places of worship in London due to the lockdown on 4 January 2021.

We regret that the rights of the faithful have been wronged on such an important day for every believer and that our worship has been profaned.

We informed the superiors of the Polish Catholic Mission in England and Wales about this incident. We asked the police authorities to explain the incident and we are waiting for their response.
The Metropolitan Police said in a statement:
At around 1700hrs on Friday, 2 April, officers were called to a report of crowds of people queuing outside a church in Balham High Road. Officers attended and found a large number of people inside the church. Some people were not wearing masks and those present were clearly not socially distanced.

We are particularly concerned about the risk of transmission of the Covid-19 virus as a result of large indoor gatherings at which people are not socially distanced and some are not wearing masks. As such, officers made the decision that it was not safe for that particular service to continue.

Understanding the sensitivity of the situation, officers engaged with the priest outside the church and were invited inside to address the congregation. No fixed penalty notices were issued.

This was one of a series of numerous events taking place at the church over the Easter period. We are engaging with church authorities today and will continue to do so in the coming days.
• Please report any typos/errors to barry@freethinker.co.uk
If you'd like to buy me a cup of coffee – and boy, do I get through a LOT of coffee keeping this site active – please click the link below.
I'd love a cup of coffee