AMHERST, in solidly Democratic Massachusetts, appears an idyllic place to live: lots of fine dining, culture, diversity, chilled-0ut college kids – and several medical/recreational cannabis outlets that opened after 74 percent of the town's population voted to decriminalise pot.
All was cool and dandy in America's top college town until the Amherst Chinese Christian Church got wind of the fact that a new neighbour intends setting up business soon, growing weed inside a nearby 1,800-square-foot greenhouse.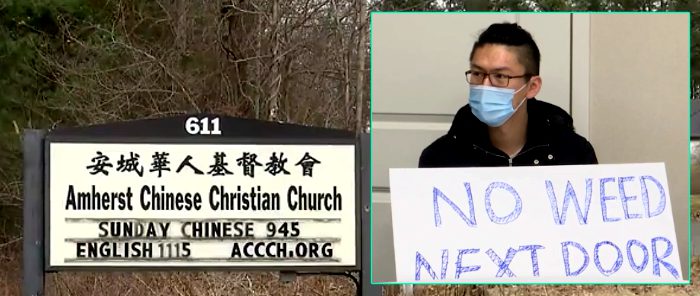 Then, according to this report, came the inevitable Christian whining and contempt for the democratic process that gave Riverside Organics LLC – a micro-cannabis operation – planning permission back in 2019, following consultations with the local community.
At the time Riverside signed a host community agreement with gorgeous Amherst – which is also noted for its gay-friendliness – that required a three percent community impact fee on gross revenues and a $5,000 annual donation to education programmes.
But Bing Liang, a deacon at the church who also teaches at the Isenberg School at the University of Massachusetts, is busy sowing discord. He wants the project re-evaluated because the production facility would be too close to the his place of worship. He complained:
This will have an impact on our religious values and public safety.
In addition Liang claimed that the enterprise was:
A violation of the First Amendment rights of church members.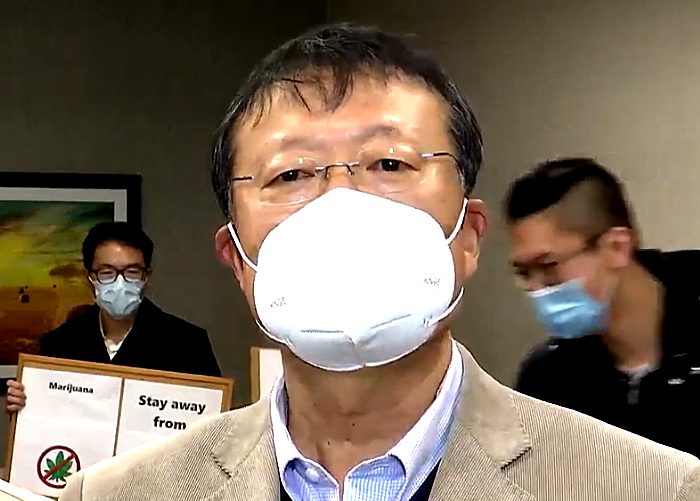 Churchgoer Ping Ling, above, pointed out that another "serious concern" was that the church campus is a place where children play.
Said Liang:
Their facility may not be compatible with the character of the local neighborhood.
He also lied when he said church members and other neighbors had not been previously informed about the project. Town records indicate notices were sent to all abutters.
He said he also worries about the impact a legal marijuana site may have on the international students who attend services at the church, as Riverside Organics may lead them to believe that cannabis is a legal substance across the country.
Just how stupid does he think students are, especially as Amherst and its colleges go out of their way to explain the rules governing use of the herb in the town and the state?
Before the project could be fully approved, the state Cannabis Control Commission required a second community outreach meeting, and it was at that gathering on Friday that church members threw a tantrum.
At the time of writing, it's not clear whether their idiotic concerns will derail the process.
Jonathan Gurfein, who owns Riverside Organics, said the meeting was a formality, as he previously had to postpone his application to the Cannabis Control Commission due to the COVID-19 pandemic.
He pointed out that he will only be growing cannabis, and not dispensing or selling any product.
He added he believes that as long as the town has approved his project, the state won't interfere.
My message to the church, borrowed from the late, great Kurt Vonnegut Jr: Go take a flying fuck at a rolling doughnut. Go take a flying fuck at the moon!
For the record, I take a daily dose of medical cannabis in capsule form as part of my treatment for glaucoma. It's also brilliant at relieving arthritic joint pains.
Oh, and to all my readers, happy Eostre.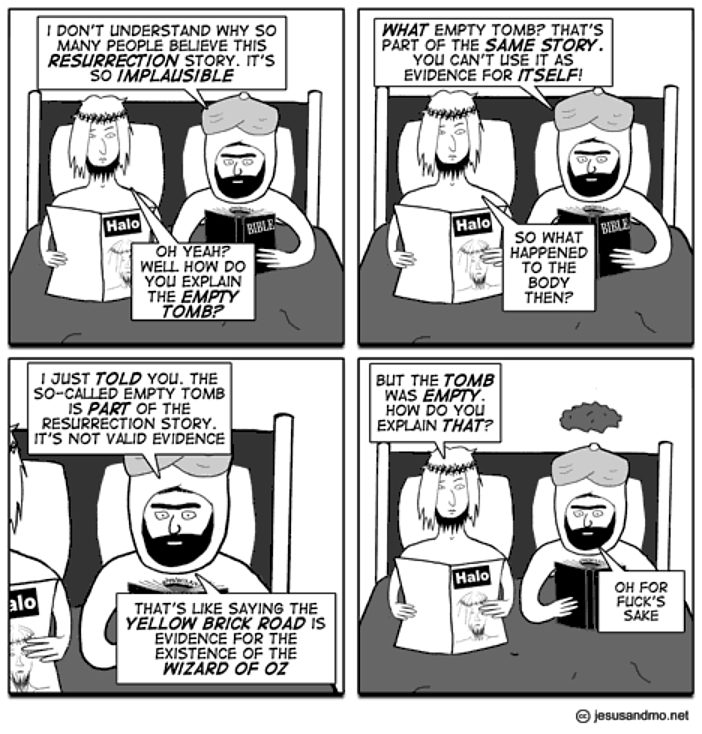 The empty tomb question is answered here.
More adventures of Jesus and Mo here.
• Please report any typos/errors to barry@freethinker.co.uk
If you'd like to buy me a cup of coffee – and boy, do I get through a LOT of coffee keeping this site active – please click the link below.
I'd love a cup of coffee