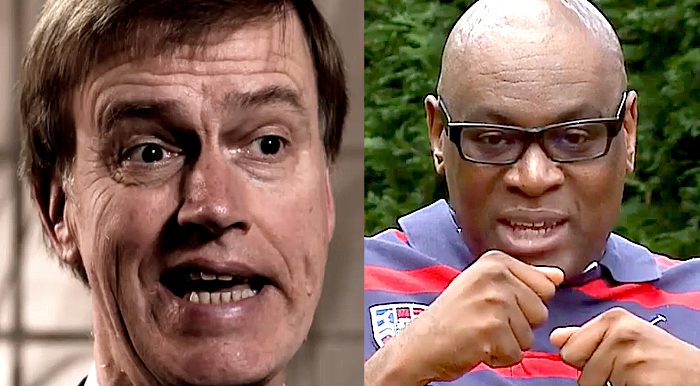 AFTER apologising for visiting a notoriously anti-gay church in London last week, Labour Party leader Sir Keir Starmer found himself at odds with one of his Bible-believing MPs, Stephen Timms, and the pastor at Jesus House, Agu Irukwu, both pictured above.
Starmer apologised for a visit to a vaccine centre set up the church, claiming that he was unaware of its record of demonising LGBT communities and offering deliverance from homosexuality 'therapies."
That apology, according to Irukwu – "a high-decibel opponent of LGBT+ rights" – sparked a backlash against his church.
He told Premier Christian News how "disturbing" the last few days have been, with the church being "cyberbullied" throughout Easter as a result.
Jesus House is part of the international megachurch network Redeemed Christian Church of God.
Archived web pages from Jesus House compared being LGBT to bestiality and it has been accused of offering conversion therapy – claims Irukwu denied.
Irukwu has also furiously opposed anti-discrimination laws and marriage equality in Britain.
In the interview, Irukwu said:
As a child growing up in a Commonwealth nation, one aspect of Great Britain which I found most admirable was its promotion of strong values, including fairness and justice.

Over the past 48 hours, I have been disturbed to see these values eroded, especially in the courtroom of social media – we have felt prosecuted, judged, and sentenced unfairly.

Some of the language that has been directed at us can only be described as vile, abusive, hateful, and possibly criminal.

It is tantamount to cyberbullying and the timing of this attack during Easter, one of the most important events in the Christian calendar, was particularly upsetting for us as a congregation.
Timms, who believes that democracy would be better served if biblical values were to be applied more widely to political issues, came charging to Irukwu's defence.
He told Premier:
I haven't had a chance to talk to Keir about this yet, I hope I will when Parliament returns next week, but I really want to add my voice to applaud the support of Jesus House for its community over the past year … Never in my lifetime have we been in a situation where churches have had such a key role in supporting families, and frankly, keeping people alive.
This, when numerous reports over the last year has shown churches to be be super-spreaders of COVID-19.
Timms is reported here as saying he'd been in touch with Jesus House:
They tell me they don't practise anything like conversion therapy, and regard homophobia as anti-Christian.
Hat tip: BarrieJohn
• Please report any typos/errors to barry@freethinker.co.uk
If you'd like to buy me a cup of coffee – and boy, do I get through a LOT of coffee keeping this site active – please click the link below.
I'd love a cup of coffee