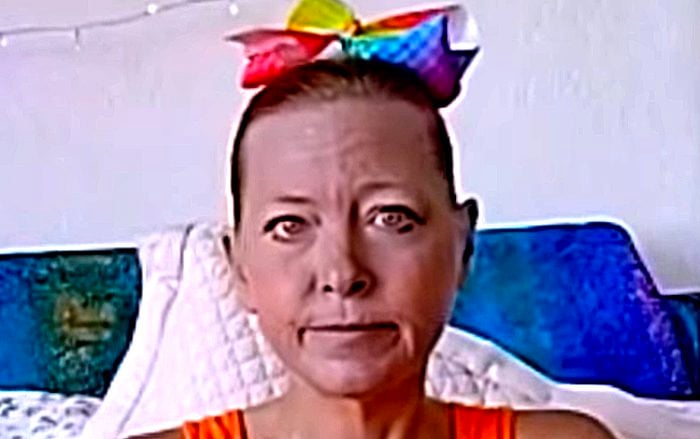 AFTER police found the mummified remains of Amy Carlson, above, draped in Christmas lights they were told by members of a New Age cult she led – Love Has Won – that she was 'in stasis' and 'out of communication.'

The discovery late last month of the body of the woman known as "Mother God" in a mobile home in Colorado led to the arrest of seven members of the cult accused of tampering with deceased human remains and the abuse of two children, aged 13 and 2, found inside the home.
Saguache County Coroner Tom Perrin said that there was no sign of foul play and he added that:
It's possible that this woman was taking colloidal silver.
This is more than likely as Love Has Won offers "Gaia's Colloidal Silver" online.
Our Colloidal Silver is a spiritual and medicinal product, created and blessed with the highest intentions of healing. We co-create and meditate with Spirit, raising the consciousness and potency of each bottle ….

Those on the battlefield, in the company of kings, drank from silver cups to stave off illness as well as placing a silver spoon in infants mouths as the power of silver was widely known.

Colloidal silver is completely natural and therefore cannot harm you. We recommend starting with one to two drop fulls each day and increasing the dose if needed for any viruses or infections.

Colloidal silver exposes the Corona Virus by breaking it's [sic] membrane so it can be detected by the bodies [sic] antibodies and destroyed before spreading.

In fact, it can be deadly, and companies that market colloidal silver as a health remedy are not supported by the FDA. Some have even been issued FDA warnings for their fraudulent claims.
A former member who left the cult five years ago, Andrew Profaci, said of Carlson:
She thinks she is the Earth in a human body. She thinks she's the Mother of all Creation.
He claimed that he joined the group when he needed "a spiritual reset" after his best friend died in an accident, and after joining he became the "Father God" to Carlson:
I doted on her and tended to her every need. She drank ten shots of vodka a night. When she would drink at night she would lose her cognitive abilities. She would fall and walk into walls.
Carlson had claimed that she had been trying to help humanity for the past 19 billion years and that she was on her:
534th reincarnation in my quest to recover my beloved Planet, the Center of the Universe, and the first Planet I created.
According to The Guru magazine, she also believed that Donald Trump was her father, and that the late actor Robin Williams was a member of her team. The magazine also said her "ascension" was imminent.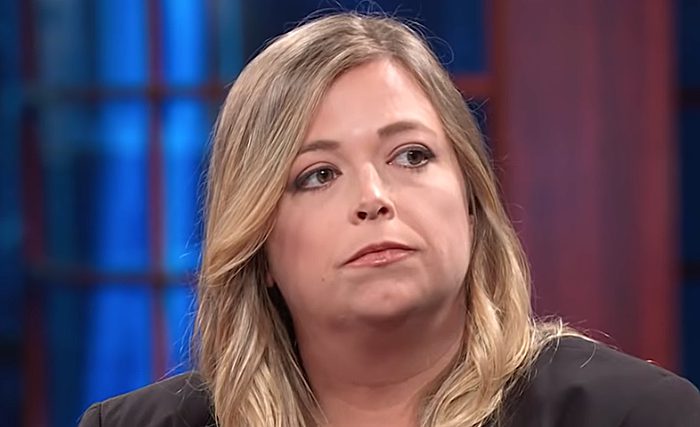 Although cult members have yet to acknowledge the death of their 49-year-old leader, her sister, Chelsea Ann Reninger, above, announced the death on her Facebook page:
For those of you that knew my sister Amy, I wanted to let you know we found out yesterday of her passing! Please pray for us and the people involved in this awful situation. We are choosing to remember who she was when she was in our lives on a regular basis and not who she became from this manipulating cult!
Reninger is away with the fairies too. Her FB page reveals she's associated with an outfit in Texas called Miracle Farm:
Miracle Farm provides an environment for Christ to forge young men of integrity who are firmly connected to the sense of security, acceptance, and significance that comes from an identity in Christ.
In an interview with Dr Phil last year, Carlson was asked why she abandoned her three children, ages 2, 7 and 12 – fathered by three different men – in 2006. She explained that she was called on a mission by her "angels" to "give up everything" to "serve humanity" and "bring peace to the planet." This, she insisted, did not constitute abandonment.
After being showed video of her locking a crying toddler in a closet for two minutes she denied this was abuse or bullying, describing it instead as a period of "time out" necessary for "discipline."
An expose posted on YouTube by Vice showed her to be a foul-mouthed, aggressive drunk.
Update: Yay and whoopee! A cult member has admitted that Carson has "ascended."
• Please report any typos/errors to barry@freethinker.co.uk
If you'd like to buy me a cup of coffee – and boy, do I get through a LOT of coffee keeping this site active – please click the link below.
I'd love a cup of coffee