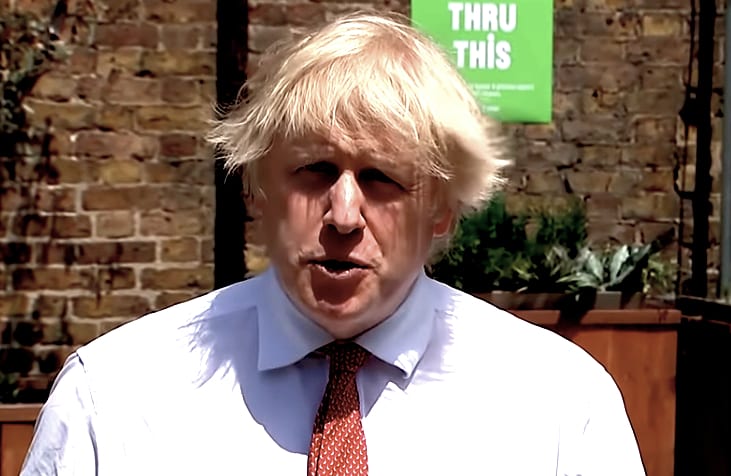 BECOMING a Catholic can produce some unexpected surprises. This is something Boris Johnson, above, learned last year when he lost the power to advise the Queen on matters regarding Church of England bishops.
Why? Because he officially embraced Catholicism in order to marry his third wife, Carrie Symonds – but a law dating back to 1829 forbids Catholics from advising monarchs about C of E business.
The issue did not receive much media coverage until, at the weekend, various Christian media outlets seized on a declaration by Johnson – "who doesn't have a religious bone in his body" – to call people who reject the notion of God "foolish."
Speaking at the G7 conference in Cornwall to ITV reporter Robert Peston, Johnson, always the slippery eel, dodged Peston's question as to whether he was a now a full-on, practicing Roman Catholic.
Instead, on being told by Preston that Labour leader Sir Keir Starmer had said he does not believe in God, Johnson quoted the threadbare Psalm 14:
The foolish man has said in his heart there is no God.
(Trolls just love that psalm. If I had a dollar for each time it's been emailed to me over the years I'd be riding a Harley Davidson Cosmic Starship.)
In reporting Johnson's silly response, and the fact that "one senior Tory" claimed Johnson was not in the least bit religious, The Christian Post homed in on the law that now prevents the PM from advising the Queen – section 18 of the Roman Catholic Relief Act 1829.
The law says:
It shall not be lawful for any person professing the Roman Catholic religion directly or indirectly to advise his Majesty, or any person or persons holding or exercising the office of guardians of the United Kingdom, or of regent of the United Kingdom, under whatever name, style, or title such office may be constituted, or the lord lieutenant of Ireland, touching or concerning the appointment to or disposal of any office or preferment in the Church of England, or in the Church of Scotland; and if any such person shall offend in the premises he shall, being thereof convicted by due course of law, be deemed guilty of a high misdemeanor, and disabled for ever from holding any office, civil or military, under the Crown.
Writing for Legal Cheek, C J McKinney suggested that Johnson had already broken the law because he's always been a Catholic!
As the Irish Times reported yesterday, "according to the Catholic Church's canon law, and despite Mr Johnson's reception of Church of England confirmation at school, he remained a Catholic as it is not possible to formally defect from the Church".
You can check out any time you like, but you can never leave.
The paper goes on to state as fact that "on assuming office in July 2019, Mr Johnson became Britain's first Catholic prime minister".
The final piece of the puzzle: has Johnson advised the Crown to appoint any Church of England bishops since then? Yes: 10 Downing Street announced the appointment of a new Bishop of Chelmsford late last year.
So there you have it: the Catholic Relief Act 1829 positively demands that the papist PM be pulled down …
The CP also pointed out that, from now on Lord Chancellor Robert Buckland:
Will send the names of new Church of England bishops to the queen, after a warning that the Prime Minister could be banished from office if he keeps doing so himself.
An unnamed source at No 10 told the publication that the rule is "incredibly anachronistic" because a Jewish or Muslim Prime Minister could nominate a bishop but not a Catholic.
The CP indicated that conservative Catholics are still smarting over Johnson's marriage to Symonds in Westminster Catholic Cathedral late last month because of his two previous marriages, and having children out of wedlock.
The RCC does allow divorcees to remarry if the previous marriages were outside the Roman Catholic Church. Johnson's former marriages to Allegra Mostyn-Owen and Marina Wheeler were not Catholic ceremonies and thus not recognised by the Catholic Church.
Father Mark Drew, assistant priest at St Joseph's Church in Penketh, Warrington, told the BBC that he's had to tell Catholic couples going through a divorce that they cannot remarry in the Catholic Church.
It looks to them – rightly or wrongly – as if the Church is applying double standards and I do fear that this decision does make the church look bad.
Christopher Lamb, a correspondent for the Catholic magazine The Tablet, told BBC Radio 5 about how Johnson's third marriage reflects that there is one law for the rich and powerful and another for everyone else.
There will be a feeling that, why are some people who are divorced allowed to be married in the church and others not? And I think that's where the church can look at its current roles and see how it can become more welcoming. It has been welcoming to Boris Johnson, why not to others?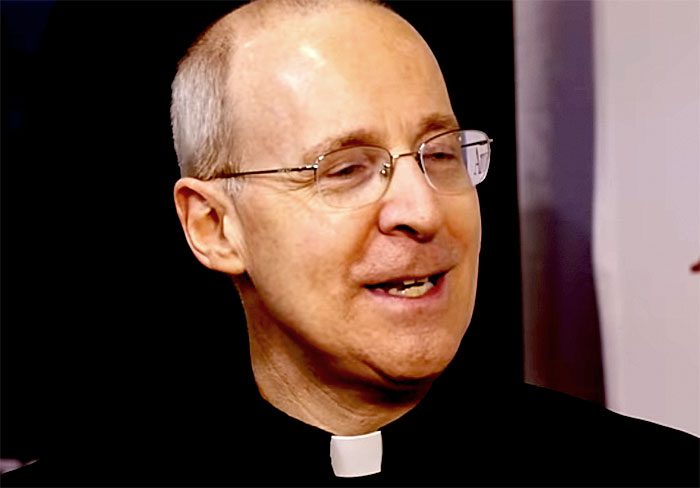 It wasn't just the traditionalists who got all huffy. Well-known progressive Jesuit Father James Martin, above, who serves as an editor-at-large for the Jesuit America Magazine and is an advocate for same-sex marriage, tweeted:
#BorisJohnson, a twice-divorced man, whose girlfriend recently had a baby with him out of wedlock (and who also has another child out of wedlock) was married in a Catholic ceremony in Westminster Cathedral, the seat of English Catholicism.

At the same time, a same-sex couple who are both Catholics (unlike Mr. Johnson, who was confirmed as an Anglican) cannot have their civil union blessed even in private by a priest because 'God does not and cannot bless sin…'

Mr. and Mrs. Johnson were married within the rules of the Catholic Church. And I wish them well. I also wish that the same mercy and compassion that was offered to them, recognizing their complex lives, could also be extended to same-sex couples who are lifelong Catholics.
• Please report any typos/errors to barry@freethinker.co.uk
If you'd like to buy me a cup of coffee – and boy, do I get through a LOT of coffee keeping this site active – please click the link below.
I'd love a cup of coffee