THE number of gods and demi-gods in Hindu mythology beggars belief. Now one more has been added to the religion's pantheon of 33 million deities.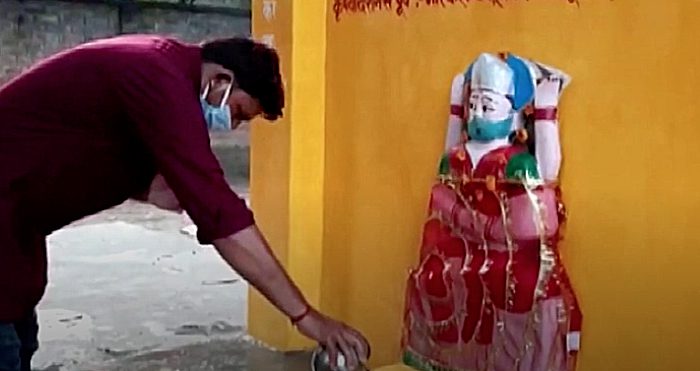 Reuters reported yesterday that devotees in Shuklapur village, in the northern state of Uttar Pradesh, erected a shrine to "Corona Mata" and are offering her prayers in the hope that divine intervention will banish the deadly virus.
Since she was erected, "Mother Corona", has been the recipient of prayers, "holy" water, and flowers at a bright yellow outdoor shrine.
Said one villager:
Maybe with her blessings the villagers, our village, and everyone else get some relief.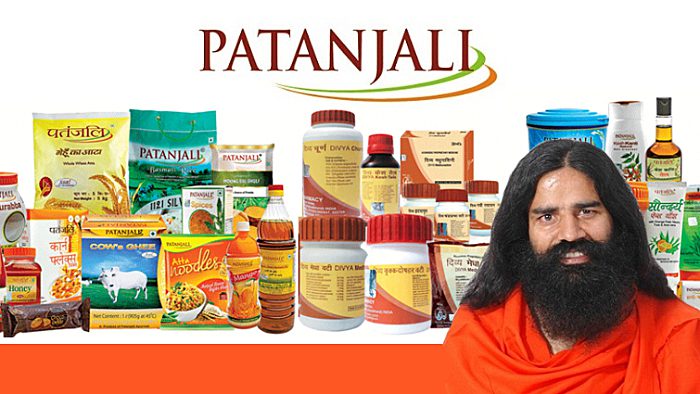 Meanwhile, one of India's most vocal anti-vaxxers – yoga guru Baba Ramdev, above, who has amassed an alternative medicine empire through the Patanjali brand – has done a stunning about-turn after spending days criticising doctors, modern medicine and questioning efficacy of vaccines.
This may well be due to the fact that the Indian Medical Association told him to shut the fuck up, and called on the authorities to charge him with "sedition."
Last month the IMA wrote to Prime Minister Narendra Modi, seeking his help to stop the misinformation campaign on COVID-19 vaccination and demanding action against Ramdev for his alleged remarks on allopathy and allopathic doctors. The letter said:
Misinformation campaign on vaccination by Patanjali owner Ramdev should be stopped. In a recent video he claimed that 10,000 doctors and several people have died despite taking both doses of vaccine. Action under sedition charges should be taken against him.
It noted that India has lost over 1,000 doctors so far during the pandemic.
Said IMA president Dr J A Jayalal:
None in the first wave could receive the vaccine and the majority who had died in the second wave also couldn't take their vaccine for various reasons. Now deceitfully attributing that several people have died in spite of two doses of vaccination, is a deliberate move to stall the efforts of vaccination to reach our masses and it needs to be curtailed immediately.
In May, Ramdev – real name is Ram Kisan Yadav — claimed that he did not see the need to get vaccinated because he has been practising yoga and ayurveda, or traditional Indian medicine, for decades.
Now, Ramdev has not only said that he will get vaccinated soon, but has also urged others to make sure they get both doses of a Covid-19 vaccine.
Get both the vaccine doses and practice yoga and ayurveda. These two combined will give such a strong protection cover that not a single person will die due to Covid-19 in India.
Ramdev lauded Prime Minister Narendra Modi's announcement of providing free vaccines to all adults in India.
Ramdev caused outrage when he said that "hundreds of thousands of people died after taking allopathic medicines" during the pandemic and called modern medicine "stupid".
Responding to questions about his confrontation with the medical community, he's now praising doctors, calling them "God's messengers".
He also said that there's no doubt allopathy is best for emergency treatment or surgeries, but yoga and ayurveda are effective for other "lifestyle, genetic and incurable" diseases.
Meanwhile, five videos shared by Ramdev that featured Covid-19 misinformation have been removed by Facebook after they were flagged as part of an investigation published by The Independent.
Hat tip: Robert Stovold (guru report)

• Please report any typos/errors to barry@freethinker.co.uk
If you'd like to buy me a cup of coffee – and boy, do I get through a LOT of coffee keeping this site active – please click the link below.
I'd love a cup of coffee