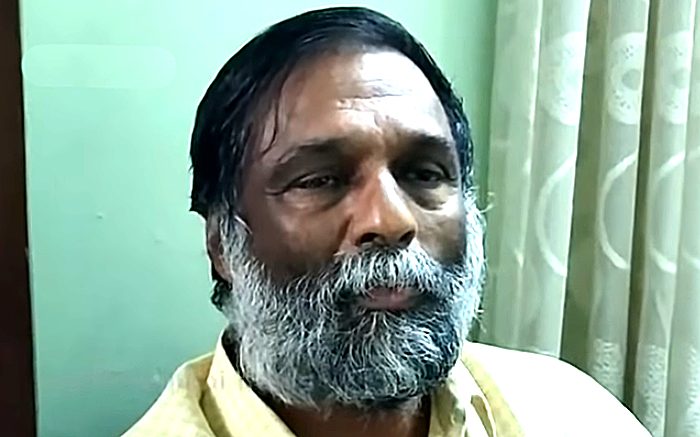 IN March Mohanan Vaidyar, above, was arrested by Kerala police and faced charges of spreading false information about the Corona pandemic and peddling junk 'immmunity boosters' at his Pattikkad Ayurvedic Centre.
But Cherthala Mohanan Nair, as he was also known, won't be facing trial because it was announced yesterday that he had died as a result of having contracted the virus.
In a Facebook post, taken down after he was booked, Mohanan claimed he could "cure all kinds of viral diseases," including COVID-19.
An official of Peechi police station said at the time of his arrest:
We received information that he had claimed to cure COVID-19 and was available for treatment in this particular treatment centre in Pattikkad. We are yet to find out whether he was consulted by people who believed this claim. At present we have arrested him for pretending to be a medical practitioner.
Mohanan was detained under Sections 419 (Punishment for cheating by personation), 420 (Cheating and dishonestly inducing delivery of property), 269 (Negligent act likely to spread infection of disease danger­ous to life), 270 (Malignant act likely to spread infection of disease danger­ous to life) of the Indian Penal Code and Section 17(4) of the Indian Medicine Central Council Act, which directs imprisonment for any non-qualified medical practitioner.
Previously he made false claims during the Nipah virus outbreak in 2018. Via a video posted on social media, he stated that there was no problem in eating fruit bitten by bats. The virus, spread by bats, had taken the lives of 17 people in the state.
His video showed him eating fruit that he claimed had been bitten into by bats. The video was later taken down under the directions of the Kerala government.
In September 2019, he was booked by the police following the death of a one-and-a-half-year-old child whom he treated. His treatment centre in Alappuzha was shut down after the incident.
In October 2019, he was arrested for allegedly giving wrong treatment for a minor patient following a misdiagnosis.
Vaidyar developed a fever and had breathing difficulty for two days during his stay at a relative's house in Thiruvananthapuram. He collapsed and was brought dead at Thiruvananthapuram Medical College Hospital on Saturday evening.
Until recently he promoted "immunity boosters" that he claimed offered protection against Covid. These he consideredbetter than vaccines.
His stand against modern medicine made him a controversial and divisive figure. Despite a sizeable following, he was criticised by trained Ayurveda and Allopathic practitioners alike for negating the basic scientific knowledge of the human body and diseases.
He offered treatment for several diseases including cancer.
Vaidyar once operated clinics at various places in the state. He was also associated with Parabrahma ayurveda hospital and research centre in Ambalapuzha which sold immunity boosters among other products.
Kerala State Drugs control Department took action against the centre In January for selling "a potion claiming to cure diabetes." An inspection also found that the ayurveda institute did not have the license to make the drug under Drugs and Cosmetic Act 1940.
If you'd like to buy me a cup of coffee – and boy, do I get through a LOT of coffee keeping this site active – please click the link below.
I'd love a cup of coffee