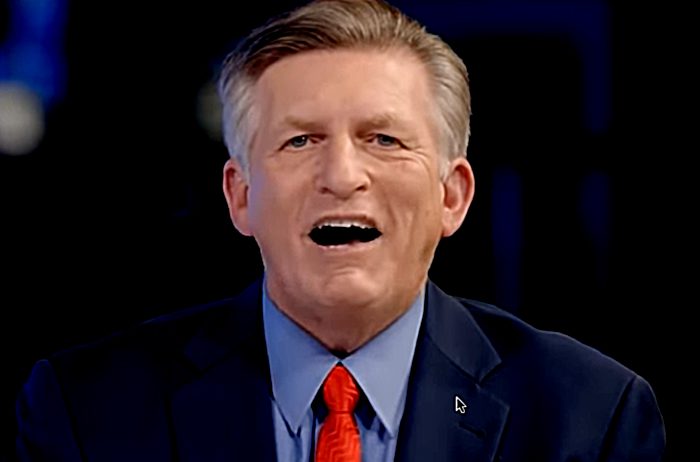 AFTER it became known that Rick Wiles, above, of TruNews – 'a positive alternative to the anti-Christian bigotry of the mainstream news media' – had been hospitalised with COVID-19, the outlet issued a stark warning: mockers of the anti-vax pastor will go straight to hell.
The Florida hate preacher, notorious for targeting Jews, Muslims, gays and vegans, fell ill after saying vaccines would wipe out "stupid people", according to this report.
Less than a month ago, Wiles said he would never get vaccinated. Then, at the weekend, TruNews, announced he had been infected and taken to hospital where he had been given oxygen.
TruNews suddenly suspended its broadcast last week, announcing that it was:
Experiencing a sudden cluster of flu and COVID among some employees and their relatives.
The outlet then said on Sunday that Mr Wiles had been hospitalised.
Quit laughing right this minute, because TruNews declared:
Already, the naysayers and mockers have started with their taunts. Let them speak their foolish words and let them mock. It will only serve to be used to fuel their flames of torment in hell unless they repent.
The wingnut told his audience last month that he wasn't getting vaccinated because he believed the vaccines were being used to commit a "genocide," to kill hundreds of millions of people.
I am not going to be vaccinated. I'm going to be one of the survivors. I'm going to survive the genocide … The only good thing that will come out of this is a lot of stupid people will be killed off. If the vaccine wipes out a lot of stupid people, well, we'll have a better world.
Yesterday (Monday), Wiles issued a statement on TruNews, boasting that prayers offered by his supporters worked, and he's now in recovery mode.
Thanks to Jesus Christ, I survived the CCP Covid genocide on the American people. I will be released from the hospital later today. My breathing is returning to normal. Pneumonia defeated. The worst is over. My deepest gratitude for all the prayers. I will share more later. On the darkest night the Holy Spirit gave me Psalm 118:17 for strength: 'I shall not die, but I shall live and declare the works of the Lord.'
He added:
Although I rejoice that Jesus has delivered me, my wife Susan is still very fatigued. Daughter in law Tiana was transported to the hospital very early this morning with extreme dehydration and vomiting. She's home now but Jeremy has now developed symptoms. Son-in-law Marshall is very weak. Grandson Blake too. Daughter Karissa not feeling great. Edward Szall is very sick. Three members of our team are recovering.

This was a full-frontal hit from Hell on your TruNews family. Because Jesus Christ lives in us, we shall live too. Your prayers needed for the above family members and team.
Last March, Wiles, who claimed that the effort to impeach US President Trump was a "Jew coup," said the spread of coronavirus in synagogues was a punishment of the Jewish people for opposing Jesus.

The people who are going in to the synagogue are coming out of the synagogue with the virus. It's spreading in Israel through the synagogues. God is spreading it in your synagogues! You are under judgment because you oppose his son, Jesus Christ. That is why you have a plague in your synagogues. Repent and believe on the name of Jesus Christ, and the plague will stop.
A year before Wiles warned TruNews viewers that vegan meat companies are intent on altering human DNA in order to wipe out humanity and replace it with "soulless creatures."
Hat tip: Robert Stovold
• Please report any typos/errors to barry@freethinker.co.uk
If you'd like to buy me a cup of coffee – and boy, do I get through a LOT of coffee keeping this site active – please click the link below.
I'd love a cup of coffee