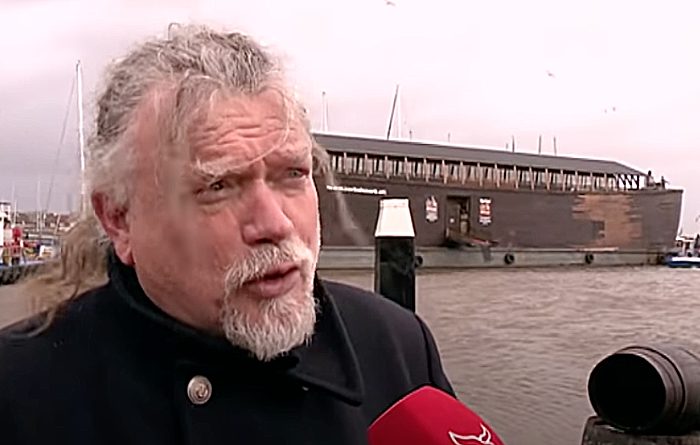 IN 2016 a replica of the mythical Noah's Ark, owned by Dutch TV theatre producer Aad Peters, above, was severely damaged when it crashed into a Norwegian coast guard vessel as it was leaving the Oslo harbour.
Two years later the 70-meter-long (230-foot) monstrosity caused significant damage to a nearby ferry and several smaller boats when it broke free of its moorings in Holland.
The ark is now back in the news because it's become marooned in the UK where officials have impounded it for being unsafe. This has led to an impasse between UK and Dutch authorities.
Now, according to this report, the British Government is being urged intervene following a decision by UK authorities to detain Peters' ark until it meets safety standards.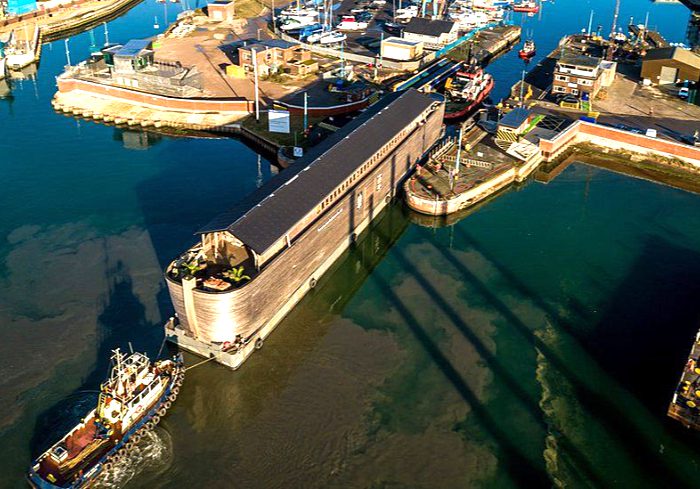 The thing – a museum of sorts full "pseudo-biblical artifacts" – was towed to Ipswich in 2019 and was officially welcomed at the time by the local port authority. Paul Ager, of Associated British Ports said:
We're delighted to welcome this educational vessel to our port and we hope that it will provide great entertainment to the local community over the festive period.

Also, this is an enormous vessel which was expertly handled by our skilled people, with little or no margin for error. This is another example of our people's expertise, to routinely handle any challenge, flexibly and safely.
The ark was due to remain Ipswich for three months but, almost two years on, it's still languishing in Orwell Quay.
The Ark's owners want to leave but the coastguard will not allow it to travel due to "serious concerns" about its condition.
They said:
Noah's Ark will remain detained until all the deficiencies have been put right and an MCA surveyor is invited back by the owners to check they've been corrected.
An "impossible stalemate" has reportedly been reached, culminating with the UK's Transport Secretary Grant Shapps being asked to intervene.
A Department of Transport spokesperson said:
We are aware of the situation and are in discussions with relevant agencies in the UK and the Netherlands. Safety remains the top priority.
The huge vessel stunned onlookers in November 2019 when it was towed into the marina for its first British visit. Yet shortly after arriving, the giant attraction was impounded in the dock by coastguard officers.
The ark's stay at Ipswich has proved expensive – racking up a bill of £12,132 for its detention as of January 2021 and £500 in daily fines since April 1, the date it was supposed to leave.
The detention report suggests the Ark arrived with legally-required load line certificates missing, no tonnage information, and a range of other concerns such as overdue services for fire equipment, life jackets and life crafts.
Its owners, who had planned to leave by March 31, said the Ark has always been categorised as a "non-certified floating object" not required to comply with international regulation. It has only left Holland on an "infrequent and exceptional basis" in the past.
The owners said in a statement:
The requirement to obtain full registration and the required certificates was and may not be achievable within the required timescales and would incur unreasonable costs and time delays to the vessel.

Towage plans have now been made for the Ark to return to the Netherlands and the vessel is still awaiting towage approval to depart from the UK.
A former MP in Holland has become involved in the row, saying:
There is only one ark in the world, so let it go.
According to one email exchange from within the Department for Transport in mid-May, the Dutch Government is said to be lobbying the UK's Foreign, Commonwealth and Development Office as well as the DfT's international and EU directorates on the issue.
Ipswich's MP Tom Hunt said:
The last I heard, we'd hit a bit of a brick wall. It's a very strange and unusual issue to crop up. We're working with the Dutch authorities and are trying our best to get it back to Holland one way or another.
In an interview with Vice in 2015, Peters was asked:
So, if shit hits the fan and there is another 'divine' flood, could you save us with your ark?
He replied:
Sadly, no. I don't like to use the word miracle, but it is a miracle that we got to Norway. The Ark has to be towed by a ship and can't handle more than two meter waves.
Hat tip: Ivan Bailey, BarrieJohn & Robert Stovold

• Please report any typos/errors to barry@freethinker.co.uk
If you'd like to buy me a cup of coffee – and boy, do I get through a LOT of coffee keeping this site active – please click the link below.
I'd love a cup of coffee