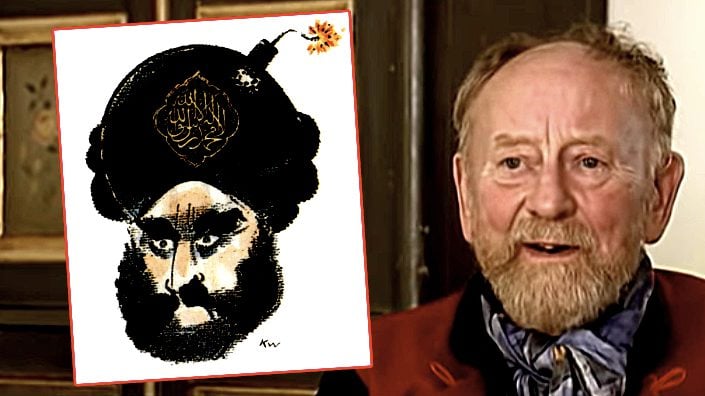 Kurt Westergaard, the Danish cartoonist whose bomb-in-a-turban Mohammed set off riots among Muslims worldwide, has died at the age of 86 after a long illness.
An atheist, Westergaard, who survived an assassination attempt after his cartoon was published along with 11 other depictions of the "prophet" by Danish daily Jyllands-Posten in 2005, said in a Reuters interview in 2008 that had no regrets, and that, had he not drawn it, adherents to the Religion of Perpetual Outrage would have found something else to riot over.
A novel a play, a movie, this situation would have occurred sooner or later anyway.
Protests against the cartoons were held around the world in late January and February 2006. Many of these turned violent, resulting in at least 200 deaths globally, according to the New York Times.
According to Wiki, on February 12, 2008, the Danish Security and Intelligence Service (PET) announced the arrest of three Muslims – two Tunisians and one Moroccan-born Dane – who were charged with planning to murder Westergaard.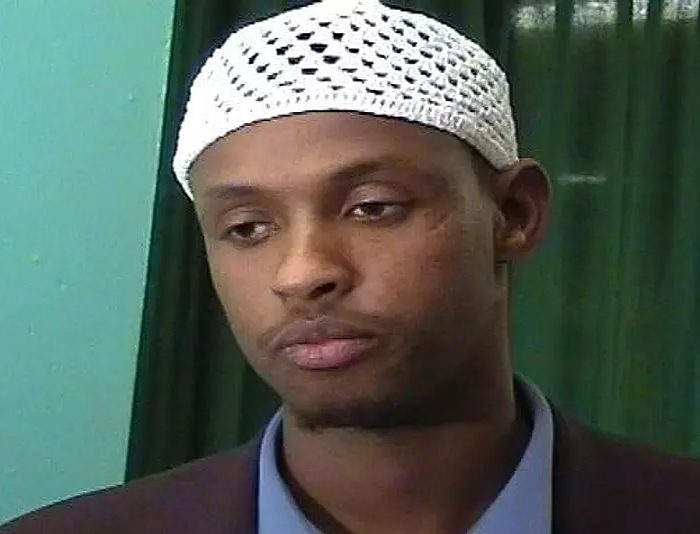 After the plot was foiled, the Danish secret service was made responsible for protecting Westergaard. He was placed under police surveillance when traveling to and from work. His house was fitted with steel doors, a panic room, reinforced glass in the windows and surveillance cameras.
On January 1, 2010, a 28-year-old Somali Muslim intruder armed with an axe and knife entered Westergaard's house and was subsequently shot and wounded by police. Mohamed Geele, above, was convicted of attempted murder and terrorism and jailed for nine years in 2011. Geele, 29 at the time, was also ordered to pay $1,800 damages to the cartoonist as well as court costs.
Westergaard told Reuters that he believed he would have to live the rest of his life under the cloud of violence and would have to make the best of the situation.
When there is no way out, you get braver and you want to resist so my basic feeling in this situation has been and is anger. I am angry that I am being threatened. I have just done my job.
The cartoonist said he appreciated the reprinting of his drawing as a show of solidarity to the threat against freedom of speech and the murder plot. He added:

I have no problems with Muslims. I made a cartoon which was aimed at the terrorists who use an interpretation of Islam as their spiritual dynamite.
In 2009, Westergaard collaborated with the International Free Press Society (IFPS) to make 1,000 limited edition copies of the cartoon available at a cost of £250.00. Three hundred of the prints signed by Westergaard were sold in the first 10 days. Some copies are still available.
IFPS says:
The proceeds from this offer will go towards the International Free Press Society's continuous campaign for free speech. Proceeds will support research, public education and legal efforts for individuals and organizations under assault for exercising their right to free expression; and to support efforts to ban hate speech laws and pass laws protecting freedom of expression.
A Danish imam, Ahmed Akkari, who became a spokesman for Muslims outraged by the cartoon, revealed in a Jyllands-Posten interview today that, in 2013, he met Westergaard for the first time after he turned his back on "Islamism."
I thought he would be mad at me. That he would show contempt and hatred. But he did not do that at all. Instead, he turned out to be an incredibly generous person who always had a funny remark up his sleeve.
During their meeting Westergaard showed Akkari the Mohammed cartoon. Akkari said:
There were several drawings, all of which criticised different religions. In addition to a Muslim with a bomb in his turban, Kurt Westergaard had drawn both a Jew holding a bomb and the pope wearing a bishop's hat. He believed that all religions had the potential to create fanaticism, hatred and violence.

Then I understood that he was a critic of religion and not a critic of Islam, and that, I think, has unfortunately been a bit overlooked in the debate.

Jyllands-Posten said in an editorial published today (Monday) that with the death of Westergaard:
It is more important than ever to emphasise that the struggle for freedom of expression, which became his destiny, is the struggle of all of us for freedom.
Jyllands-Posten's editor-in-chief, Jacob Nybroe, said:
The extreme Islamists' views on freedom of expression were exposed and exhibited through Kurt Westergaard's drawing.

Nybroe acknowledges that violent reactions forced the newspaper to "draw a line in the sand" regarding the depiction of the Mohammed for security reasons. But the newspaper's position in relation to freedom of expression remains the same.
A line has been drawn which we at Jyllands-Posten no longer dare to cross for the sake of our employees' safety. But our basic position in relation to freedom of speech is unchanged; within the framework of the law, we should be able to express ourselves as we want in writing, speech and drawings. The fundamental right should not be taken away from us by extremists.
Westergaard is survived by his wife and five children, ten grandchildren and one great-grandchild. Funeral arrangements were not immediately known. Mainstream outlets reporting Westergaard's death today neglect to show his iconic cartoon.
Hat tip: BarrieJohn
Please report any typos/errors to barry@freethinker.co.uk
If you'd like to buy me a cup of coffee – and boy, do I get through a LOT of coffee keeping this site active – please click the link below.