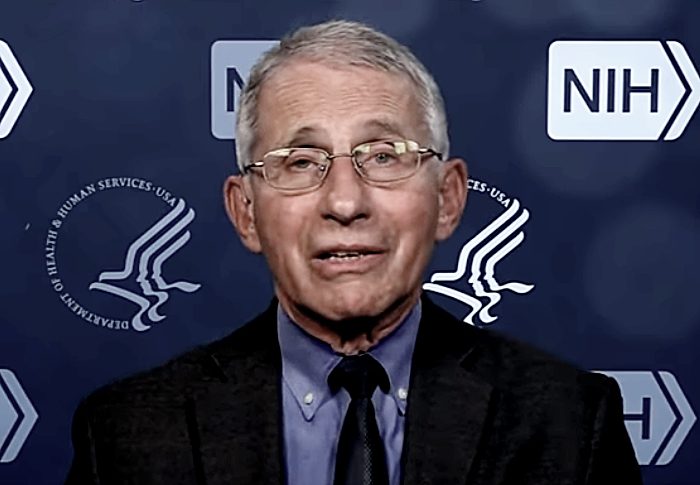 Although Dr Anthony S. Fauci, above – Chief Medical Adviser to President Joe Biden – attended Jesuit schools and once identified as a Roman Catholic, he now describes himself as a humanist.
And one worthy of international recognition, in the view of the American Humanist Association which yesterday named Fauci as Humanist of The Year.
In a 2003 interview with Science Magazine, Fauci said:
Broadly and generically, I am not a regular church-attender. I have evolved into less a Roman Catholic religion person to someone who tries to keep a degree of spirituality about them. I look upon myself as a humanist. I have faith in the goodness of mankind.
Fauci, as Director of the National Institute of Allergy and Infectious Diseases at the US National Institutes of Health since 1984. played a pivotal role in advocating for evidence-based solutions in the global fight against COVID-19.
Humanist of the Year is the highest honour awarded by the AHA and will be given to Fauci at the organisation's 80th annual conference on July 24-25. Previous recipients include Carl Sagan (1981), Kurt Vonnegut (1992) and Gloria Steinem (2012).
AHA Executive Director Roy Speckhardt told Religion News Service:
Dr. Fauci embodies humanist values, including his steadfast commitment to science, his demonstrated empathy and compassion for others and his overall direct approach. He has demonstrated how powerful science and human values can be in saving lives over the past year. If there was ever an appropriate humanist of the year, he is it.
Speckhardt also hopes the award will provide another platform for Fauci to promote the need for vaccines across the US and around the world.
While Speckhardt and others have applauded Fauci for his integrity, the scientist has also been criticised by Republican leaders for his seemingly inconsistent views around masking and for downplaying the possibility that the coronavirus originated in a lab. Fauci has dismissed these critiques as political. In a June 9 interview on MSNBC, he said that:
Attacks on me, quite frankly, are attacks on science.
And speaking of attacks on science, a clot of anti-vax lawyers have issued a letter to public and private schools in Virginia to oppose the mandatory COVID vaccine requirement amongst its students.
The letter was written "on behalf of parents, students, and pro-freedom groups" and delivered to the presidents and chairs of private colleges in Virginia that are requiring students to be fully vaccinated before the opening of classes in the autumn. The legal team's letter:
Details both medical and legal arguments describing the dangers of mandating the COVID-19 vaccine.
According to Law and Freedom, the group is "demanding the revocation of mandatory COVID-19 vaccine requirement" in students who are going back to school to attend face-to-face classes.
The letter was sent in behalf of the Center for Medical Freedom, Health Freedom Virginia, Virginia Coalition for Medical Freedom, CNU Parent Covid-19 Mandate Concerns, University Parents for Informed Consent, Students for Medical Freedom, Virginia Tech Freedom of Choice, JMU Freedom of Choice Parents, Virginia Freedom Keepers, The Virginia Project, America's Future and Students for America.
It points out how thousands of students plan to attend colleges and universities this autumn but:
Who refuse to yield to mandates that they first participate in unmonitored experimental genetic therapy by taking the COVID-19 vaccine.
The legal team said that such policies are:
Putting these students, and their parents, in an untenable situation, where they must choose between accepting the significant risk of bodily injury, possible lifelong disability, or death or continue their education.
The lawyers said:
The evidence is now clear that some statistically significant number of those students receiving the inoculation will be harmed seriously, and some may die. A policy of coercion can impose on your institution great responsibility, as well as liability…this coercive policy is contrary to law, contrary to science, and out of line with how other institutions are handling this issue, and therefore flawed from its inception.
Since 1941, the AHA has worked to protect the rights of humanists, atheists and nontheistic Americans while advancing the humanist worldview.
Humanist of the Year is the latest of many honours given to Fauci. On June 10, the Arnold P Gold Foundation awarded him the National Humanism in Medicine Medal. He has also received the Presidential Medal of Freedom (2008), the National Medal of Science (2005) and the George M Kober Medal of the Association of American Physicians (1988), among others.
The news of Fauci getting this latest accolade will not be well received by the washed-up Donald Trump. Last year the posturing imbecile called Fauci "an idiot."
• Please report any typos/errors to barry@freethinker.co.uk
If you'd like to buy me a cup of coffee – and boy, do I get through a LOT of coffee keeping this site active – please click the link below.