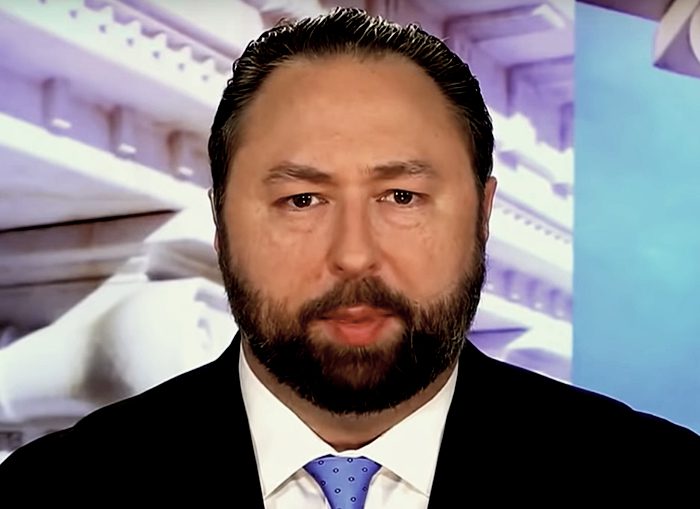 THE half-man, half-melon pictured above is a former Trump aide Jason Miller who used the Fourth of July to officially launch a YUGE new platform with a promise of unfettered free speech to American conservatives.

An introductory message on the home page of GETTR, according to Mother Jones, says:
Welcome to GETTR and start a new journey!
It was an offer I couldn't resist because curiosity demanded that I "GETTR" a better glimpse of what people are posting. This immediately caught my eye.

You'll notice the post has had zero reaction. That's because GETTR ain't working. I actually downloaded the app in order to give JesusWasACommie some support, but instead got this message:
Thank you for joining the GETTR community! Currently, our system is experiencing a delay due to an unusual amount of online users' registration activity. If you did not receive the code, we suggest you try again later and please avoid submitting requests frequently.


We sincerely apologize for the inconvenience, and our team is actively working to resolve this issue. Thank you for your patience. The GETTR team wishes you a very nice day.
MJ reported that, when the platform was working, it wasn't working at all well. Spam messages were left en masse, and so was porn. There were also repeated copies of an image depicting Hillary Clinton's head Photoshopped onto another woman's nude body.
Major social media platforms like Twitter, Facebook, and its image-sharing subsidiary platform Instagram, have automated filters that root out and remove or censor nude images. But at the moment, the Trump-linked social media app apparently has nothing of the kind, says MJ.
While GETTR frames itself as an anti-censorship platform – in its terms of service, it notes "hold[ing] freedom of speech" is a "core value" but the company reserves the right to "address content that comes to our attention that we believe is … pornographic" alongside material that may be "offensive, obscene, lewd, lavicious, filthy… violent, harassing, threatening, abusive, illegal, or otherwise objectionable or inappropriate."
Hence this screenshot taken from a YouTube report: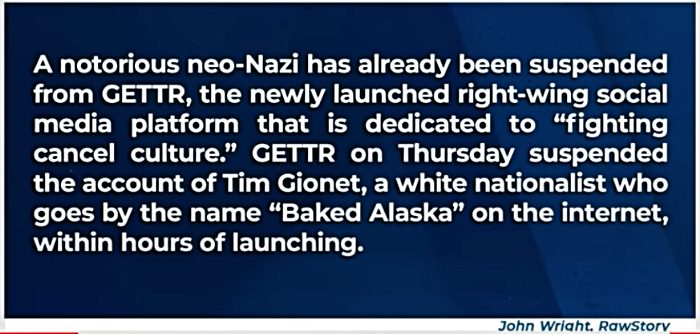 Ahead of the launch, News Corpse, via the Daily Kos, carried this piece on July 1:
Three months ago the projected return of Donald Trump to the Internet was announced by his spokesperson, Jason Miller.
That set the stage for the former Narcissist-in-Chief to reprise his role as America's Biggest Loser. And now, after nearly six months of exile, there are signs that Trump is closer to resuming his petulant trolling, annoying whining, and relentless lying.
Back in March Trump launched what he said was his new "social media platform." But true to form, it was a dismal failure that he shut down in less than a month.
Now Trump's new alt-Twitter project has been dubbed GETTR, a name that is a cringeworthy nod to his years of sexually abusive behavior (i.e. GETTR by the pussy). He might have just called the site PREDATTR. Or he could have gone another way with TRAITTR to highlight his leadership of the insurrection and other anti-American attacks on democracy. The site itself is a shameless ripoff of Twitter …
Rest assured that Trump and his confederates at GETTR have no intention of providing a "true marketplace of ideas." In fact, they have always proven to be the real perpetrators of "cancel culture," incapable of grasping common sense, and the enemies of free speech. What's more, the marketplace that Trump is entering into is already populated by his addled allies Dan Bongino (Parler), and pillow guy, Mike Lindell (FrankSpeech).
The GETTR app is available now from the Apple and Google stores. It's been downloaded a whopping one thousand times from each store. For the record, Twitter currently has 69 million users in the U.S. alone. And GETTR is being pitched with a tag line that was obviously written by someone who doesn't speak English. It says that…
"GETTR is a non-bias social network for people all over the world. GETTR tried the best to provide best software quality to the users, allow anyone to express their opinion freely."
So what's the prognosis for GETTR? Who knows? What we do know is that Trump's prior businesses have suffered at least six bankruptcies.
His "university" was shuttered due to fraud and corruption, and was ordered to pay restitution exceeding $25 million. His private jet is in mothballs His hotels and golf courses are bleeding in debt. And he's being pursued by prosecutors from Washington, New York, Florida, and Georgia.
F0r the record, Trump himself hasn't joined GETTR and remains voiceless, according to Bloomberg
The news outlet reminded readers that Trump has been banned by major social-media companies – including Twitter Inc. and Facebook Inc – for his role in stoking the mob that attacked the US Capitol on January 6. During his presidency, Trump relied on Twitter for everything from insulting rivals to major policy announcements.
But yesterday, Miller posted this on the GETTR's spam-cluttered website: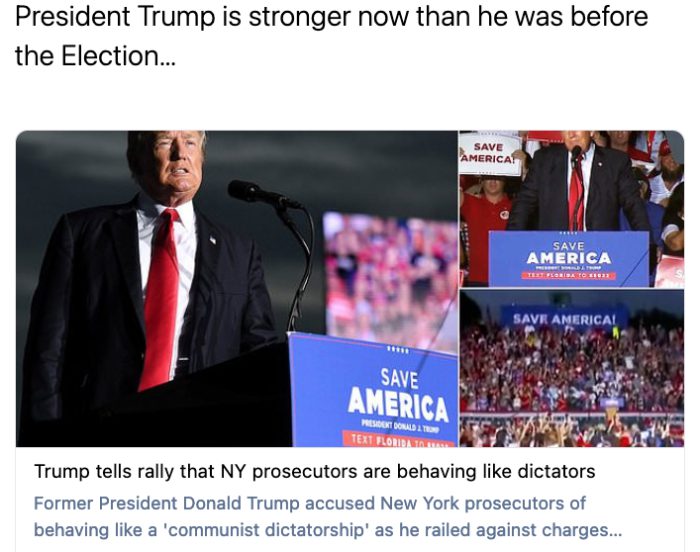 • Please report any typos/errors to barry@freethinker.co.uk
If you'd like to buy me a cup of coffee – and boy, do I get through a LOT of coffee keeping this site active – please click the link below.