THE headline in today's Christian Post reads "Billy Graham's grandson shares Gospel with hospital staff while battling COVID in ICU."
It goes on to gloomily report that Billy Graham's grandson, Jonathan Lotz (pictured) – son of Anne Graham Lotz, daughter of the late evangelist Graham – is critically ill with Covid-19, but that he's using his time to "bring the good news of Jesus" to hospital staff.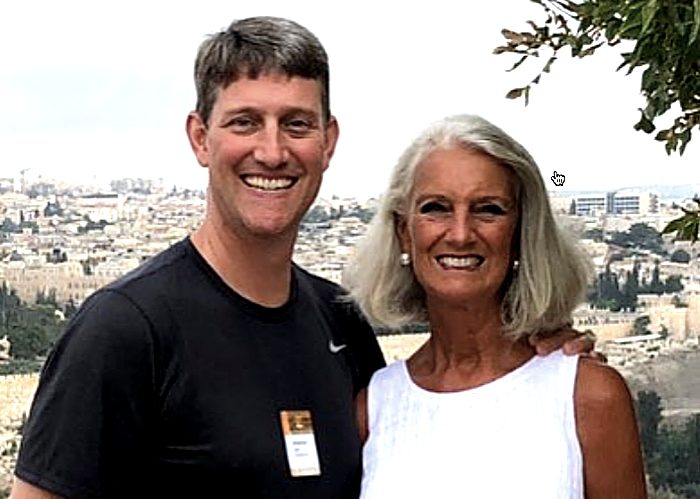 The report say that Anne Graham Lotz, pictured above with her son, revealed in a Facebook post that he had told her:
I am continually pouring over the Psalms of Ascent (120-134) in ICU. I have had the privilege of sharing Jesus with the ER & ICU staff! What a Savior! God is so good!
Graham Lotz called for prayers and added:
He is not on a ventilator at this time. Please be encouraged that God is hearing and answering your prayers – just please don't let up. Pray he will not have to go on a ventilator, that his oxygen levels would increase, that his lungs will be strengthened, healed and that his health will be fully restored – with no long term complications. My heart is filled with gratitude for your prayers.

Fifty years ago I could hold my son in my arms. Now I have placed him in the arms of Jesus.
The Independent reports that Jonathan Lotz, 51, is an ordained minister and a cancer survivor, who previously worked with his grandfather – a man considered to be one of the most influential Christian leaders of all time.
It is so far unknown if Mr Lotz has received the Covid-19 vaccine.
In 2018 it was reported that, in addition to being a minister, he was the manager of a "Jesus Chicken" food outlet in Clemmons, North Carolina – Chick-fil-A, a faith-based chain of eateries that's long been boycotted by LGBT communities for its support of anti-gay causes.
The chain was most recently in the headlines when students at Notre Dame University in Indiana protested against a branch being opened on its campus. A letter written a local newspaper, The Observer, said
Bringing Chick-fil-A to campus would run contrary to Notre Dame's commitment to inclusion and desire to create good in the world.
That letter was signed by nearly 180 students and staff.
Hat tip: Stephen Harvie
Please report any typos/errors to barry@freethinker.co.uk
If you'd like to buy me a cup of coffee – and boy, do I get through a LOT of coffee keeping this site active – please click the link below.