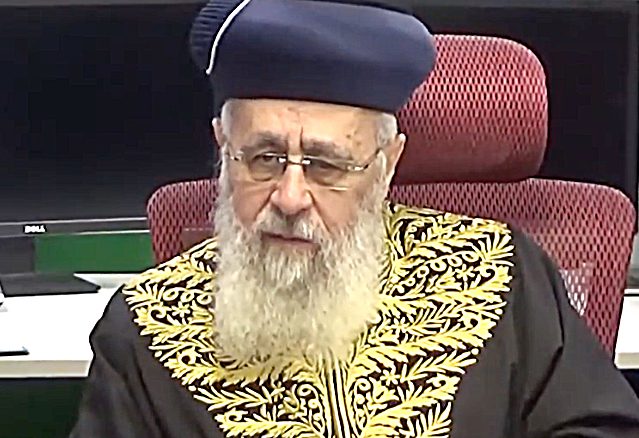 AFTER causing outrage recently by calling science, math and English lessons 'nonsense', Sephardic Chief Rabbi Yitzhak Yosef, above, has sparked further offence by warning Tunisian Jews not emigrate to Israel unless they they plan to live in ultra-Orthodox neighbourhoods.
According to this report, he said new settlers who choose to live in non-Haredi areas would cause them "spiritual harm". It would be "a sin worse than death."
The rabbi said he was responding to a "Halakhic conundrum" he was posed during a visit to the Tunisian Jewish community.
I was asked while I was there whether or not they should immigrate to Israel. I told them it depends on where they would live.

If they were going to live in an ultra-Orthodox neighborhood or next to Kisse Rahamim [a prestigious Bnei Brak yeshiva founded in Tunisia], then they should immigrate to Israel. But if they lived in a place like Herzliya or another one of the secular locations … they should stay where they are.
The chief rabbi's remarks drew criticism, especially on social media, in part because they ostensibly contradict the position of sages cited in the Babylonian Talmud and Halakha that a person should always strive to live in the Land of Israel – even in areas where most people were not Jews.
The remarks were also criticised by the Religious Zionist Ne'emanei Torah Va'Avodah movement, which promotes an open and accessible approach to Judaism.
The organisation said:
It is inconceivable that the chief rabbi of Israel, whose position is paid for by the state, would express himself in a way that contradicts the Declaration of Independence and the State of Israel's vision for an ingathering of exiles.

The rabbi is deterring people who wish to immigrate to Israel in a manner that contradicts the ideals of Zionism.

This again raises questions about the role of the chief rabbi of Israel, and in particular about the identity of those who have held the position in recent years. It is time to appoint an attentive, inclusive and welcoming Zionist rabbi, who is connected to all parts of the nation, and someone who is receptive solely to the needs of one sector.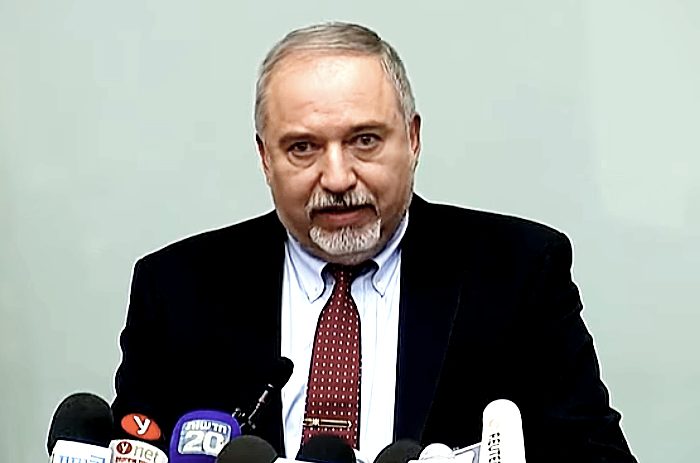 Meanwhile, it's reported here that Israel's Finance Minister, Avigdor Liberman, above, announced today (Wednesday) that the new coalition government is to end a big chunk of financial support given to Haredi parents who have children in daycare centres.
At present, 23,000 families are receiving the daycare subsidy on the grounds that at least one parent is studying, mainly in yeshivas (religious colleges). This costs the state around £88-m a year.
Under new rules only 1,500 of those families will still be eligible as they are enrolled in a recognised academic institutions that exclude yeshivas.
Until now, the criteria for eligibility was income-based and if the mother worked at least part-time, it allowed fathers to continue studying in yeshivas.
The Finance Ministry added that in order to be eligible for subsidies in instances where the spouse does not work, he or she must acquire education or skill that will enable future integration in the labour market, such as a bachelor's degree, certificate studies, nursing, vocational training and teaching certificate.
The new criterias are set to take effect from the upcoming school year, which starts on September 1.
Stand by for shrieks of outrage from Yosef, who called on ultra-Orthodox youth to shun the "nonsensical" Education Ministry's core curriculum of math, science, English and other key subjects, and believes that the only knowledge worth having derives from "holy" writings.
Dan Perry, writing for The Jerusalem Post this week said:
Israel's new leadership calls itself the "Change Government" because the long-serving Benjamin Netanyahu has been finally displaced. But its ideological disparities risk blocking the real changes that are needed, including on the primary threat the country as currently constituted faces.
It's not from the Palestinians, important though they are, nor from the wider Arab world or even Iran. The greatest danger is from within: the rapidly expanding haredi state-within-a-state whose current dynamic cannot continue without ending the country's brittle tenure as a Western-style democracy with per capita income to rival Britain or France.
As we know, the haredim cling to a rigid interpretation of Judaism which tolerates little deviation from ancient traditions. They can be found in the US, Belgium, Britain and elsewhere, always forming tight-knit communities, but only in Israel is there a toxic firewall between them and fellow citizens.
• Please report any typos/errors to barry@freethinker.co.uk
If you'd like to buy me a cup of coffee – and boy, do I get through a LOT of coffee keeping this site active – please click the link below.