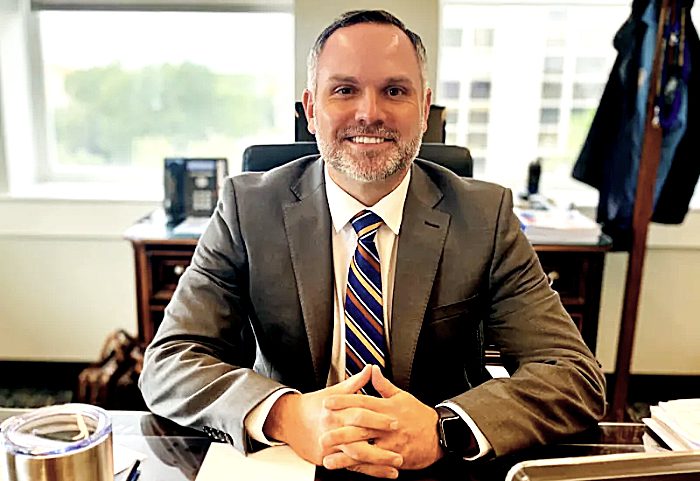 THE Academy of the Holy Names in Tampa, Florida – headed by Kevin P Whitney, above – has been accused in a lawsuit of straying from core Catholic values by a couple who pledged $1.35 million to the institution.
At a fundraising gala in 2017, Anthony and Barbara Scarpo announced their pledge to their "cherished" academy attended by their two daughters.
Then things turned sour.
They are now alleging that the academy has "lost its way" by distancing itself from mainstream Catholicism and embracing a divisive "woke culture" where priority is given:
To gender identity, human sexuality and pregnancy termination among other hot button issues.
The lawsuit makes clear the couple's displeasure with the way the school has dealt with issues of race, saying students are made to feel guilty for being white and having enough money to attend the academy.
In addition to asking for a return of the pledged donation, the lawsuit seeks a tuition refund.
And they want the academy be stopped from advertising itself as a Catholic institution and for the Florida Catholic Conference to stop accrediting the school.
The lawsuit, filed in Hillsborough County Circuit Court, identifies the Scarpos as owners of a diamond and jewelry import company and the First Trust Funding Group.
The school has denied the claims. In a letter to Adam Levine, the Scarpos' lawyer, Tampa lawyer Gregory Hearing called the lawsuit a publicity stunt. If the Scarpos choose to move forward, he said, the academy would consider filing a counterclaim asking them to pay the remainder of their pledge, which he said Florida law may require them to do.
Hearing wrote:
We can discern no motivation behind the lawsuit other than attention-seeking by your clients … For a court to delve into whether the substance of matters taught by a Catholic school are consistent with a Catholic education would entangle the court in excessively religious matters, and thereby violate the Establishment Clause of the U.S. Constitution. That we should need to educate you on this is absurd.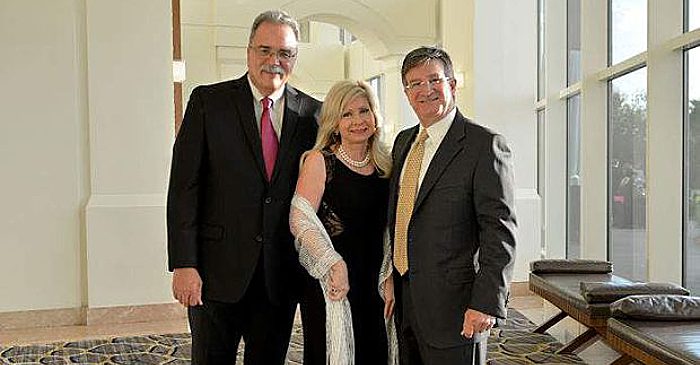 The lawsuit pointed to what Anthony Scarpo alleged were many angry parents who agreed that the school no longer embraces mainstream Catholicism.
Scarpo wrote in a letter to the school upon his older daughter's graduation.
The continued indoctrination of your twisted version of social and racial justice, equity, inclusion, sexuality and today's politically correct narrative has permeated like a stench through the halls of the Academy and been allowed to seep into the minds of our children, causing stress, anger, guilt and confusion.

You were always eager to solicit our hard-earned money and take what you could but held firm as you dragged dozens if not hundreds of conservative families and teachers through your reimagined, highly progressive world, even as parents and students asked you … pleaded with you to stop, slow down.
The lawsuit points to another letter, this one sent from Art Raimo, then-president of the academy, and Ernie Garateix, chairman of the school's board, about the creation of a justice, equity, diversity and inclusion committee. Ken Whitney became president of the school on July 1.
The letter stated:
The social teaching of the Church and our participation within this teaching should be at the heart of what guides our work as a community. The well-being of all – staff and pupils – requires the removal of any barriers of prejudice, discrimination and oppression if we are all to strive and realize our full potential as unique and fulfilled human beings.
According to the lawsuit parents were upset over a blackboard message in a common area of the school that explains how to be an ally to the LGBTQ community. The Scarpos say the message:
Utterly fails to put any part of this explanation into perspective within mainstream Catholicism.
The Scarpos paid $240,000 toward their pledge as of 2018 and raised more than $9 million for the school, the lawsuit says. It asks that the money they gifted be returned and the tuition they have already paid to be donated to Catholic charities of their choice.
Levine, their lawyer, said the couple is not concerned about the money, but rather wants the school to return to its roots.
It's about being a voice for people who are not being heard. It's about the failure to deliver on a promise…. This is not asking the courts to get involved in a religious issue, but this is a simple breach of contract. If you're paying for a Catholic education, that's what you should be getting.
Emily Wise, a school spokeswoman, said in an email that because the case is pending, the academy cannot comment on details, other than to say the claims are "false and unsubstantiated."
The school's curriculum, she said:
Is, and always has been, based on Catholic values and rigorous academic standards.
These, she said, include education, social justice, contemplation and the arts, with special concern for women, children, poor and marginalised people.
We will continue to pray for all parties involved, and, if necessary, we are prepared to defend ourselves in court.
Liberty University is also being sued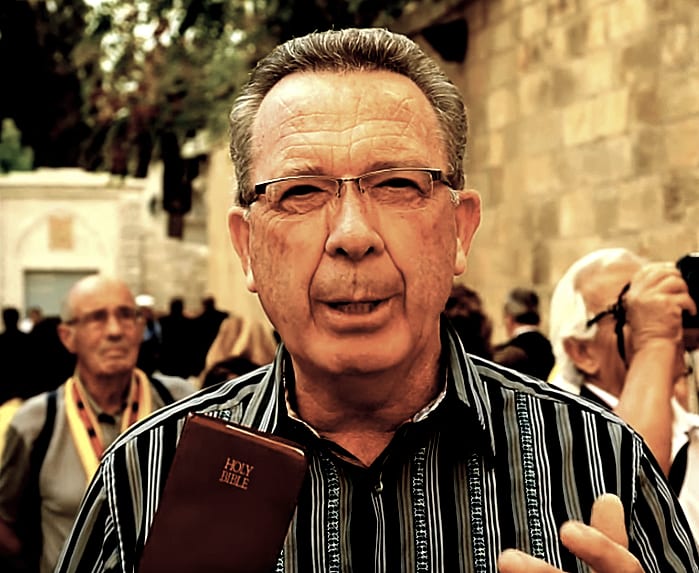 Meanwhile, its reported here that a former Liberty University graduate and employee – Kelvin Edwards – has filed a lawsuit against Liberty after he was fired by Dr Jerry Prevo, above, the new acting president of the Virginia University, shortly after Edwards was appointed by then Liberty President, the disgraced Jerry Falwell Jr.
According to a court filing in US District Court for the Western District of Virginia is is suing Liberty for more than $8 million.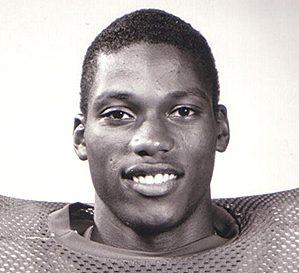 According to the complaint, Edwards graduated from Liberty University and played on their football team in the 1980s. In June of 2020, Liberty offered Edwards a position on Liberty's executive leadership team as Executive Vice President of Management Efficiencies and Diversity.
The complaint states that the offer included a $275,000 salary, a $1,500 monthly vehicle allowance, full scholarships for him and his family undergraduate and graduate degrees and the new construction of a home for him and his family on Liberty Mountain.
The complaint states that:
In August 2020, Liberty publicly touted the hiring of Mr. Edwards, who was one of the very few African American executives in Liberty's history.
The complaint states that in early September, Edwards felt there was confusion around his role and that Prevo told him:
He did not recall approving this job description.
The lawsuit alleged that Prevo does not believe in diversity efforts at Liberty. In fact, Edwards heard Prevo comment that there were "too many people" in diversity and inclusion.
The complaint states that Liberty University discriminated against Edwards based on race under Title VII of the Civil Rights Act of 1964 and under the Virginia Human Rights Act. The complaint also states that Liberty breached its contract.
Scott Lamb, the Senior Vice President of Communications and Public Engagement at Liberty, said no one was available for an interview on this.
He sent this statement:
Liberty University rejects the claims of Kelvin Edwards and will prove them false through the legal process. The University and its president are fully committed to racial and ethnic inclusion and diversity throughout Liberty, including on its faculty, in its student body and staff, and on its executive team.
Edwards' attorneys did not provide additional comment on the lawsuit other than to say that:
Mr. Edwards loves Liberty University and his complaint speaks for itself.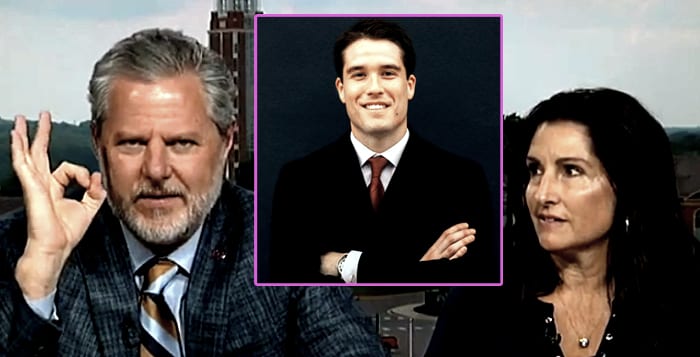 Earlier this year, Falwell, above, was sued by Liberty for $10-million. It claimed the former President, 58, breached his duties by refusing to disclose his and wife's relationship with "pool boy" Giancarlo Granda inset above, and negotiated a higher salary and severance package when he knew the affair could damage the school.

• Please report any typos/errors to barry@freethinker.co.uk
If you'd like to buy me a cup of coffee – and boy, do I get through a LOT of coffee keeping this site active – please click the link below.