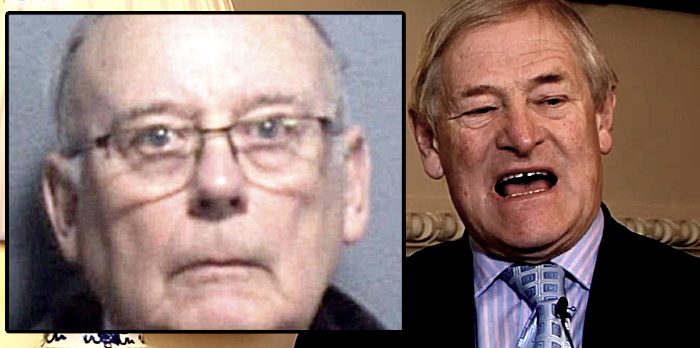 BISHOP Michael Turnbull, above, reportedly played a role in keeping paedophile priest David Beater in active service in the Church of England after Beater, inset, was convicted in 1985 for abusing a 14-year-old boy in Kent and fined £250.
According to the BBC, Beater, 80, was jailed for more than four years on Monday for assaulting two boys in the 1980s.
The BBC has found he was able to work in churches until 2010, despite his previous conviction.
Turnbull, who served as a Cabinet Secretary in the UK Government, and now holds a seat in the House of Lords, said at the time of Beater's first conviction that the priest would be "staying within the care of the church" and would receive counselling.
While in the earlier stages of his ministry, Turnbull himself was convicted of gross indecency in a public toilet with an adult male.
According to Wiki, the offence occurred on August 30, 1968, as undercover policemen kept watch on public toilets in Hull. Later, at Hull magistrate's court, Turnbull, who at the time was chaplain to the Archbishop of York, pleaded guilty and was given a 12-month conditional discharge and ordered to pay costs of £6.30.
Wiki also points out that, in a 1994 speech in Church House, Westminster, just before his enthronement as bishop of the Diocese of Durham, Turnbull was asked what his policy regarding gay clergy would be. He replied that:
An admitted and open lifestyle is incompatible with full-time ministry.
The disclosure of Turnbull's gross indecency conviction came just four weeks before his scheduled enthronement. His past was known to the archbishops of Canterbury George Carey and York Stuart Blanch, to Lord Runcie, the previous archbishop and to Lord Coggan, whom Turnbull had acted as chaplain when the offence took place.
According to close associates, Turnbull "seriously considered withdrawing" from his enthronement "when his past was revealed." In his sermon during his enthronement, Turnbull spoke of the "gravity of sin" and of his "repentance".
He told the congregation that he had been "through a private and now public process of repentance", and that he was "deeply sorry" that friends had to share in the consequences of his past. His sermon also touched on the "depth of forgiveness" by many fellow Christians.
Outside the cathedral, the leader of the pressure group OutRage!, Peter Tatchell, and others protested "against what they saw as [Turnbull's] hypocrisy".
Phil Johnson, who was abused by clergy in the Diocese of Chichester and now supports fellow survivors, said:
I think it's utterly shocking. He [Beater] should have been banned from ministry for life.
Johnson, chair of the Minister and Clergy Sexual Abuse Survivors group, believes Bishop Turnbull's own experience may have "clouded" his judgement in Beater's case.
The Church of England said Beater's case raises "concerning questions".
Beater was sentenced at Maidstone Crown Court after pleading guilty to offences against two boys, aged eight and 13, between 1982 and 1985.
His Honour Judge Philip Statman told Beater he was guilty of a "profound and grave breach of trust", adding that it was:
Noteworthy that some of the offences took place within the vicarage.
One victim now in his mid-40s, who was eight at the time, told the BBC the abuse had had a "profound effect" on his life, leaving him untrusting and like a "closed book".
He added that the decision to allow Beater to remain in the church 25 years after his first conviction:
Compounds what I have suffered. What I don't understand is why the Church of England allowed him to continue to practise religion. I just feel that he has been protected and that really disappoints me,
Turnbull, who retired in 2003, declined to comment on Mr Johnson's claim. He said he had not been made aware of further allegations against Beater after 1985, and only recently learned of the current prosecution.
I utterly condemn the actions of any perpetrator of abuse and will always do what I can to protect those who are vulnerable.
In a joint statement the Dioceses of Rochester and Canterbury said:
The facts of this case raise concerning questions about decisions and actions taken in relation to David's ministry.
An investigation by the church's national safeguarding team would be carried out, the statement said.
Turnbull said he would cooperate fully with the church's investigation.
After the hearing, the Rt Rev Simon Burton Jones, the Bishop of Tonbridge, praised:
The bravery of those who brought these allegations forward. We apologise unreservedly to them for what has happened and for what they have experienced.
He urged anyone with "concerns relating to this case", or who has any other safeguarding issues, to get in touch with the Diocese of Rochester.
Hat tip: BarrieJohn
Please report any typos/errors to barry@freethinker.co.uk
If you'd like to buy me a cup of coffee – and boy, do I get through a LOT of coffee keeping this site active – please click the link below.