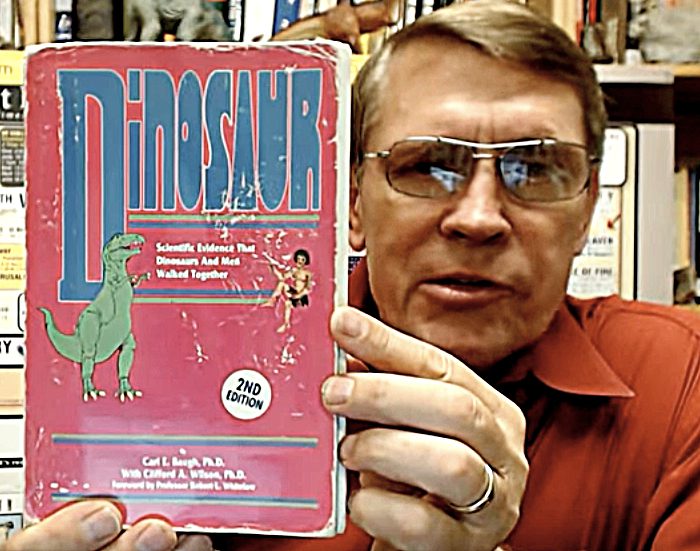 A LUNATIC known as "Doctor Dino" – Alabama-based creationist preacher Kent Hovind, above – is out on bail after he was arrested for throwing his estranged wife, Cindi Lincoln, to the ground, causing bodily harm.
Hovind, who recently unsuccessfully tried to sue the federal government for half a billion dollars, was arrested in late July in a domestic assault case.
The same day the arrest warrant was filed, Lincoln also filed a petition for a protective order against Hovind in Conecuh County, Alabama. The petition alleges one of Hovind's associates threatened Lincoln with a gun in January 2021. The alleged domestic assault occurred in October 2020, according to the petition.
Reached by telephone, Hovind, who is out on bail, told Religion News Service he could not comment in detail on the arrest, saying the matter would be resolved in court and that there was "nothing to it."
After speaking with RNS, Hovind streamed a video on YouTube addressing the charges, saying he had been falsely accused. He said:
It's going to be fine, it's going to be fine. I'm squeaky clean.
In 2006, Hovind was sentenced to ten years in prison for tax fraud after failing to report hundreds of thousands of dollars in income and failing to pay taxes on wages for employees at the Creation Science and Dinosaur Adventure Land in Florida.
Hovind had claimed that everything he owns belongs to God and that therefore he owes no taxes.
Hovind's first wife was also sentenced to prison time on tax charges. The couple has since divorced.
Hovind continues to maintain his innocence in the tax fraud case.
After his release from prison, Hovind moved to Conecuh County, Alabama, where he set up a new Dinosaur Adventure Land, a Christian campground that promotes creationism. The campground's logo features a brontosaurus looking up at three crosses on a hilltop.
Dinosaur Adventure Land is run by Creation Science Evangelism Ministries Inc., a nonprofit where Hovind serves as President. The charity collected $560,638 in revenue during the fiscal year 2018, according to documents filed with the IRS.
Hovind's YouTube channel — which describes him as the "most hated creationist on earth" — has 184,000 subscribers and features a mix of videos about creationism and Bible studies. Forbes recently reported the channel has received more than 25 million views.
In a video posted after his July arrest, Hovind asked supporters to pray God would protect the ministry from outside threats.
Lord, build a hedge of protection around us as we're being attacked.
In 2020, Hovind sued the federal government and a number of government officials over his past conviction and the seizure of property belonging to his past ministry in Florida. That lawsuit was recently dismissed. An appeal is planned.
News of the arrest and the request for a protective order was first posted by Robert Baty, a blogger who has been critical of Hovind.
Hat tip: Stephen Harvie.
Please report any typos/errors to barry@freethinker.co.uk
If you'd like to buy me a cup of coffee – and boy, do I get through a LOT of coffee keeping this site active – please click the link below.