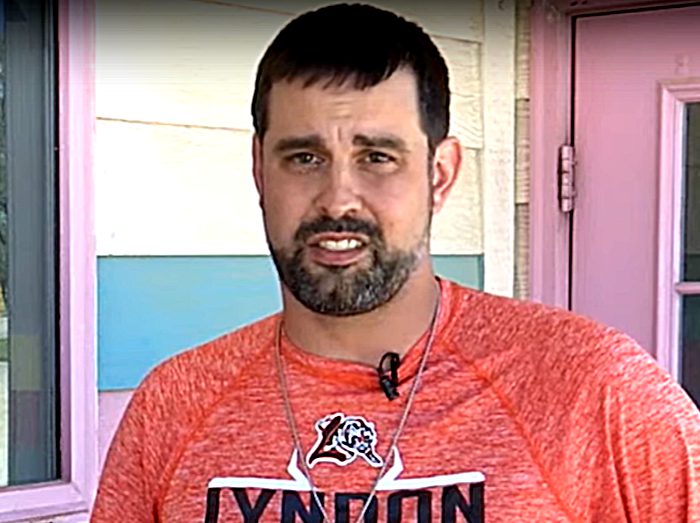 BACK in May we reported on the arrest of Kansas State Representative and substitute teacher, Mark Samsel, above. During a lesson on mental health he lost his cool and allegedly assaulted two pupils, kneeing one in the groin.
The Kansas City Star now reports that Samsel, who faces trial on August 16 for three misdemeanor battery charges involving two victims at Wellsville's high school, has forfeited his teaching license.
Numerous videos taken by students during the April lesson day show Samsel ranting about God, the Bible, masturbation and suicide.
Samsel, claims that after the incident he began receiving mental health treatment and is giving up his substitute teaching license after "extreme stress, pressure and agitation" prompted an "isolated episode of mania with psychotic features."
In a Facebook post shared with The Star on Wednesday, Samsel, a Wellsville Republican, said the stress was at its worst during April and May, when the Kansas Legislature was in session.
The Facebook post marks Samsel's first public acknowledgment that April's events stemmed from mental health struggles.
After multiple visits with mental health professionals over the past three months and studying ways to handle stress, Samsel said:
There is no likelihood that it will happen again.
The Star says it's possible Samsel will reach an agreement with prosecutors. His attorney, Christopher Scott, told a judge during his last court appearance on July 12 that he had been "hoping to maybe have some resolution of this matter" by the July court date.
During an interview with investigators shortly after the incident, Samsel described a chaotic classroom with misbehaving students and said he had begun to lose his temper "a little bit," according to an affidavit used to charge him in Franklin County District Court.
The students had Samsel at his "wit's end," he told the officers.
Samsel claims he "barely grabbed" one student and told the student to give him space and said he had heard the student had a bruise.He put this down to God "working in mysterious ways."
In May, Samsel pleaded not guilty to the charges and a judge ordered him to undergo a mental health evaluation.
Please report any typos/errors to barry@freethinker.co.uk
If you'd like to buy me a cup of coffee – and boy, do I get through a LOT of coffee keeping this site active – please click the link below.