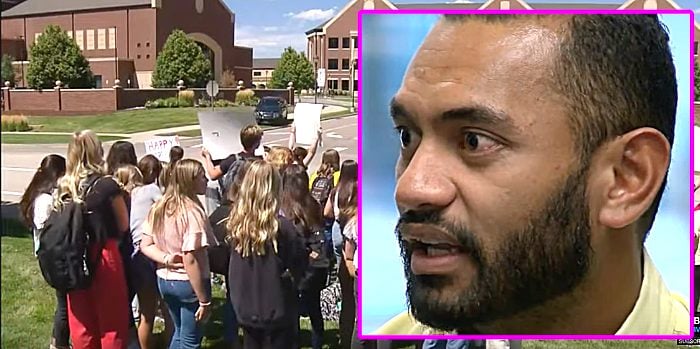 THE sharp divide between young people and bigoted conservative Christian educators was thrown into sharp relief when students at Valor Christian High School in Highlands Ranch, Colorado, staged a protest this week after gay volleyball coach Inoke Tonga, inset above, was forced out of job for "posing a danger" to students.
According to this report, after a "tense" meeting between Tonga and school officials, the head coach said he was told:
We can't just have you hanging around the kids if you identify that way.
He had to either "denounce being gay" and "become a child of God" or resign from the job.
Tonga, a devout Christian, said in a social media statement:
I sat in that room for an hour and a half being belittled by men who knew nothing about who I am, what I've done in life, what obstacles I've overcome, the understanding I have of the living scriptures, and more importantly the love I have for my savior and lord, God.

With my head held high, and with tears ready to be shed for hours, even days, I walked away. [I knew] that my journey as a coach at Valor Christian had come to an end. I was not going to 'denounce identifying as a gay man.'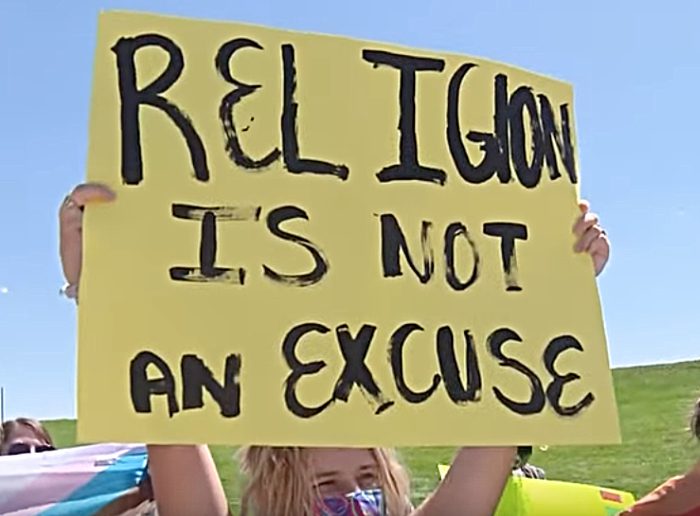 When students learned that he had been forced to resign, on Tuesday around 50 staged a walk-out and held up protest signs. They rallied outside the school to:
Show support for all LGBT+ students and show discrimination and bigotry won't be tolerated.
One 16-year-old student, Lucy, told CBS News:
Reading the statements from Coach Inoke broke my heart. Hearing that they called him a danger to the school. For every queer teen sitting at this school right now, to hear that they are a danger, breaks their heart.
She added that the school must also allow LGBT students to attend school:
Without fear of being reprimanded by the deans.
A Valor Christian High School spokesperson said the school:
Requires its staff, faculty and volunteer leaders to agree with Valor's Christian beliefs … and to live in accordance with such beliefs.
The spokesperson also accused Tonga of "misrepresenting" the matter and nauseatingly:
Wished him the very best.
The spokesperson added:
Valor became aware of a Facebook posting by coach Inoke. [It] suggested he may not support Valor's beliefs pertaining to sexuality and marriage.

Valor's campus pastor and athletic director initiated a conversation with coach Inoke to explore this matter further.

Following this discussion, coach Inoke provided a statement to Valor. [He] concluded he does not support Valor's beliefs, and he requested a separation from Valor.

Based on this conclusion, Valor agrees that a separation is appropriate.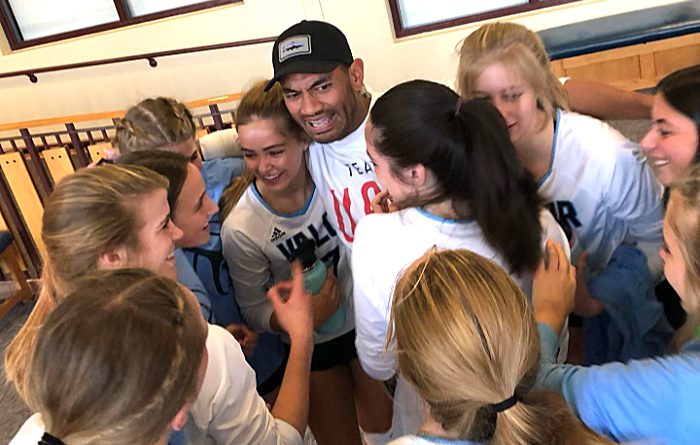 In a later Facebook statement , Tonga, who posted a picture showing how much he is adored by pupils, wrote more about the meeting he had with school officials:
They even went as far as telling me 'parents pay too much money to have their kids be coached and taught by someone like you who identifies as a gay man.' … 'Hearing how much love you have for these kids, I don't think you are even gay! You just need some direction to reach the goal of becoming a child of God.'

As if being Gay disqualifies me of being a child of God. Many things were shared and stated during this 'spiritual connection.' In closing they asked me where we go from here. They proceeded by telling me that they weren't trying to 'convert me into being a straight man' and that ultimately I had two choices.

One choice was to 'denounce being gay. I want you to cut off that part of who you think you are. Go home and delete any posts on social media that speak about being gay. We want you to realize you aren't gay. You need to become a child of God.'
Please report any typos/errors to barry@freethinker.co.uk
If you'd like to buy me a cup of coffee – and boy, do I get through a LOT of coffee keeping this site active – please click the link below.