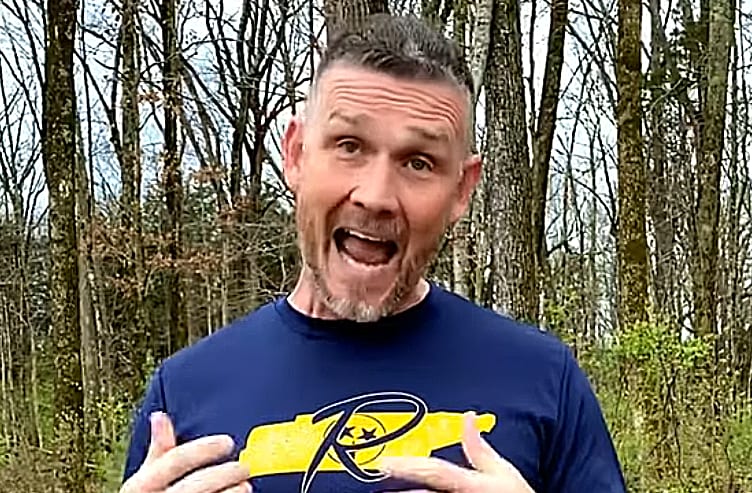 LOCKE, of Global Vision Bible Church in Mt Juliet, Tennessee – where the faithful are banned from wearing face masks – is not having a good month.

First he was told that a "Freedom Matters" event which he was due to address had been cancelled by a Baptist university and then his church got vandalised at the weekend.

In a Facebook account on Sunday Locke said an unknown assailant targeted church property before being chased away by security guards. The lunatic said:
He did quite a bit a damage before he was spotted. It was all caught on our surveillance cameras. Kuddos [sic] to some of our peeps getting there and beginning to clean at 3:00am this morning.
Among the pictures he posted was graffiti on a vehicle that said "Your lies cost lives" and "FU" sprayed on the pulpit in the sanctuary.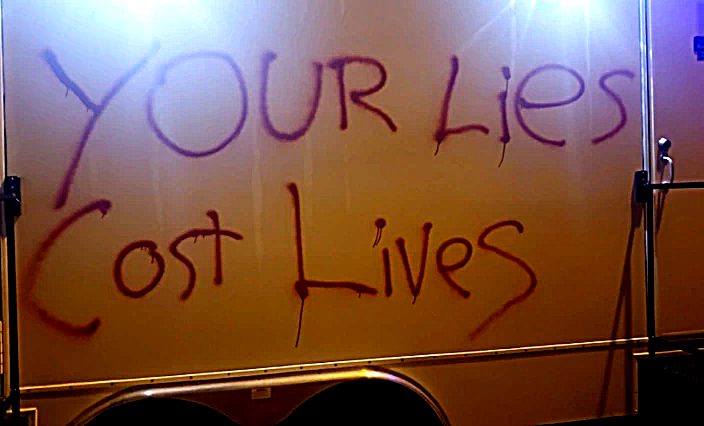 As of Monday morning, Locke's post had received around 3,200 shares and well over 800 comments. Many of the comments expressed support for the pastor, though some were critical.
Last month, Locke made headlines when he said that people who wore masks to protect themselves from COVID-19 were not welcome at his church.
We are a place of faith, not a place of fear. I'm digging my heels in and I'm not changing my mind.
Last year, Locke expressed firm opposition to wearing masks. During the height of the pandemic, the pastor said he would never mandate them for worship at his church.
These are gags, ladies and gentlemen. These have become idols. These don't do anything whatsoever. They are the dumbest thing to have ever been created by humanity. They are scientifically proven to do Jack sprat! But I'll tell you, religiously what they've done, they've divided the body of the Lord Jesus Christ.
Earlier, he got the bum's rush from Union University in Jackson, Tennessee, which was scheduled to host the final event on the "Freedom Matters" tour featuring Locke and a whole clot of conspiracy theorists.
The website promoting the event, organised by Tennessee Stands, a conservative activist group that opposes COVID-19 restrictions and mask mandates. said:
If you're tired of the perpetual masking, medical privacy invasions, indoctrination in schools, or election integrity being compromised here is your opportunity to stand and be counted.
But after Lisa Herod, a Union graduate, organised a petition against the event, Union President Samuel W "Dub" Oliver announced that the contract to host the event was canceled.
Given what has come to light about the Freedom Matters Tour and some of the speakers associated with it, we have chosen to cancel our facilities contract for this event. The Freedom Matters Tour will not be holding a rally on the Union campus.
The petition said:
The beliefs espoused by Freedom Matters neither represent scientific fact or biblical truth, and the fact that they will be shared from a pulpit is not only shameful, but negligent and reprehensible. This event does not align with the schools core values of being excellence-driven, Christ-centered, people-focused, and future-directed
And Herod posted this tweet:

Much of the controversy over the event centred on Locke, notorious for his pro-Trump, anti-mask sermons.
In a recent sermon, Locke warned that anyone who showed up at a church service wearing a mask would be thrown out. A sign on the church property reads:
This is a mask-free campus. Kindly remove them or stay in your car. We celebrate faith over fear.
Global Vision has held services in an outdoor tent during most of the COVID-19 pandemic, and Locke has labeled pastors who shut down in-person services as cowards. He also accused Tennessee Governor Bill Lee, who is a conservative Christian, of building "quarantine camps" for unvaccinated people.
At the recent America's Revival meeting in Dallas, Locke said his church would use armed force to resist any attempts to restrict his church's services.
We so believe in our First Amendment right to gather that if you show up and you impede my First Amendment right – we are going to meet you at the door with our Second Amendment right.
Herod's petition to cancel the event focused not on the tour's constitutional rights but the message itself. It says:
The beliefs espoused by Freedom Matters neither represent scientific fact or biblical truth, and the fact that they will be shared from a pulpit is not only shameful, but negligent and reprehensible.
Please report any typos/errors to barry@freethinker.co.uk
If you'd like to buy me a cup of coffee – and boy, do I get through a LOT of coffee keeping this site active – please click the link below.