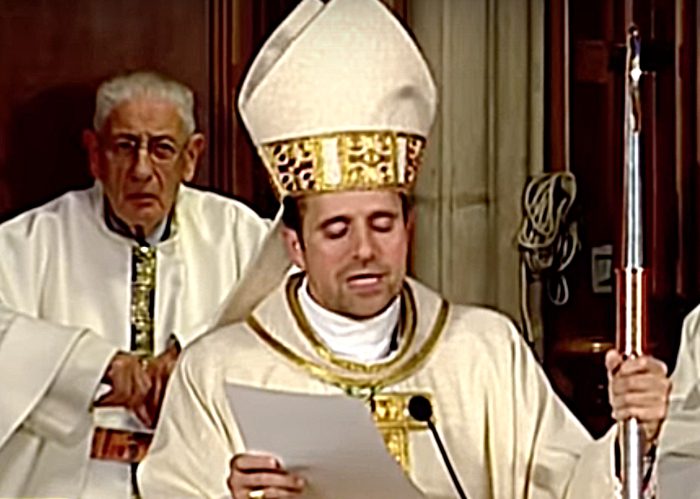 WHEN colleagues of conservative Spanish bishop Xavier Novell, above, learned that he'd fallen in love with Silvia Caballol, a writer of satanic erotic fiction, they believed he'd become "demonically possessed" and needed to undergo an exorcism.
According to The Sun, one told Spanish media that the situation was :
Not a problem of celibacy but rather of infestation.
Some sources even claim that Pope Francis urged Xavier to have an exorcism to "free his troubled spirit" but he refused.
This all came to light after Novell, himself an exorcist, resigned last month. At the time The Roman Catholic Church cited strictly personal reasons without going into detail, according to the BBC.
In 2010 at the age of 41, Novel became Spain's youngest bishop, in Solsona in the north-eastern region of Catalonia.
He advocated conversion therapy for gay people and exorcised them.
Religión Digital then reported that he had fallen for divorcee Caballol, a psychologist and novelist. The news site said that the Novel bishop is now looking for a job in the Barcelona area as an agronomist.
It also reported that, for months, Rome has been investigating the bishop, and others, for their participation in "gay cure" programmes which the Pope has specifically ordered to stop. He not only supported these groups, but he himself participated because he felt the need to "reaffirm his heterosexuality" as part of the process.
The Telegraph added that Novell's belief that gay people can be "cured" was not supported Spain's Catholic synod, which criticised his participation in conversion programmes. But Novell was among a minority of priests who resisted and continued to organise such events.
Dominican nun Lucía Caram said he was "out of his mind" and slammed his attempts to "cure" homosexuality.
Caballol's books include titles such as The Hell of Gabriel's Lust and the trilogy Amnesia. In the blurb for one of her works, the reader is promised a journey into sadism, madness and lust and a struggle between good and evil, God and Satan with a plot to shake one's values and religious beliefs.
Neither the ex-bishop, who is now 52, nor the novelist have responded to the reports although Religión Digital quoted him as saying:
I have fallen in love and want to do things properly.
The diocese has since responded by emphasising that:
Corroboration or not of this story is a strictly personal matter for him alone.
Spanish news outlet El Pais described Novell as "an authoritarian and erratic bishop" who made numerous enemies among the rectors under his apostolate.
It added that Fermí Manteca, one of the priests critical of his way of running the diocese, regrets that Novell walked away from the church without saying goodbye to his priests and parishioners.
Hat tip: John Dowdle and Robert Stovold

Please report any typos/errors to barry@freethinker.co.uk
If you'd like to buy me a cup of coffee – and boy, do I get through a LOT of coffee keeping this site active – please click the link below.