VIOLENCE, we all know, should be avoided if at all possible, but sometimes there are circumstances that demand an extreme reaction.
So it's no surprise that almost 700 people have contributed more than $19,000 dollars to a legal fund for Kasey Marie Brooks who was charged for assaulting a teacher after she watched video that showed June Irene Barrow, 61, of St Teresa of Avila Catholic Church in Grovetown, Georgia, subjecting the two-year-old, non-verbal boy to extreme cruelty.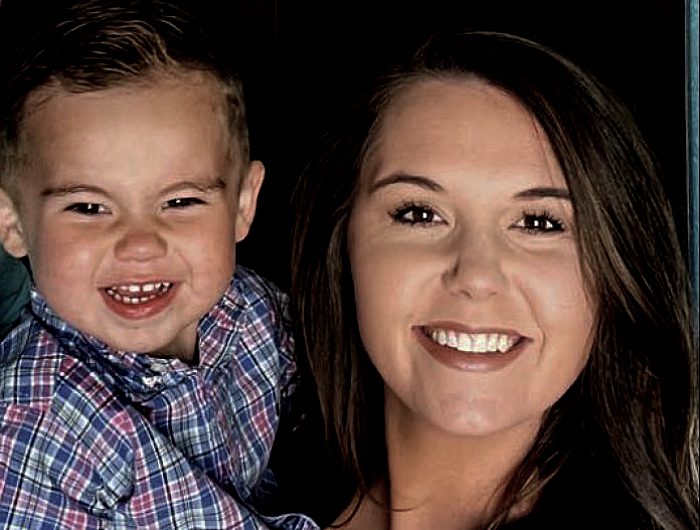 Brooks, pictured above with her son Hatcher, says on her GoFundMe page:
I watched video surveillance of my two year old, non-verbal son being physically abused and mishandled by his preschool teacher. For 3 hours I watched his teacher spank him, hit him in the head, slap him with a book, shove him to the ground, snatch him up by one arm and carry him across the room multiple times, slam him in his seat to make him eat lunch alone in time-out, pick him up by his ankles and hold him on his neck/head, grab his face so hard his cheeks were touching in his mouth as she was nose to nose with him, amongst other things.
According to this report, Brooks was charged with battery after she repeatedly hit Barrow in the back of the head.
A witness came into the classroom and tried to pull Brooks off the teacher, but was unable to hold her back, according to authorities.
Brooks continued to punch the teacher until she was lying on the floor with visible marks. Witnesses pulled Brooks off the teacher, and the teacher went to a class bathroom and locked the door.
When officers arrived, the left side of the teacher's face was already swollen and she had bite/teeth marks around the base of her left thumb. She was transported to hospital for medical treatment.
A separate report has been filed against the sadistic Barrow alleging child abuse.
The Augusta Press reported that Brooks was allowed to review video footage of her son's class from August 31 between 9:45 a.m. and 1:45 p.m.
A sheriff's report says:
She witnessed multiple events of Ms. Barrow physically abusing and mishandling her son. She considered the actions child abuse. She further stated that she was told that she could not review other class days video footage or other cameras views.
Brooks told deputies that she was convinced there was numerous other incidents because on August 12, her son suffered a leg injury and she had to pick him up early from school.
The report added:
At that time, she did not think anything much of it, but with the latest incident, she became suspicious.
Hatcher had only attended at the pre-school programme for four days. Brooks told the news outlet:
The only reason he was there in the first place was because he was recommended. It was recommended for his therapy for him to go and be around other kids. And I only got to see one day from one camera.
Many people, like Teresa Mitchell, donated money and left a note. Mitchell gave $20 and said this:
I understand why she did it. We Momma Bears will do anything to protect our babies. How long has he been enduring this abuse? Non-verbal children can't come home and tell mom what's going on.
Another donor, Jeffrey Keating, contributed $500.
Brooks told Greg Rickabaugh of the Augusta Press that:
The legal fees are not only going to be for my charges, they are also going to to pursue (the teacher), because the only way we can pursue her is through the court system.
Initially, the school offered a "no comment" last Thursday through Communications Director Jill Parks with the Roman Catholic Diocese of Savannah.
But when the story went viral and got coverage from every news outlet in town, Parks announced that the teacher had been placed on administrative leave pending an investigation.
The teacher's attorney Jack Long released video footage on Friday night of Brooks' attack on the teacher to WRDW-TV. But supporters of Brooks who saw it were unimpressed and demanded that the school release the video of the teacher's interactions with the child.
However, many say that it is unlikely to happen since there are other children in the video and it is still the subject of a criminal investigation.
Please report any typos/errors to barry@freethinker.co.uk
If you'd like to buy me a cup of coffee – and boy, do I get through a LOT of coffee keeping this site active – please click the link below.