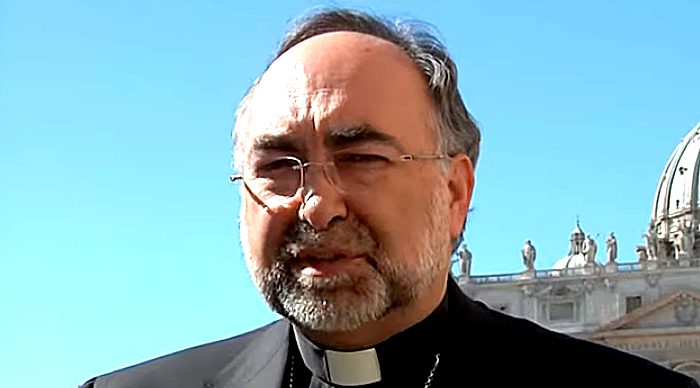 THE Archbishop of Oviedo Jesus Sanz Montes, above, set himself up for a fall when he recently declared that Spain's socialist-led government provides "better protection for bulls" than unborn children and the terminally ill.

He was speaking months after euthanasia, supported by a majority of Spaniards, was legalised in March.
According to The Tablet, he was immediately mocked and ridiculed on social media. This so upset his faithful supporters that thousands of Spanish citizens have signed a petition defending Montes.
The petition on the civic Hazte-Oir platform said:
These insults for criticising abortion and euthanasia in a homily have not been long in coming – the pro-abortion mob have placed him on their media target list. The radical left does not allow anyone to dare touch the dogmas of abortion and euthanasia – whoever dares try gets torn apart, and whoever defends them gets dragged through the mud.
Montez said:
I wish aborted children or the elderly and sick euthanised without palliative care enjoyed the protective legislation now provided to bulls. Instead, some laws are now drawn up without social debate, helped by opportunistic government demagoguery which continues to sow tension by imposing social transformation at the mercy of various ideologies
The Catholic Church makes up 62 per cent of Spain's 47 million inhabitants, according to 2020 data, and has criticised laws backed by the socialist-led government of premier Pedro Sanchez, in power since January 2020, facilitating same-sex marriage, secularised education, state-funded euthanasia and abortion.
A draft "Trans Law", enabling over-16s to re-register their gender through a court declaration without medical or legal procedures, was also approved for enactment in June, while a "Statute of Secularism", enforcing "strict separation between politics and religion, law and morality, crime and sin", is to be adopted this October.
More than 20,000 Spaniards have also signed a Hazte-Oir petition to the Cortes parliament against socialist legislation imposing jail terms for pro-lifers who "harass or restrict the freedom of women" by staging protests or offering help outside abortion clinics.
Both petitions coincided with new data showing Catholic affiliations at their lowest ever in Spain, with four out of ten citizens, and 60 per cent of 18-34s, describing themselves as atheists or non-believers.
A while back, in the comments section of the Freethinker, an American reader asked me whether Spain would be a good choice if he ever decided to leave the US. I replied:
Absolutely. Spain transitioned from a fascist dictatorship that was fully supported by the RCC in 1978. Today the church, to the chagrin of the Vatican, has no say in the running of a liberal, left-of-centre democracy that was the first in Europe to approve gay marriage, banned conversion therapy and, most recently, legalised euthanasia. It is a beacon of tolerance.

It has a first-rate health service, very generous pensions, pays for holidays for the elderly and the cost of living is ridiculously low.

Of course, it's not without those – especially British expats – who hanker after the 'good old days' of Franco's rule. These are the same fools who voted for Brexit and are now being extradited back to the UK because they never bothered to apply for Spanish residency permits.

In 2016 a right-wing columnist for a local English newspaper, John Smith, wrote: 'Like so many other nations, Spain has also entertained a certain amount of 'political correctness' which has to some extent seen a reduction in the machismo of the younger Spanish male and an ability for women to not just be vocal at home but to have a voice which can be heard across the country.'

Worse, he said there are now homosexuals with voices, voices so shrill that they can force local authorities into coughing up dosh to fund parades and fiestas at which perverts can flaunt their filthy lifestyles.

When I pointed out to the editor that praising Franco and fascism constitutes a criminal offence, she went into full-on panic mode and asked me to write a rebuttal. The hack was sacked, and his column was taken offline.
I wrote about Smith here.
Hat tip: Keith Porteous Wood
Please report any typos/errors to barry@freethinker.co.uk
If you'd like to buy me a cup of coffee – and boy, do I get through a LOT of coffee keeping this site active – please click the link below.