TWO things to know about J R Fitch, the brains behind a new store that aims to make America more godly: He's a pal of Trump-lover and conspiracy theorist Mike Lindell, CEO of MyPillow, and believes his venture will put the US on the path to "a fundamental spiritual renewal."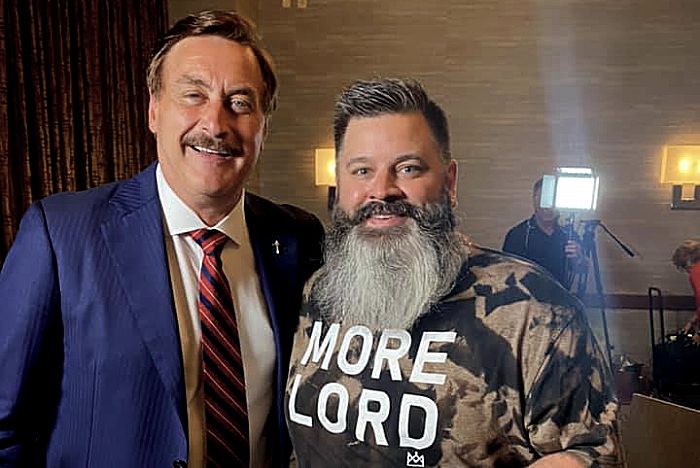 The More Lord Kingdom outlet's Facebook page, which features the hirsute Fitch wearing a tacky "More Lard Lord" shirt cosying up to Lindell, claims:
More Lord Kingdom isn't just a brand, it's a lifestyle. To live the More Lord life, you simply say "YES" to heaven – every day!
According to Religion News Service, More Lord Kingdom's booth was one of the more popular spots during an America's Revival earlier this month, which mixed pro-Trump and anti-vaccine messages with fiery sermons about spiritual revival and come-to-Jesus altar calls.
Writing for RNS, Bob Smietana said:

While several of the booths surrounding More Lord Kingdom featured explicitly pro-Trump items with messages like 'Trump Won' or 'God, Trump, and Guns, More Lord Kingdom's were on the subtler side.

Along with a 'Make America Godly Again' shirt, there was a black shirt with the numbers 45 and 47 surrounding the head of a lion with three stars underneath it. The lion resembles a symbol used by the Trump campaign in 2020 and the shirt seems to predict that Trump, the 45th president, will return as the 47th president.
Still, Fitch drew a line between making America godly and a future return of Trump. While he supported the former president, he believes the nation needs the kind of fundamental spiritual renewal no politician can bring. He said:
Trump's return will not make America godly. I don't believe that.
Smietana added:
Fitch grew up as a Baptist and "never had a speeding ticket, never smoked a cigarette." But his faith intensified after he attended a three-month-long revival at a charismatic church with his wife, who grew up in the Church of God, a Holiness Pentecostal denomination.

That revival was filled with miracles, he said, and turned his life around. He took what he called a Nazarite vow. It's a reference to a vow found in the biblical Book of Numbers, taken by people who consecrated themselves to God and stopped cutting their hair and shaving.

For several years, he said, the words "More Lord" kept popping into his mind. He eventually felt God was telling him to start selling a T-shirt emblazoned with that message – a call he resisted for a while because he didn't know much about selling T-shirts, much less designing them.
So he turned to his friend and graphic designer Landon Zilbert for help.
Zilbert, who designed the "Make America Godly Again" shirt, said the company was trying to appeal to fans of the former President with that shirt and other garments.
Zilbert worries Christianity has fallen out of favour with American culture. Churches, he said, have also often lost their way. A former church staffer turned facilities manager, he now calls himself a denomination nomad, still promoting Jesus but jaded about institutional religion.

He sees the T-shirt company as a kind of ministry.

The shirts are aimed to be conversation starters, to get people asking questions about God, said Zilbert. He and other staffers who travel with Fitch to Christian conferences to sell shirts will always offer to pray with customers.
Lynn Neal, professor of religious studies at Wake Forest University, said clothing has long played an important role for religious groups.
It provides a sense of identity for a religious community and communicates something about a person's beliefs to the outside world. For evangelical Christians, Neal said, clothing – especially T-shirts – can be a way of sharing their faith.

Clothing also gives a sense of identity for a religious community and communicates something about a person's beliefs to the outside world.

In our polarized world, the identity piece is as big or bigger than the evangelism piece.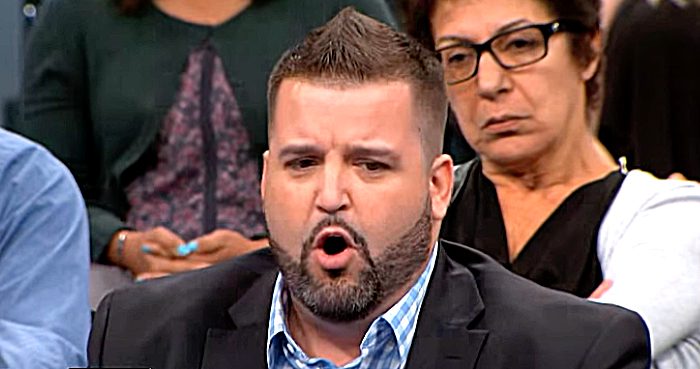 White nationalist hate-preacher Joshua Feuerstein, above, is a fan of More Lord Kingdom. The store's Facebook page features a video of the obese madman wearing one of its T-shirts, while yammering on about hell.
Please report any typos/errors to barry@freethinker.co.uk
If you'd like to buy me a cup of coffee – and boy, do I get through a LOT of coffee keeping this site active – please click the link below.