A TEENAGER who followed his father's orders to punish a boy who failed to memorise 13 Bible verses has been sentenced in Wisconsin to 20 years in prison for the torture and killing a seven-year-old in 2018.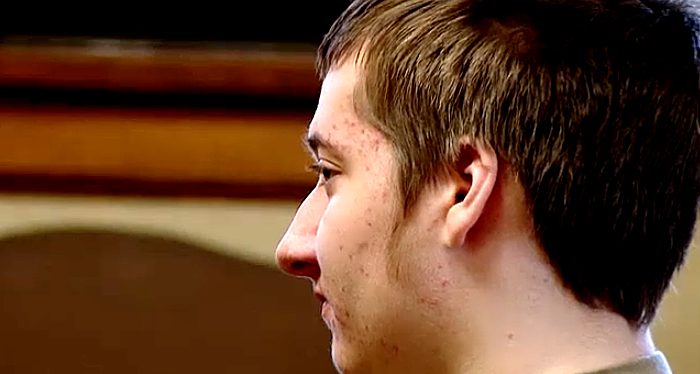 Damian Hauschultz, above, now 17, pleaded guilty in June to one count of first-degree reckless homicide after Ethan Hauschultz died after being subjected to a prolonged period cruelty. He was sentenced on September 4.
According to this report, prosecutors said Ethan was forced to carry a heavy log a for two hours a day for one week while Damian Hauschultz watched.
Ethan "struggled to carry his log" and Damian Hauschultz hit, kicked, struck and poked him approximately 100 times.
In April 2019 sheriff's investigators said that over the course of an hour or an hour-and-a-half, Ethan was hit, kicked, poked, repeatedly shoved to the ground, and a heavy log was rolled across his chest by Hauschultz, who was 14 at the time.
The older boy stood on (Ethan's) body and head while Ethan was face-down in a puddle. He ultimately buried Ethan completely in snow.
According to the sheriff's office, the Milwaukee County Medical Examiner's Office determined Ethan died from hypothermia and blunt force injuries to his head, chest and abdomen.
The sheriff's office said Hauschultz ordered Ethan to carry the wooden log, which weighed about two-thirds of his own body weight – making it about 40 pounds – as a punishment.
According to criminal complaints obtained by Action 2 News, Ethan and his siblings were put in the Hauschultzes' care in 2017. The siblings told investigators that their father, Timothy Hauschultz, frequently punished them by making them walk laps around the yard carrying heavy logs, which he picks out.
The siblings said that week they were required to carry wood every day for two hours a day for not knowing their Bible verses.
Hauschultz told investigators he was frustrated because the younger boys were dropping the wood every five minutes. When Ethan became unresponsive, he thought the boy was just resisting, so he buried him under what he estimated was 80 pounds of packed snow and ice. Deputies say Ethan weighed 60 pounds.
Investigators asked Damian how much snow was covering Ethan. Damian replied by saying Ethan:
Was in his own little coffin of snow.
He then laughed.
Manitowoc County Circuit Court Judge Jerilyn Dietz said that, addition to serving time behind bars, Hauschultz will complete ten years of extended supervision following his release.
My goal is to ensure that you are incarcerated for just long enough to mature, and develop, to work on education, to work on treatment, work on controlling that angry side.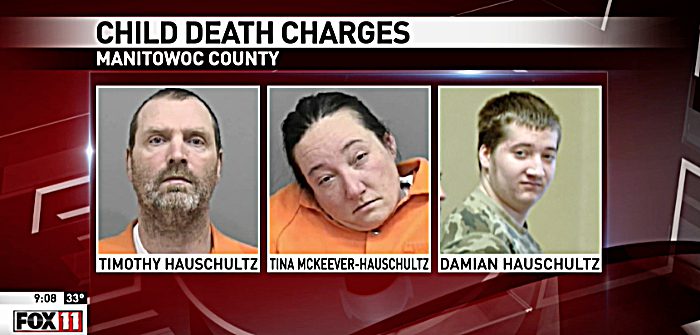 Timothy Hauschultz and Tina McKeever-Hauschultz were Ethan Hauschultz's great uncle and great aunt. They were his court-appointed guardians at the time of his death.
Timothy Hauschultz goes on trial in December on eight charges including felony murder. Tina McKeever-Hauschultz, was sentenced to five years after pleading guilty for failure to prevent great bodily harm and failing to prevent mental harm to a child.
During a court appearance in 2019, Timothy Hauschultz's attorney, Donna Kuchler, argued against the felony murder charge. She told the judge Timothy Hauschultz wasn't there and didn't assist in the boy's death.
However Judge Dietz disagreed with Kuchler and said:
Mr. Hauschultz did know that Damian would cause bodily harm.
Please report any typos/errors to barry@freethinker.co.uk
If you'd like to buy me a cup of coffee – and boy, do I get through a LOT of coffee keeping this site active – please click the link below.