TELEVANGELIST Paula White, above, who famously prayed for for "all satanic pregnancies to miscarry right now," believes that Trump will regain power in 2024 and will reinstate her as his "spiritual adviser."
Religion News Service reports that Trump and his religious advisors have announced the launch of a National Faith Advisory Board that will be led by twice divorced White, of the City of Destiny Church in Apopka, Florida.
During Trump's tenure she headed the White House's faith-based office that she claimed:
Grew to the most robust coalition in modern day history. Our unity brought unprecedented victories, influence and access.
It also brought to YouTube many parodies of her demented "I hear the strike of victory" sermon:
Trump himself did a lot of gibbering at the launch, saying how miffed he was by his lack of support from Catholic and Jewish voters,
Look what I did with the embassy in Jerusalem and what I did with so many other things … Israel has never had a better friend, and yet I got 25% of the vote.
As for the Catholics, he said:
I'm a little bit surprised that we didn't do better with the Catholic vote. I think now they would give us a vote. I think we got about 50% of the vote. And yet, we did a lot for the Catholic vote. So we'll have to talk to them. We're gonna have to meet with the Catholics.
Still insisting that the election was "stolen" from him, he added that his own planned come-back is:
All based around God – it's so important. God is so important to the success of what we're doing. Because without God, we have nothing.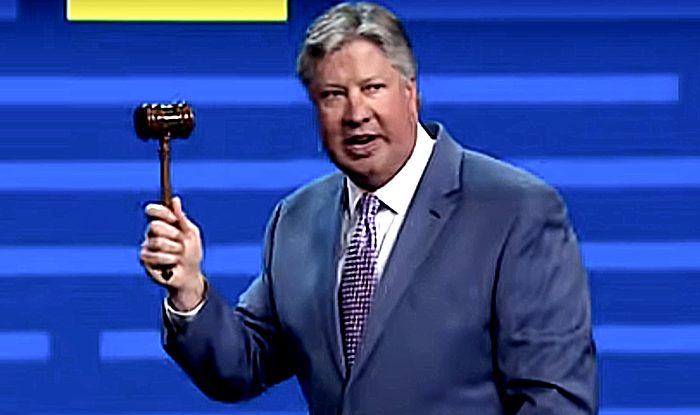 The launch ended with a prayer from Robert Morris, above, pastor at the Gateway Church in Dallas, which Trump visited during his 2020 campaign.
RNS reported:
Morris was among the religious leaders who gathered in the White House Rose Garden to celebrate Amy Coney Barrett's nomination to the Supreme Court in September of that year, a maskless affair later called a COVID-19 spreader event.
Morris prayed for Trump and his family, saying:
They have taken more of an attack from the enemy than any president we can ever remember. And yet, Lord, he continues to stand strong for Jewish people, and for Christians, and Lord, for the Judeo-Christian foundation of our nation.
Please report any typos/errors to barry@freethinker.co.uk
If you'd like to buy me a cup of coffee – and boy, do I get through a LOT of coffee keeping this site active – please click the link below.