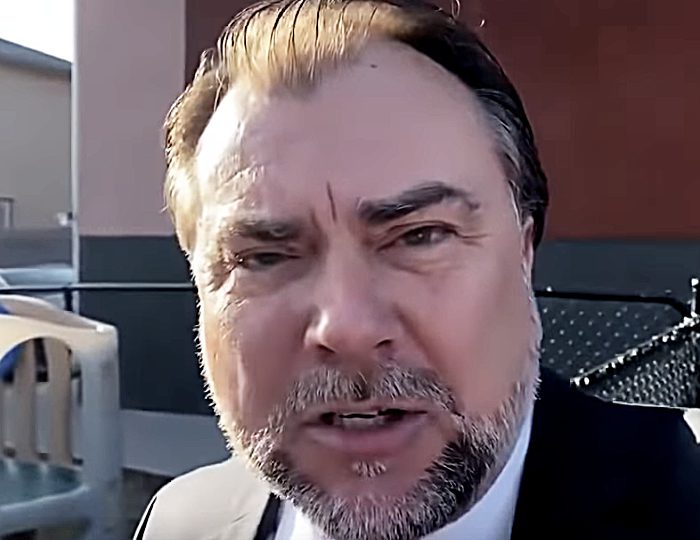 PASTOR Artur Pawlowski, above, who claimed in April that Canadian authorities were behaving like Nazi psychopaths by enforcing Covid-19 restrictions, was arrested on Monday after touring America where he spent four months spreading anti-vaccination propaganda and conspiracy theories.
Pawlowski, of the Cave of Adullam Church, was arrested on the tarmac of Calgary International Airport and charged with contempt of court for an alleged violation that occurred on June 5.
Pawlowski was arrested in May along with his brother Dawid Pawlowski for organising, promoting, and attending an illegal gathering. They arranged church services that didn't follow mask and social distancing rules. Both of them were found guilty of contempt in June after purposefully disregarding Covid-19 mandates.
Alberta Health Services asked during a sentencing hearing earlier in September that Mr Pawlowski be sent to prison for 21 days and that his brother be jailed for 10 days. The court was also asked to fine the controversial conservative pastor $2,000 and exact $15,000 in costs, Global News reported. A ruling from the court is expected on 13 October.
While in the US Pawlowski made several appearances on Fox News and also spent time with Eric Trump, son of former President Donald Trump.
Pawlowski claimed that Alberta Health Services and the politicians:
Have found a new way of penalising anyone that is opposing their unconstitutional medical tyranny. They hate the idea that they have been exposed for what they really are: liars, hypocrites and cheaters.

I have heard from my grandparents about similar tactics from the time of the Nazis, persecuting churches and the clergy. Canada has fallen. Sure, you can lock us up and throw the key away, but our political imprisonment will shout even louder about the hypocrisy.
Before the pandemic,Pawlowski immersed himself in anti-LGBT campaigns. In 2017, he organisd a "Defense of Christianity" rally that turned violent.He invited an anti-gay activist who was prosecuted under Canada's hate speech laws for distributing pamphlets entitled "Sodomites in our Public Schools."
He tried to organise another rally with the same anti-gay activist in 2019 and told the Calgary Star in an interview that he opposes the "perversion" of homosexuality and said that LGBTQ people are "sinners." He also denounced "homo-fascism."
Hat tip: Stephen Harvie and Robert Stovold
• Please report any typos/errors to barry@freethinker.co.uk
If you'd like to buy me a cup of coffee – and boy, do I get through a LOT of coffee keeping this site active – please click the link below.
I'd love a cup of coffee