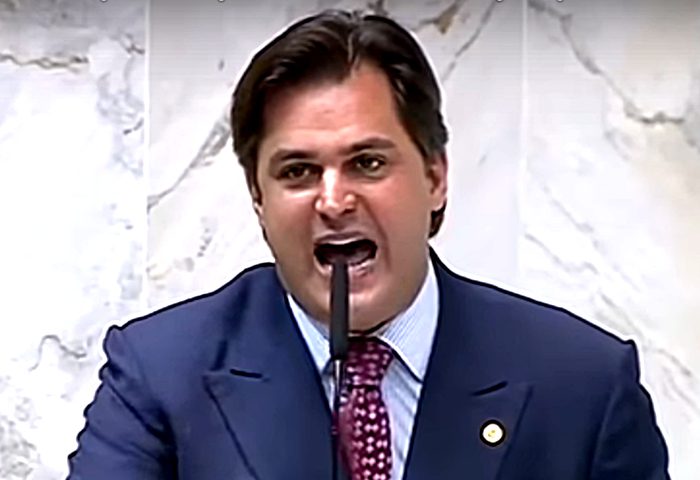 IN a fiery outburst, São Paulo state legislator Frederico Braun D'Ávila, above, called Brazil's National Conference of Bishops "shameless paedophiles" and the Pope a "bum."
That happened on October 14, but Crux reports today that D'Ávila, a supporter of Brazilian nut President Jair Bolsonaro, apologised, claiming that he was under stress after suffering a "murder attempt" during a robbery two days before.
I admit that my speech was inappropriate and exaggerated … it was a response to some religious leaders who exceed the limits of the propagation of the faith and spirituality to do political proselytism. I reaffirm my apologies for my words and exaggeration.
He also declared that he did not intend to show disrespect to Pope Francis, a "sacrosanct leader and chief of State."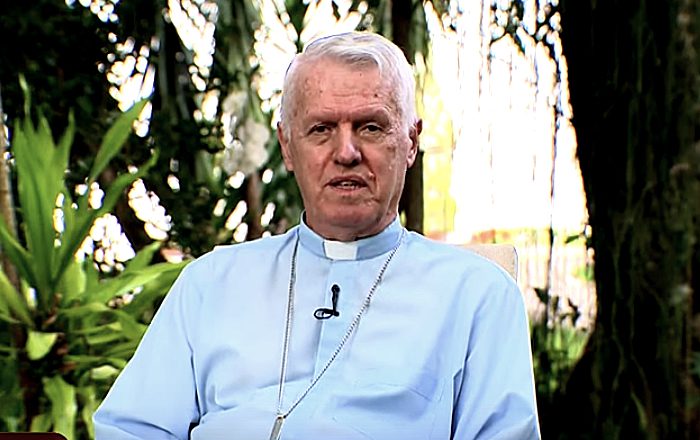 All hell broke loose when D'Ávila tore into Archbishop Orlando Brandes of Aparecida, above, after the cleric criticised Bolsonaro's pro-gun stance and the dissemination of fake news in the country. He said:
You bum, you rascal, who is subjected to that equally bum of a pope. The last thing you take care of is the spirit, the well-being and the comfort of the people's souls.
D'Ávila also criticised the National Conference of Bishops of Brazil (CNBB):
Who do you think you are to use your cassock and the altar in order to do political proselytism? You shameless paedophiles, the CNBB is a cancer that has to be extirpated from Brazil.
D'Ávila, a longtime leader in agribusiness and a member of Bolsonaro's former Social Liberal Party, is an outspoken advocate of re-establishing Brazil's monarchy, which was abolished in 1889, and conservative values.
Crux reports that, in his tenure as a State legislator, D'Ávila has become involved in several "quarrels" with left-wing colleagues and also has been notorious for the proposal of controversial measures.
In November of 2019, for instance, he tried to pass a motion to officially honour former Chilean dictator Augusto Pinochet, infamous for his bloody regime that killed about 40,000 people during the 1970s and 1980s.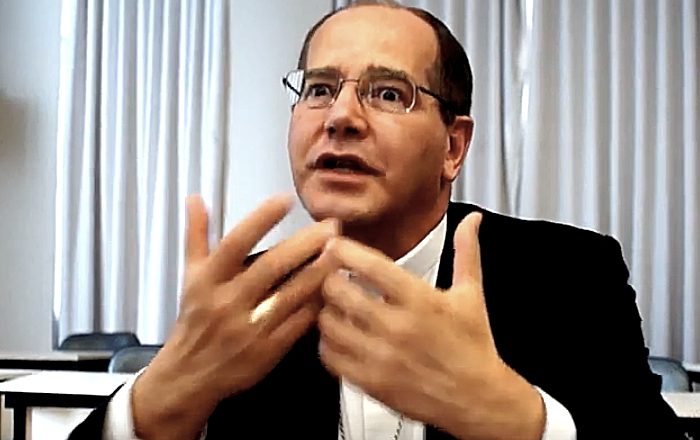 The CNBB reacted to D'Avila's latest rant with a video of by the conference's President, Archbishop Walmor Oliveira de Azevedo of Belo Horizonte, above.
De Azevedo said D'Ávila's speech was "crazily contaminated by hate" and was an "anti-Christian stance."
We ask all citizens, especially Catholics, to have much prudence and to avoid being persuaded by politicians who want to disseminate hate and attack the Church.
The CNBB also released a letter addressed to the speaker of the São Paulo legislature, Carlão Pignatari, in which the conference reaffirmed its right:
To pronounce its moral judgement on social realities when the fundamental rights of the people, the common good and the human salvation require so.
D'Ávila, who is Jewish, said in his apology that it was a mistake to include Pope Francis in his "discourse ."
I humbly apologise to all Catholics in Brazil and in the world, given that I did not take into consideration the spiritual figure that he symbolises.
The ethics committee of the legislature is currently studying the case. D'Ávila may be suspended or even lose his seat.
Bishop Adriano Ciocca Vasino of Sao Felix do Araguaia told Crux that unfortunately many Catholics end up being persuaded by declarations like D'Ávila's.
We can clearly see it on the social media. That kind of talk does not have any relation to Our Lord's gospel.
Vasino said that "under the Rule of Law, people cannot freely attack each other" and that such insults have to be somehow restrained.
I believe that this State legislator broke with the code of conduct that is required for a minimum of civilized coexistence.
Francisco Borba Ribeiro Neto, the Director of the Pontifical Catholic University of São Paulo's Center of Faith and Culture, said that Bolsonaro's alliance with conservative Christians in Brazil – including Catholics – is controversial, "given that it is a denial of Christian values."
He said the controversy over D'Ávila's remarks is an example of that contradiction.
Bolsonaro is particularly the antithesis of the classical values of Christianity. It is admirable, and contradictory, that he managed to become an icon of Christian conservatism.
Well, if Trump could do it, why not Bolsanaro?
Trump, by the way, has announced the launch of his own social media app, laughingly called TRUTH Social, which is slated to roll out nationwide in early 2022.
Jewish site Forward reports:
It's unclear what TRUTH Social will be like as an app; the advertisements for it look an awful lot like a banal Facebook feed, complete with blue branding and videos of a dancing orangutan.
A dancing orangutan? What could possible depict Trump better?
• Please report any typos/errors to barry@freethinker.co.uk
If you'd like to buy me a cup of coffee – and boy, do I get through a LOT of coffee keeping this site active – please click the link below.
I'd love a cup of coffee