IN 2014, fiery Texas preacherman Rick Scarborough said God would be justified to nuke America for having gay ambassadors.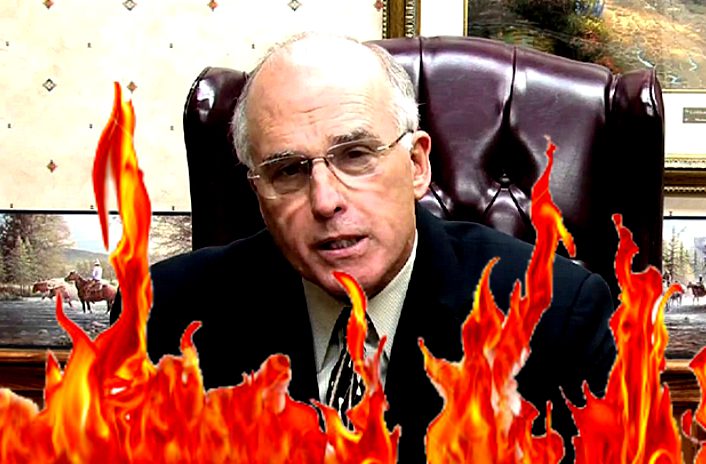 A year later the self-declared "Christocrat" vowed to set himself on fire if same-sex marriage was legalised – and he urged like-minded pastors to shoot themselves if such a horror were ever to befall the US.
Unfortunately, when gay marriage was legalised, he reneged on his promise, and all his hot air led only to the launch of a "Help Pastor Rick Scarborough keep his Promise" Facebook page.
The ridicule that followed the nincompoop's silly posturing – and the fact that not one preacher stepped forward to take a bullet – seemed to have silenced the imbecile … but only for a while.
Right Wing Watch reported yesterday that Scarborough, a Baptist, now has a Grand Plan to pack Texas school boards with "patriot pastors" to get "the crap" of LGBT equality teaching out of ALL public schools in the Lone Star State.
To this end he's started a fund-raising drive through his Recover America outfit, which declares on its website:
Recover America is a non-denominational ministry, with Board Members representing both Charismatic and non-Charismatic churches, united in their commitment to call believers from every faith persuasion who love God and love America to join us in our mission to take Jesus into the civil arena and provide Biblical solutions to practical problems.

We believe the Bible speaks to every area of life and that Pastors are the key to a Third Great Awakening.
Earlier this month, Scarborough spoke at the Krazy Katy Christian Chamber of Commerce Breakfast in Houston, where he unveiled Stage One of his vision: to take control of three local school boards.
Stage Two is to raise millions of dollars to mobilise thousands of Texan pastors who will activate their congregations to ensure that conservative Christians "take over their local school boards" all across the state.
If we win these three school boards we're weighing in on, then we're going to go around Texas and do 50 events. We've got a $2 million budget for this and we got to raise it.

We've already targeted about 55 locations. We're gonna send people in ahead of us if we're fully funded to make sure the pastors are there. That's the hard part. When a pastor is confronted with the truth, if they've been called, they're gonna respond.

And our goal is to get 2,000 pastors who will be patriot pastors in Texas once again who will take over their local school boards – not take over but put Christians in offices, teach their people that they should run to those local offices. And if they get excited about that, we'll sweep right through every election coming up.
Earlier in his presentation, Scarborough said:
I'm not a Republican. I'm not a Democrat. I'm a Christocrat. With God's help, we're going to try to shake Texas up and move her back to bright red as people vote pro-life, pro-family and get this [LGBT equality] crap out of our schools.
• Please report any typos/errors to barry@freethinker.co.uk
If you'd like to buy me a cup of coffee – and boy, do I get through a LOT of coffee keeping this site active – please click the link below.
I'd love a cup of coffee