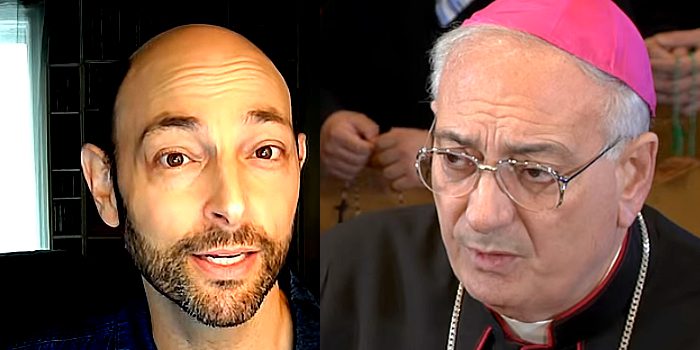 GAY New York music teacher Matthew LaBanca, above left, has blamed Brooklyn Bishop Nicholas DiMarzio, right, for his sacking from St Joseph Catholic Academy after it became known that LaBlanca had married his partner Rowan in August this year.
LaBlanca was also fired from his post as music director at the nearby Corpus Christ Church. He said that DiMarzo – who retired recently after being cleared by the Catholic Church of any wrongdoing but faces two abuse lawsuits – was instrumental in having him removed from both jobs.
In a YouTube video LaBlanca said:
I'm stripped of both of my jobs, all of my employment, my health insurance, and, most importantly, the community life that has meant so much to me, not because of my work performance – not in the slightest –  but because I'm gay.
LaBanca said in the video that his termination was sparked when someone reached out to the Diocese of Brooklyn with information about his wedding in what he called "an apparent act of righteousness."
He also praised his former principal, calling him his "fiercest advocate," and placed the blame on DiMarzio, who was leading the Brooklyn Diocese at the time.
He said he was offered a severance package that included a gag order running to almost ten pages.
Obviously I have not signed it, because I realised no price could be placed on my personal integrity.
He told WABC-TV he hadn't decided whether he'd pursue legal action against the diocese but emphasised that he missed his job and, most of all, his students.
DiMarzio resigned in September after an internal probe by the Catholic Church has cleared him of a pair of decades-old sexual abuse allegations, but lawyers for his accusers say the investigation was a sham, and that they will continue to pursue legal action in court.
DiMarzio, 77, was accused in 2019 of sexual abuse dating back to his time as a priest in Jersey City, New Jersey in the 1970s. Mark Matzek, of New Jersey, said that DiMarzio had sexually abused him when he was between 11 and 12 years old over a year-long period in 1974 and 1975, while he was an altar boy and a student at St. Nicholas Church in Jersey City.
A second accuser, Samier Tadros, came forward in 2020 claiming that DiMarzio had sexually abused him when he was just six years old at Jersey City's Holy Rosary Church.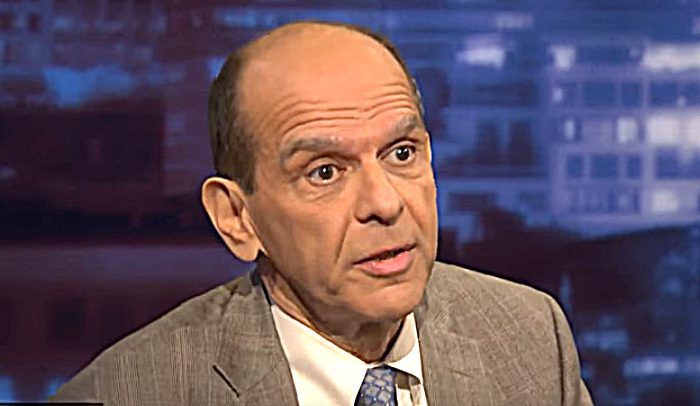 Mitchell Garabedian, above, the attorney representing Matzek and Tadros in civil suits in New Jersey, said in a Brooklyn Paper report last month that the results of the investigation had no legitimacy because the probe and its investigators were:
Controlled by and paid for by the Catholic Church. The investigations concerning the credibility of my clients were subjective and biased. The Congregation for the Doctrine of the Faith, which rendered the decision, is in the business of continuing the secrecy of clergy sexual abuse by hiding the truth.


My clients will continue to pursue their claims in the civil courts and justice will prevail when the truth is revealed.
Garabedian, who has represented hundreds of sexual abuse victims in suits against high profile abusers or institutions such as the Catholic Church and the Boy Scouts, added:
I think the Catholic Church is practicing spin control and a public relations stunt that will just backfire on them. The determination by the Congregation for the Doctrine of the Faith will have absolutely no weight in the civil suits. The Congregation for the Doctrine of the Faith is a biased entity of the Catholic Church.
Garabedian's relentless pursuit of justice for clerical abuse victims earned him international acclaim when he was portrayed by Stanley Tucci in the award-winning 2015 movie, Spotlight.
Garabedian's New Jersey civil suits were filed under that state's Child Victims Act, which allowed adult victims of child abuse a two-year window to file lawsuits even if the previous statute of limitations had long since expired. New Jersey's statute is similar to New York's, which passed in 2019 and expired last month with nearly 10,000 cases filed, including hundreds against the Brooklyn Diocese.
Brooklyn Paper reported that:
The Catholic Church, which over the past twenty years has weathered innumerable accusations of child sexual abuse by priests, was one of the strongest opponents of the Child Victims Act before its passage owing to the inevitable ocean of suits it would face if the measure became law. Two years later, four of New York State's eight Catholic dioceses – Buffalo, Rochester, Syracuse, and Rockville Centre  – filed for bankruptcy.
Brooklyn Diocese officials spent six weeks deliberating LaBanca's employment status before deciding to fire him earlier this month, the teacher said.
LaBanca told the local outlet WABC-TV that he was surprised by the decision because he was out as gay before his wedding.
I thought now, in 2021, we were moving forward and that this was not something I had to be concerned about.
The diocese did not reject LaBanca's account, telling Insider in a statement:
Church law is clear. Matthew's contract has been terminated based on the expectation that all Catholic school and academy personnel, and ministers of the church, comply with church teachings as they share in the responsibility of ministering the faith to students.

In his case, it has been determined that he can no longer fulfill his obligations as a minister of the faith at either the school or the parish.
The statement highlighted a condition within teacher contracts that requires employees "to support and exemplify" Catholic doctrine with their public conduct.
• Please report any typos/errors to barry@freethinker.co.uk
If you'd like to buy me a cup of coffee – and boy, do I get through a LOT of coffee keeping this site active – please click the link below.
I'd love a cup of coffee