A Loadedradio.com headline this week says "Parents Want High School Principal Removed For Listening To IRON MAIDEN; Students Rally Behind Her."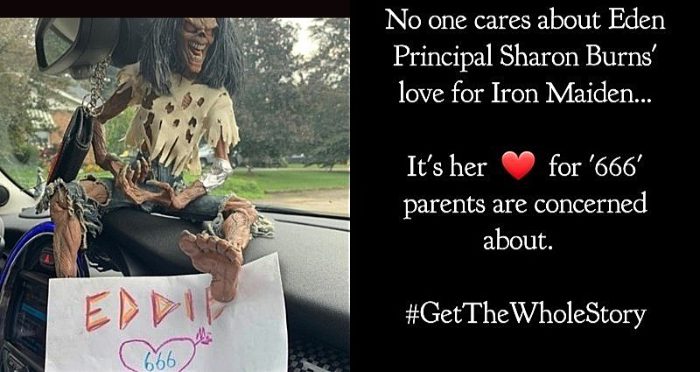 But those who want to see "metalhead principal" Sharon Burns "transferred immediately" from Eden High School in St Catharines, Ontario, insist that her not her taste in music they object to, but the fact that she posted a picture on social media of a sign bearing the numbers 666.
Angry parent Debbi Lynn and "another" created a petition calling for the removal of Burns after she posted a picture of herself with an Iron Maiden flag on her social media account. So far 541 have signed it.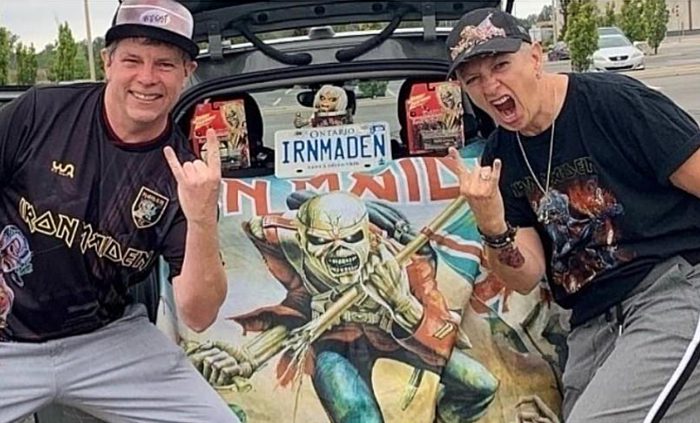 I gather from various reports I've read that the original petition bore the image above, but was later changed to show the 666 sign. The petition says:
Please Note: This petition is NOT about Sharon Burns' love for Iron Maiden. At NO POINT has it ever been. This petition is about a principal of a school openly displaying her OWN handmade sign with the 666 clearly displayed on it which she knows full well what that SATANIC SYMBOL means to the vast majority of families in her school AND she put it on a PROFESSIONAL, public @edenprincipal account on social media, NOT A PRIVATE ONE, which she very easily could have done.

If she had not posted a picture of her own handmade 666 sign, this petition WOULD NOT EXIST. Nobody cares what band she likes and this is not about her choice in what she listens to. That would be petty and nonsensical.


This is ONLY about openly choosing to display Satanic symbols on a PROFESSIONAL profile page. As all communities and schools are supposed to be about kindness, EQUITY and INCLUSION, this displaying of Satanic symbols is mocking and isolating large segments of the community she works in and clearly is not upholding any of those values.

As concerned parents with impressionable children at Eden High School in St. Catharines, Ontario, we are deeply disturbed that the principal assigned to the school blatantly showed Satanic symbols and her allegiance to Satanic practices on her public social media platforms where all the students can see them … Our school is based on inclusion, and openly displaying Satanic symbols (on a public social media platform) that directly goes against the principles of the vast majority of families who represent the school, is not inclusive.

As parents we are demanding her transfer to another school. Please replace her with another principal who aligns with the values of the families at Eden and will not sabotage the teaching or upholding of those values and will not try to introduce impressionable students to Satanic practices or symbolism.
Eden students, outraged by the demand for Burns' transfer, hit back with a counter-petition that has so far been signed by more than 17,300! It read:
Recently, there has been a petition going around to 'remove' the principal of Eden high school. It is ridiculous that a couple of parents only judge her role as a principal only based on an Instagram post. (About liking the band Iron Maiden. That's it.)

Eden High School is a public school. Not a Christian school. If you somehow don't like the principal of your child, grandchild, relative etc.'s school, then send them to another one. The principal has made so many efforts to remind students that Eden is a diverse place. She has even turned a whole room into a prayer room for students who are practicing religions other than Christianity, like practicing Islam.

She has made Eden a safe space for so many people. She spreads nothing but love and kindness, and is probably one of the best and most enthusiastic principals the school has ever had.
In a message on the school's website, Burns says Exden started out as a private Christian college in Niagara-on-the-Lake in 1945.
Eden honours the unique experiences, cultures, viewpoints, and talents that make up each one of our students and staff members. Our strength lies in the diversity of these traits. To this end, we strive to remove barriers so that every student has the opportunity to succeed personally and academically in a positive climate that respects and nurtures students of all backgrounds, identities and personal circumstances.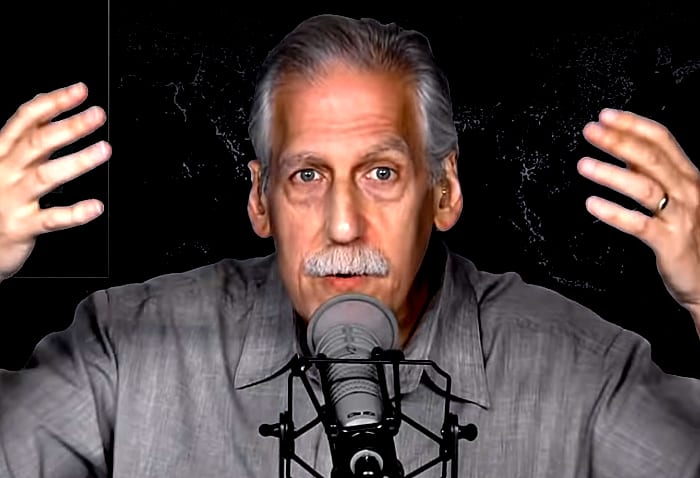 Meanwhile Michael Brown, above, a posturing "Jew for Jesus" nincompoop, is having conniptions over the fact that Playboy magazine has put a gay man on the cover of its October issue.

Claiming that the magazine goes "from lewdness to perversion", the imbecile said:

There's an old saying that sin will also take you further than you intended to go.
This suggests that seeing a gay man on a Playboy cover can turn straight men into homosexuals.

• Please report any typos/errors to barry@freethinker.co.uk
If you'd like to buy me a cup of coffee – and boy, do I get through a LOT of coffee keeping this site active – please click the link below.
I'd love a cup of coffee