IN a bid to rid his father of demons – one called "Dirty Dan" – 19-year-old Jack Callahan allegedly killed his father by drowning him in a pond.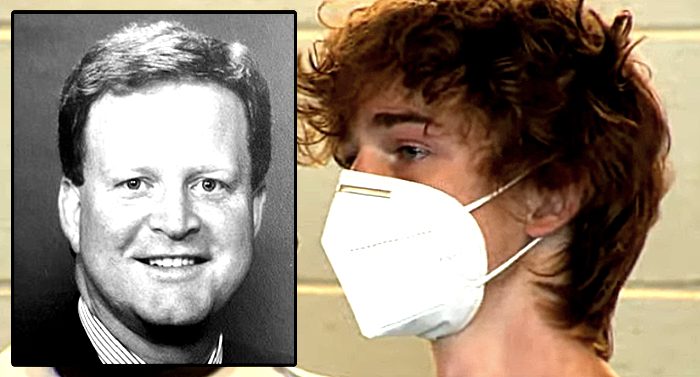 Callahan, above, from Massachusetts, was indicted for murder by a Plymouth County Grand Jury late last month in connection with the death of Scott Callahan, inset, in June.
Police described the drowning as a "fatal water incident", saying they received a call of a missing man. First responders found the victim, 57, submerged in a pond, and he was later pronounced dead despite attempts to save his life.
The medical examiner has yet to official determine the cause and manner of death, but Jack Callahan, at his initial court appearance, pleaded not guilty to murder.
Scott Callahan suffered from water-logged lungs, petechiae (broken blood vessels) in the eyes, and an abrasion on the head, according to a statement from the office of the Plymouth District Attorney.
According to this report:
The story is that Jack Callahan went to a bar in Boston to get his father, who should not have been drinking, according to CBS affiliate WBZ. The men took an Uber to Island Creek Pond in the town of Duxbury where they lived.
The father is alleged to have struck the son, and the altercation progressed to the pond, the younger Callahan allegedly said. Further allegations complicate things beyond a mere attempt to claim self defense. Defendant Callahan allegedly said he thought he was baptizing his father to exorcise demons.
One of them was named "Dirty Dan," prosecutor Shanan Buckingham told the court, according to a report by independent television station WHDH.
Buckinghan added:
He described that he was holding his father in the pond on his back like a baby, that he continually dunked the father's head in the water about four to eight times, that when the father started to cough and choke, he would lift his head up, and then when the father started to fight and strike him, he pushed the head back down into the water.

He did so until his father was no longer struggling and floating.
Callahan reportedly said:
I left him there to decide, you can come to heaven with me or hell. I think he chose hell.
The Boston Herald added that Jack's mother – who was Scott's ex-wife – called police around 2 am Monday when her son arrived home and was "having a mental breakdown."
Police arrived on scene and saw that Jack was hyperventilating and said he wanted his father "dead."
Defence attorney Kevin Reddington asked the judge to transfer Jack to Bridgewater State Hospital to be evaluated for any mental health issues. Reddington said Jack has "no record whatsoever" and is "a very nice young man."
The judge denied a transfer to the hospital and Callahan has been held without bail since his arraignment.
He will be arraigned in Plymouth Superior Court at a later date, officials said.
Scott Callahan's obituary described him as being the "loving father of Charlie, Will and Jack" and that he:
Received a Bachelor's degree from Colorado State University. He was Sr. Vice President of Texas Capital Bank, and had an extensive career in finance. Scott loved skiing and mountain biking with his boys and playing with his dog, Max.
• Please report any typos/errors to barry@freethinker.co.uk
If you'd like to buy me a cup of coffee – and boy, do I get through a LOT of coffee keeping this site active – please click the link below.
I'd love a cup of coffee