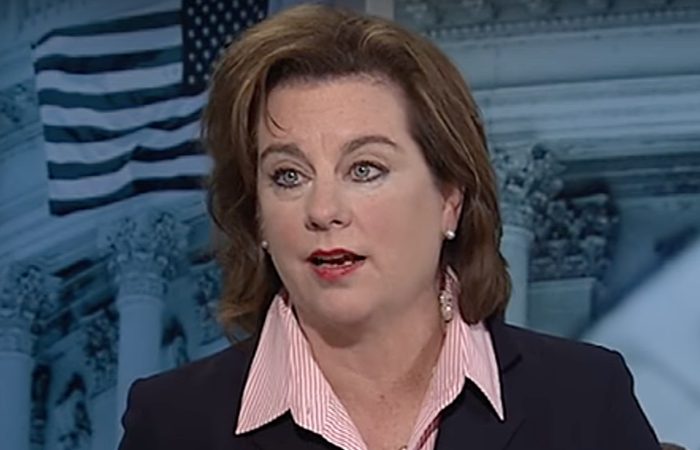 FUMING over a decision by a judge who temporarily blocked Texas' draconian new anti-abortion law yesterday, Marjorie Dannenfelser, a Catholic who headed Donald Trump's "Pro-Life Coalition", said in a statement that the "Heartbeat Act" is estimated to have saved more than 4,700 "babies" since it took effect over a month ago.
The statement, issued by anti-abortion group Susan B. Anthony List, declared:
Now an unelected judge has interfered with the clearly expressed will of Texans. For two generations, the U.S. Supreme Court has tied the hands of states to enact laws protecting unborn children and their mothers. It is time to restore this right to the people and update our laws.
This is utter bullshit. In April of this year a Progress Texas poll showed that only 36 percent of Texans favoured proposals to introduce the abortion ban. Fifty one percent were against the ban and 12 percent were not sure.
District Judge Robert Pitman granted a request by the Biden administration to prevent any enforcement of the law while its legality is being challenged.
The law, which prohibits women in Texas from obtaining an abortion after six weeks of pregnancy, was drafted and approved by Republican politicians.

The White House praised the latest ruling as an important step. Press Secretary Jen Psaki said:
The fight has only just begun, both in Texas and in many states across this country where women's rights are currently under attack.
Texan officials immediately appealed against the ruling, setting the stage for further court battles.
Judge Pitman, of Austin, wrote in an 113-page opinion that, from the moment the law came into effect on 1 September:
Women have been unlawfully prevented from exercising control over their lives in ways that are protected by the Constitution. This court will not sanction one more day of this offensive deprivation of such an important right.
One doctor who admitted breaking the state's new abortion legislation has already been sued. Writing for the Washington Post, Dr Alan Braid said:
I acted because I had a duty of care to this patient, as I do for all patients, and because she has a fundamental right to receive this care.
Whole Woman's Health, which runs a number of clinics in Texas, said it was making plans to resume abortions "as soon as possible".
But the anti-abortion group Texas Right to Life, accused judges of "catering to the abortion industry" and called for a "fair hearing" at the next stage.
This is the first legal setback for Texas since the law was implemented.
Writing today for Slate, Dahlia Lithwick and Mark Joseph Stern explained beneath the headline "The Decision Blocking Texas' Abortion Ban Is A Meticulous Rebuke To The Supreme Court" that the "Heartbeat Act" bans terminations after the detection of what anti-abortion campaigners call a foetal heartbeat, something medical authorities say is misleading.
This effectively bans abortions from as early as six weeks into a pregnancy, at a time when most women will not be aware they are pregnant.
It is enforced by giving any individual – from Texas or elsewhere – the right to sue doctors who perform an abortion past the six-week point. However, it does not allow the women who get the procedure to be sued.
Despite the court ruling, some clinics remain hesitant to resume procedures as there is some uncertainty over whether they could be sued retroactively during the ban.
The law itself (S.B. 8) includes a provision that stipulates clinics and doctors may still be liable for abortions carried out while an emergency injunction is in place, legal experts say.
Nancy Northup, President of the Center for Reproductive Rights, said in a statement:
The threat of being sued retroactively will not be completely gone until [the law] is struck down for good.
Lithwick and Stern concluded:
Perhaps most importantly, Pitman chose not to center the sufferings of the Supreme Court justices who feel beleaguered by the demands of the shadow docket, or of Texas, which seeks to overturn Roe v Wade without being hassled by precedent or legal arguments.
Instead, in footnote after footnote, Pitman centers the pregnant people who have relied on the courts to vindicate their rights, and excoriates the state for hurting them, for lying about it, and for its cynical attempts to circumvent the rule of law.
"From the moment S.B. 8 went into effect, women have been unlawfully prevented from exercising control over their lives in ways that are protected by the Constitution," he wrote. "That other courts may find a way to avoid this conclusion is theirs to decide; this Court will not sanction one more day of this offensive deprivation of such an important right."
One can only guess what will happen to Pitman's order at the 5th Circuit – which could quickly halt his injunction. It is even less clear what could happen at the Supreme Court, where five ultra-conservative justices seem to think S.B. 8's devious design lets them off the hook.

But for the first time in over a month, Texas women were visible and their needs were urgent to a federal court. And while that may not suffice to reinstitute the right to choose, it is the first glimpse of justice since the twisted Texas law took effect.
• Please report any typos/errors to barry@freethinker.co.uk
If you'd like to buy me a cup of coffee – and boy, do I get through a LOT of coffee keeping this site active – please click the link below.
I'd love a cup of coffee