A NORTH Carolina restaurant specialising in South America cuisine proved there's truth in the amusing song "Making the Best of a Bad Situation" after it was described in a Google review as "full of satanic activity."

Were the staff sacrificing goats below a statue of Baal at Luna Rotisserie in Carrboro? Nope. All they did was ask a a group not enter the the premises without masks during the height of the Covid-19 pandemic. This resulted in a one-star review posted by Mama Loula that the clever owner Shawn Stokes decided to turn into a T-shirt.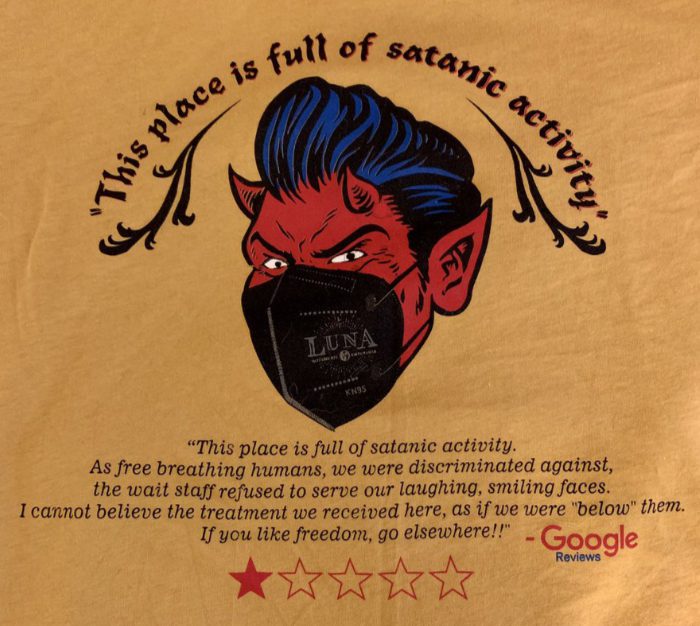 Now Luna, which has two outlets in North Carolina, has gained international fame, and people are clamouring to get their hands on the garment.
Stokes explained in this report that the group that came to the restaurant became "combative" when they were informed of the mask rule.
We had some folks that came in intentionally to harass us. It was pretty clear that they had come in with the intent of making a scene. It was during the first mask mandate, before the vaccines, and the staff just wasn't having any of it.

We have outdoor seating as well and they were insisting on eating indoors, even though the weather was fine outside. It was clear that they were there for the sole purpose of making a point that we were somehow infringing upon their freedoms.
Stokes says that although customers have by and large been supportive of mask mandates, working with the knowledge that an irate, unmasked customer could walk in at any moment has put a toll on employees, over the past eighteen months.
Originally, he commissioned the shirt – designed by Chip Hoppin at The Merch in Carrboro – for staff and family, but soon, customers began requesting them as well. And when Skyler Jay, an employee at the restaurant, posted a picture of the shirt on Twitter, it received thousands of likes and retweets and a flood of online orders.
A website called Toast was the main supplier of the garment, but has run out of stock.
Stokes read about the satanic goings on at his premises, he decided:
It was just a gem that I couldn't pass up. The world must see this and how ridiculous it is.
On Yelp and Google Reviews Luna in Carrboro has a 4,5 star rating, and five stars on Facebook. A host of other review sites rate it highly too.
• Please report any typos/errors to barry@freethinker.co.uk
If you'd like to buy me a cup of coffee – and boy, do I get through a LOT of coffee keeping this site active – please click the link below.
I'd love a cup of coffee