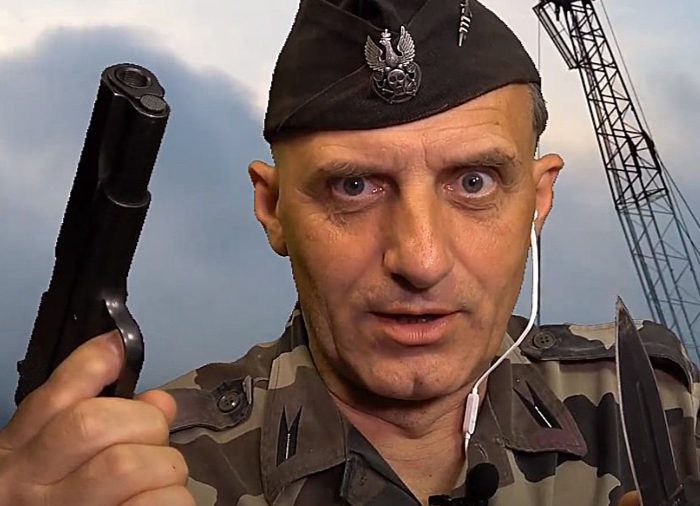 *** Update: Wojciech Olszański and two others have been arrested ***
A RALLY of Polish nationalists in the city of Kalisz cheered and shouted "death to Jews" after Wojciech Olszański, above, torched a book representing a historic pact protecting the rights of Poland's Jews.
Jewish News reports that videos and eyewitness accounts on social media show that Olszański, a far-right extremist and a "film and stage actor and pundit," skewered the red book with what appears to be a spear before pouring flammable liquid on it and setting it alight.
Yahoo! adds that the book immortalizes a 1264 document guaranteeing Jews protection and the right to live in Poland. The statute was signed by Prince Bolesław the Pious and established a formal legal standing between Jews and non-Jews.
An exhibition page from the Museum of the History of Polish Jews explains:
The Statute tackled the issues of authority over the Jewish population and defined rules under which Jews were allowed to engage in lending and trade, as well as norms related to their relations with Christians. The Statute provided for penalties for desecration of a Jewish cemetery or a synagogue. It also contained provisions concerning blood libel directed against Jews.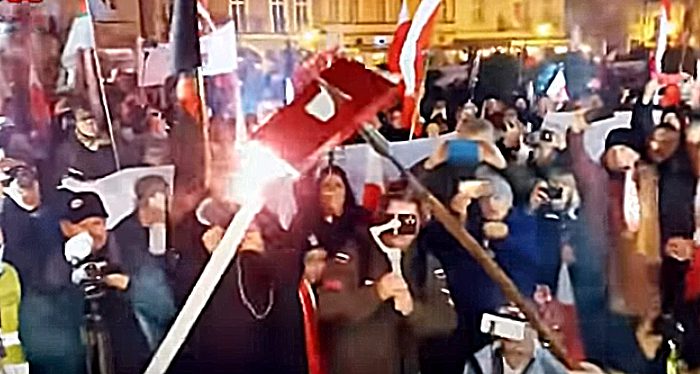 The book-burning last Thursday was part of a series of nationalist events on November 11, Poland's National Independence Day, which is the anniversary of when Poland regained its sovereignty in 1918.
Apart from chanting "death to Jews" some at the rally also shouted "No to Polin, yes to Poland."
"Polin" is both the Hebrew-language name for Poland and the name of the main Jewish museum in Warsaw.
Said Rafal Pankowski, a leader of Poland's Never Again anti-racism group:
This is a scary and symbolically important event. Having monitored antisemitism for more than 25 years, I have never seen anything like that.
He compared the rally to the burning of books in Nazi Germany, including on the Kristallnacht pogroms in 1938. The pogroms' 83rd anniversary took place last Wednesday.
Katharina Von Schnurbein, the European Union coordinator for fighting antisemitism, wrote on Twitter:
These pictures send shivers down the spine.
And Polish politician Karolina Pawliczak tweeted:
Coming to Kalisz to burn the 'Statute of Kalisz amid hateful shouts at the Main Market Square – a testimony to the centuries-old tradition of tolerance and openness, it is like spitting in the face of all Kalisz residents. Where were the city authorities?

• Please report any typos/errors to barry@freethinker.co.uk
If you'd like to buy me a cup of coffee – and boy, do I get through a LOT of coffee keeping this site active – please click the link below.
I'd love a cup of coffee