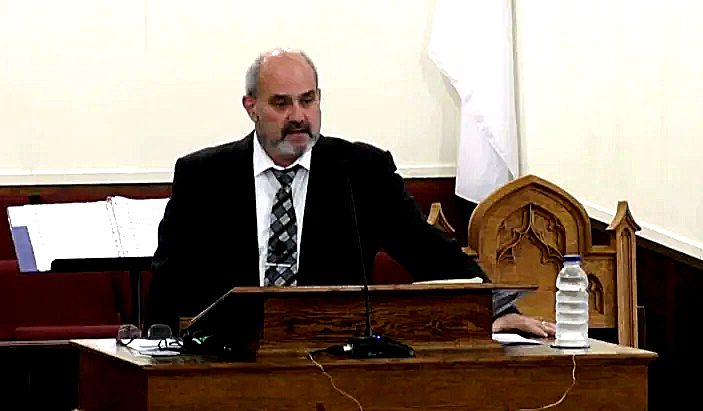 NOVA Scotia pastor Robert Smith, above, described as "unfortunate" the death of three people who participated in a "multi-day" gathering of Christian groups at Gospel Light Baptist Church in Amherst at the end of October.
But hey, at least one person was "saved" declared the pastor in a livestreamed sermon on Sunday. It was posted to the church's Facebook page, then removed. Now the page has been "privatised" and can only be accessed by members.
Public health officials said that more than 100 people attended the event and were not asked to show proof of vaccination — a violation of public health orders.
According to CBC News, Smith, who said in his sermon "I followed what God wanted us to do," and that "we had a great week of meetings … a young lady got saved", added that the deaths were "part of God's plan."
Three people have died in the past week of COVID-19 –one at a group home in Amherst and two at a long-term care home in Pugwash, Nova Scotia – and the province has said those cases trace back to the Gospel Light event.
Authorities said that the spread of Covid-19 in Nova Scotia's northern and western health zones is "primarily associated" with that event. The number of hospitalisations and people in intensive care with COVID-19 has jumped in recent days, prompting Premier Tim Houston to say Monday he was "very upset and concerned."
Smith equated the outcry that followed a spike in infections to "persecution."
Several times throughout his 30-minute sermon, Smith said people are trying to shame his community – and blamed:
Satan trying to drag us down.
Nova Scotia Public Health officials have previously said that about 70 per cent of the religious community that attended last month's event was fully vaccinated, and that the community has been co-operative with contact tracing and testing.
As of Monday, Amherst police had not laid any charges.
When Dr Robert Strang, Nova Scotia's chief medical officer of health, first reported the event and associated spread nearly two weeks ago, he said he planned to reach out to faith leaders across the province to make sure they understood the rules around vaccination and masking.
Brandon Lake, pastor of Amazing Grace Baptist Church in Bridgetown, Nova Scotia., said he and about 20 of his congregants attended Gospel Light's event.
The pastor and the church that organised the event, they did everything that they could have done.
We were operating within the guidelines that were available to the public.
He said Public Health did not make the rules around proof of vaccination requirements clear until after the gathering.
Lake said he thinks faith groups have been unfairly targeted in the media as contributors to the spread of COVID-19. He also disputed the reported number of people who were at the gathering, saying there were never more than 100 people.
Asked about the three deaths that have been linked to the event, Lake said he was aware deaths had been announced, but denied the connection.
I don't think it's fair to say that they're as a result of the faith gathering, but rather they're as a result of more liberty being given to people that are doubly vaccinated who still may be carriers of the virus.
The Standard reports today (Wednesday) that a total of 31 new COVID-19 cases were reported in Nova Scotia
After reporting the deaths of two residents in their 80s on Monday, health officials said one more resident and two additional staff members had tested positive for coronavirus related to ongoing transmission from the faith-based gathering.
A total of 29 residents and ten staff have now tested positive at the home.
While on the subject of Satan and the pandemic, I was amused to learn that, last December, a New Mexico fundraiser for Direct Relief, a group that improves the health and lives of people affected by poverty and emergencies in the USA and throughout the world, caused outrage by inviting people "to sit on Satan's Lap" in exchange for $6.66. Which, naturally, caused faith-heads to break out in a cold sweat.
According to The New York Post, the organisers – the Albuquerque art group, Antlion Entertainment Art Collective – originally intended publicising the event as "Sit on Santa's lap" but decided to go with "Satan" after the typo was spotted.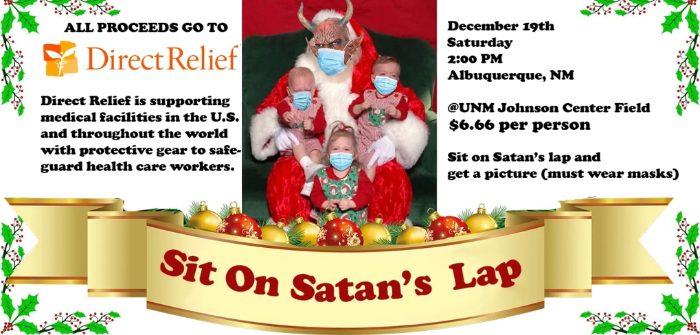 An anonymous artist behind the fundraiser told local news station KRQE:
There was actually a typo, a clerical error and I just kind of rolled with it because everyone needs the money, money is tight right now.
The "Sit on Satan's lap" website said:
While Santa quarantines up in the North Pole leaving us to fend for ourselves, another man in a red suit is stepping up to help!

"Sit on Satan's Lap" is collecting donations for Direct Relief, a group that improves the health and lives of people affected by poverty and emergencies in the USA and throughout the world. Crucially, they provide PPE, like masks, during the Coronavirus.

How many people have been saved by prayer? Zero. How many have been saved by wearing a mask? 130,000!

God: 0.

A little piece of cloth: 130,000.

The numbers don't lie!

Don't put your money in the church collection plate; put it to actual use instead.

Don't send thoughts and pray. Donate $6.66 today!

Come safely sit on Satan's lap, December 19th, 2:00 PM at the UNM Johnson Center field in Albuquerque, New Mexico and tell him what you want for Xmas (from behind a safety barrier while wearing masks), get a picture, and donate $6.66 to a good cause.
• Please report any typos/errors to barry@freethinker.co.uk
If you'd like to buy me a cup of coffee – and boy, do I get through a LOT of coffee keeping this site active – please click the link below.
I'd love a cup of coffee