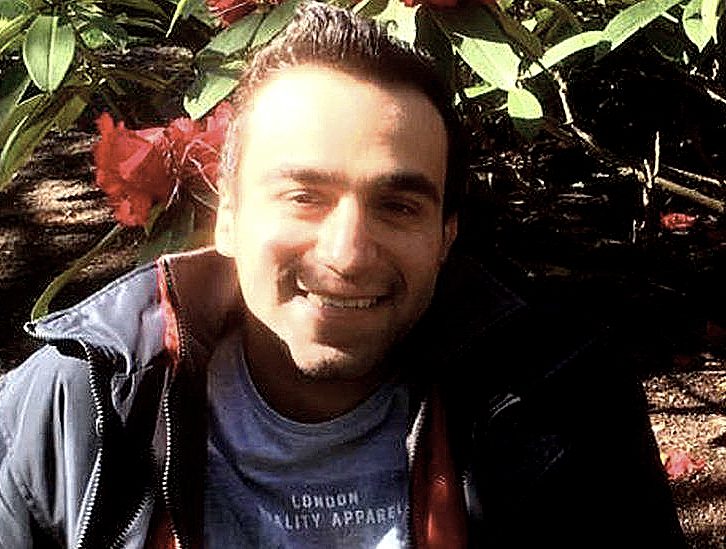 IN an in-depth report today (Wednesday) Nigerian "lifestyle" website Naija Superfans, suggests that the "hopelessly naïveté" of Christians in the UK, anxious to convert Muslims, lay a the heart of the bombing carried out in Liverpool on Sunday by Emad Al Swealmeen, above.
In reporting that Home Secretary Priti Patel accused the Church of England of aiding asylum seekers to "game" the British immigration system by helping hundreds to convert from Islam to Christianity and "pray to stay" in the UK, it said that people smugglers are using social media to urge migrants:
To follow Jesus to gain British citizenship.
Al Swealmeen, 32, who died in the bombing, was baptised and confirmed having apparently spoken "endlessly and passionately about Jesus", but members of the city's largest Anglican church admitted they "lost contact' with him within months of the ceremony. He was one of around 200 asylum seekers to adopt the faith there over a four-year period.
A clergyman at Liverpool Cathedral previously raised concerns about asylum seekers cynically posing as Christians to boost their chances of being awarded refugee status.
Rev Mohammad Eghtedarian admitted in 2016 that "plenty of people" were lying about their intentions after it emerged that the Church of England had christened hundreds of asylum seekers under a scheme dubbed "Pray to stay."
He said:
There are many people abusing the system … I'm not ashamed of saying that. But is it the person's fault or the system's fault? And who are they deceiving? The Home Office, me as a pastor, or God?
MPs are to demand a ­formal Parliamentary probe into whether fake Christian converts are duping the Church of England to avoid being deported back to strict Muslim countries they came from.
Patel said last night that Al Swealmeen, who changed his name to Enzo Almeni "shortly after finding Jesus," exploited the UK's asylum "merry-go-round" while a Home Office source said changing from Islam to Christianity is now"standard practice" among asylum seekers "to game the asylum system."
Pledging to overhaul the asylum system, Home Secretary Patel declared last night:
The case in Liverpool was a complete reflection of how dysfunctional, how broken, the system has been in the past, and why I want to bring changes forward. It's a complete merry-go-round and it's been exploited by a whole professional legal services industry which has based itself on rights of appeal, going to the courts day in day out on legal aid at the expense of the taxpayers.
Naija Superfans said it emerged today that people traffickers have used social media sites such as Instagram to advertise crossings from France to the UK – and urge customers to consider conversion to Christianity to bolster their cases. Because the largest number of UK asylum seekers come from Muslim countries, they can also argue that their new faith would put their lives at risk if they returned to the home country.
One such advert, in Arabic, has a picture of Jesus and says finding God will lead to more successful asylum claims:
In the shortest possible time with the lowest cost.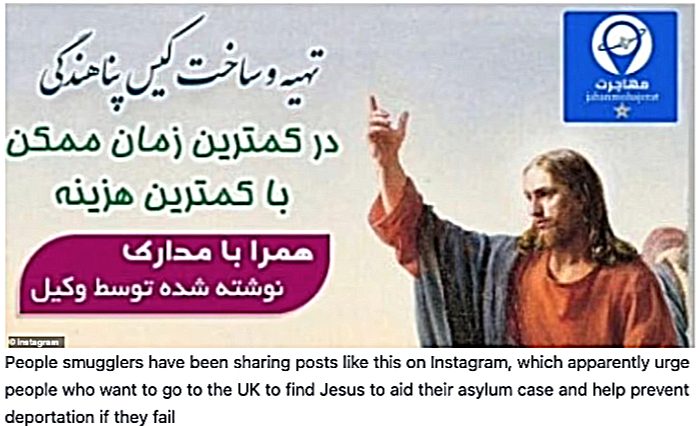 The Home Office has previously said converting to Christianity does not automatically result in a successful asylum claim. The Church of England has said baptism is "open to all" and that it is up to the Government to vet asylum seekers, not them.
But Sam Ashworth-Hayes, of the counter-extremist Henry Jackson Society, said:
We know that people are willing to lie to win asylum up to and including faking religious conversions. This is incentivised by the asylum system, which does not do enough to root out fakes.
Malcolm Hitchcott, who with his wife Elizabeth took in Almeni for almost a year and supported his conversion to Christianity. In this report he described the terrorist as "lovely". He believed Almeni was genuine and would "talk endlessly and passionately about Jesus" and said he and his wife had loved him.
This report adds that the Church of England has denied there's link between their vicars converting Muslim migrants and the systemic abuse of the asylum system. The C of E said in a statement
We're not conscious of any proof to recommend a widespread correlation between conversion to Christianity, or another religion, and abuse of the asylum system.
A spokesman said:
It's not the function of clergy to ascertain the legitimacy of asylum claims and to evaluate safety implications.
I would suggest that a better way for genuine Muslim refugees to gain British citizenship would be renounce Islam, become apostates and join organisations such as the Council of Ex-Muslims of Britain, which does a great job of supporting those brave enough to publicly dump religion and add to the ever-growing number of non-believers in the UK.
• Please report any typos/errors to barry@freethinker.co.uk
If you'd like to buy me a cup of coffee – and boy, do I get through a LOT of coffee keeping this site active – please click the link below.
I'd love a cup of coffee