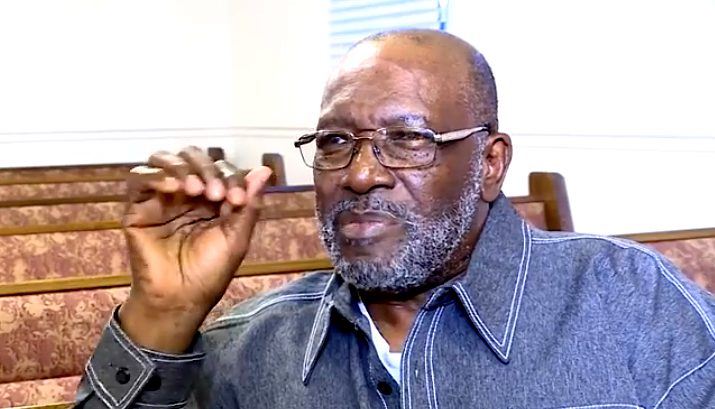 EVERGREEN True House of Prayer pastor Willie Perry, above, told media that he was horrified when he learned that his church's minister of music for the past decade was a convicted rapist who had been on the run 20 years ago.
Perry told WVTM 13 News that he had been "rocked" by the revelation that Larry Albert Flake had been sentence to a total of 25 years in jail after being convicted for sexual misconduct with a minor, and declared an habitual sexual offender in 2001.
The Tri-City Herald reports that Larry Albert Flake, 75, who had changed his name to Reverend Lawrence White, was arrested by police earlier this month, and quoted Perry as saying:
I would say to Rev White I love you, I will pray for you, but I am glad that you have been caught. You won't get the chance to do this anymore.
Perry added that Flake had become "part of this family"  and didn't abuse "any little one in this congregation."
Richmond police said Flake was convicted on August 30, 2001, on charges related to 1999 incident.  A 15-year-old girl accused him of grabbing and raping her after she left her apartment to see some friends.
Court records filed in Wayne County Circuit Court show Flake was charged in January 2000 and his bond was initially set at $100,000. A judge later lowered it to $50,000, and Flake was released on the condition that he have no contact with the victim.
The case went to trial on August 30, 2001, and a jury found him guilty on two counts of sexual misconduct with a minor. The judge declared a mistrial on a third count for rape and set sentencing for a few weeks later. In a docket entry from the same day, the judge upped Flake's bail to $250,000 for failure to appear.
Three weeks later, Flake was sentenced to 10 years in prison on the sexual misconduct charge and an additional 15 years as a habitual offender.
Flake took flight after that and remained hidden until the  FBI field office in Indianapolis received a tip in January.
This report quotes Perry as saying:
It was heartbreaking. I mean, you couldn't imagine the horror of waking up to find that someone had this kind of checkered past. When you're on the run, you limit what people know about you.

• Please report any typos/errors to barry@freethinker.co.uk
If you'd like to buy me a cup of coffee – and boy, do I get through a LOT of coffee keeping this site active – please click the link below.
I'd love a cup of coffee