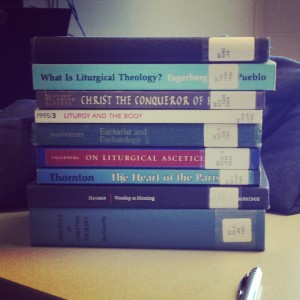 Every week I will share links and resources as a round-up for your weekend reading. The inclusion of a link or article in my posts does not indicate that I am endorsing the material or opinions of the author. This is designed to help keep things on your radar and to start meaningful conversations.
In Case You Missed It…Recent Pieces on "The Liturgical Theologian" 
Stewards of Creation – The call to care for creation.
Baptism is Eucharistic and Eucharist is Baptismal – A response to Billy Kangas' post on Patheos Catholic.
In Celebration of Mark's Gospel – A commemoration on the Feast of St. Mark, the Evangelist.
We Need to Get Jesus Ascended! – A post for the Feast of the Ascension (May 14, 2015)
The Eucharistic Life – A call to discipleship based on the Eucharist.
Rachel Held Evans
Popular blogger and author, Rachel Held Evans, has received a lot of press coverage over the last few weeks after the release of her book Searching For Sunday and her article in the Washington Post about ministering to Millennials. Read the original piece and the subsequent responses here…
Rachel's original piece in the Washington Post about Millennials and church
A blogger's response to Rachel's comments on sacramental theology and church relevancy
Tish Harrison Warren, an Anglican priest, provides insights based on her ministry among college students
Anglican theologian, Michael Bird, has five questions for Rachel Held Evans (she provides answers in the comments section)
Patheos blogger, Peter Enns, adds his thoughts
A dialogue about liturgy and mission in light of Rachel's comments
The Pew Report

The Pew Forum published data recently that shows Christianity on the decline in America (some might argue). As you can imagine, a whole fleet of responses were published immediately. I have included the original and some responses here…
The original article and data from Pew
Patheos blogger, Fr. Dwight Longenecker offers his thoughts
Ross Douthat realistically blogs about the decline of American Christianity
"Christian 'decline' is just Nominals becoming Nones."
General Resources/Blogs You Should Read
"Oblation" the official blog of the Notre Dame Center for Liturgy
"Catholicity and Covenant" is a blog from Northern Ireland authored by a priest whose tone and scope is very similar to "The Liturgical Theologian."
An online resource for Anglican liturgy
Thoughts on theology and worship
Text Week – A resource for preachers or for people listening to lectionary-based sermons.
Miscellaneous Articles
Jesus' holiness v. our moralism
What is Pentecost and why does it matter?
A piece from the Washington Post on religious activism.