By now you've certainly heard that the third season of AMERICAN HORROR STORY is subtitled COVEN and will be set in both Salem, Massachusetts and New Orleans, Louisiana. As last season's ASYLUM was set further back in time than the first season, this third season goes back nearly three hundred years in its quest to fill an hour of primetime with more sex, gore, violence and perversion than we're generally used to seeing.
And I, for one, can't wait.
The first "teaser trailer" has been released, and it makes October 9th seem way too far away…
AHS seems to be the show that its creator Ryan Murphy was born to do: NIP/TUCK, the drama about two plastic surgeons, was edgy, sexy and beautiful to look at, but its near-constant settings in operating rooms, doctor's offices and neat-as-a-pin luxury residences in Miami (and later, Los Angeles) often felt somewhat cold, even with all that blood spurting everywhere. GLEE, of course, was aimed at a younger demographic but some of the absurd humor seen in NIP/TUCK was played up to the point of absurdity and silliness, and because people tended to burst into song and dance numbers at any given time, it all kinda worked.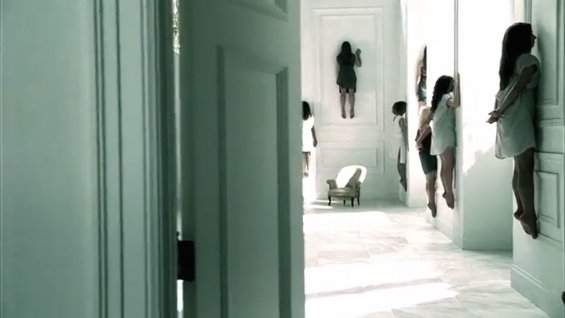 AMERICAN HORROR STORY takes the more extreme elements of NIP/TUCK (violence, sociopathic and psychotic behavior, and plenty of hot sex) with the playful strangeness of GLEE, as well as the effective, artful use of music employed by both shows, but adds some elements neither of them had: a delicious effort to scare its viewers on a supernatural level, and a stunning, often dizzying production design that works on a deep level of suggestion and psychic resonance.
Sometimes the most horrific occurrences of the show are barely hinted at, shown for a fraction of a second, while others are lingered over with excruciating slowness and detail (consider the torture scenes involving the young doctor and the journalist from ASYLUM, or the first season's portrayal of generations of domestic violence in that grand California mansion).
One particularly effective trope has been the use of actors in multiple roles, some of them with story arcs spanning decades, suggesting a haunted connection among inhabitants of these creepy places. Jessica Lange as a protective, murdering suburban mother, and then as a strict but sensuous nun, allows this world class actress to really show her stuff, and to be able to see such great performances on television is a real treat. This third season will add additional fine actresses like Angela Bassett (as Salem's Tituba, perhaps?) and Kathy Bates.
And now: witches!!!
The preview images are erotic, even lurid, and hint at a powerfully-conceived story ahead. I have a feeling that, visually at least, this will be unlike any portrayal of the North American witch trials ever created for the screen. The tendency for television to become more and more cinematic signals an exciting time ahead for supernatural and horror-based storytelling.
Like I said: I can't wait.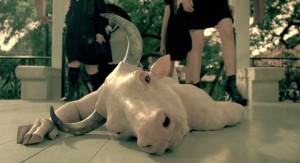 (Images provided by the Hollywood Reporter website)
---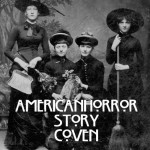 For more on American Horror Story: COVEN from Patheos writers, check out the show's topic page on the Patheos Entertainment channel.