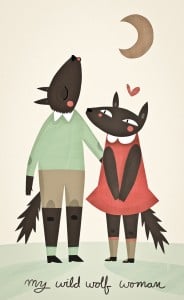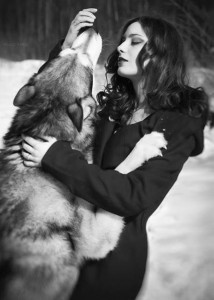 Well, it's that time of year again. Flowers, chocolates, champagne, seafood dinners, naughty lingerie (only two of those have actual aphrodisiac effects, by the way). It even falls on a Saturday this year, meaning lots of crowded restaurants (and possibly crowded theaters showing the newest Movie Everyone is Excited About and Outraged Over). If you're single, you may be ready to grab a six-pack, fire up Netflix and call it a weekend.
But hard on the heels of Valentine's Day,the following day in fact, is the ancient Roman festival of Lupercalia, which some pagans find resonates with them. It has an interesting history, which I have mentioned before (although I was dubious about the connections at first), as it seems a good idea to blog about it each year (because Valentine's Day attracts so much attention).
February 15th is also, by the way, the day when all the VD candy is half price–coincidence? Clearly we are meant to celebrate this illustrious holiday with abandon!
Linked above, Yvonne Aburrow discusses the symbology of the wolf as being central to Lupercalia. The figure of the wolf is one that permeates paganism, a complex figure that many choose as a totem animal or symbol of their path. The lone wolf, the wolf who travels in a pack, the wolf who is protective but vicious when cornered, the wolf who howls at the moon, the wolf who is hunted and misunderstood, the wolf who is noble but endangered.
The werewolf is also a symbolic figure we tend to enjoy ad identify with. My friend Hannah Sanders has a new album out with a gorgeous rendition of the song "The Werewolf" (inspired by a haunting version I first shared with her, recorded by the English folksinger Barry Dransfield in the 1960s).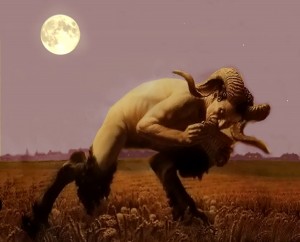 Aburrow (really, it's a great article, go read it!) also points out the month's name comes from "Februa" which refers to materials or tools used for cleansing. Purification is a ritual theme related to this, and my own coven's rite for Imbolc is called "The Feast of Februa" and invokes Pan as an agent of purification. Aburrow's list of themes associated with Lupercalia include the celebration of consensual kink. Some covens enact a ritual scourging at this time (with very, very soft leather, of course), which fits right in with that kinky movie mentioned earlier.
How will you celebrate? With romance of a mainstream variety (chocolate, roses, Barry White, maybe a late screening of Fifty Shades of Grey?–there I said it), or something earthier, darker? Aphrodite or Pan? Or maybe they can hang out together this year. I bet we can all agree on what movie to watch.
As always, please keep comments civil and constructive. 🙂