"I no longer want to see others as humans. I want to learn to see others as brothers, sisters, mothers, & fathers." – Rabbi Shaul David Judelman
A few months ago I traveled to the Holy Land with The Global Immersion Project to learn about peacemaking [side note: you should join in the great work that TGIP is up to… seriously!!!!]. We immersed into the stories of Jews and Arabs alike – learning from peace-seekers who defy the "rules" of their inherited cultural narratives. These grassroots revolutionaries inspire hope and provoke change.
In the last several weeks, many stories coming out of Israel/Palestine bring forth the frustration of the situation. The murders of teens (on both sides) and the uprooting of legally owned trees at Tent of Nations remind us of the real pain people are facing. This isn't a mere "issue;" Israel/Palestine is a human reality.
On the front end of our time in the Holy Land, we explored the Holocaust and the horrors that faced the Jewish people during WWII. Immediately following the heavy-hearted experience of Yad Vashem (World Center for Holocaust Research – Jerusalem), we were met by Rabbi Shaul Judelman. He is young, articulate, and engaging. His swagger reminds me of someone I've heard speak about justice and reconciliation in the past: Shane Claiborne.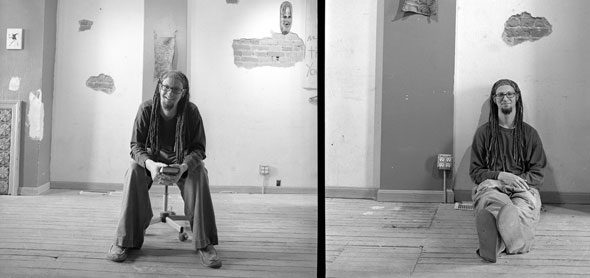 Not only did they have a similar demeanor and style of dress, but they had a deeper connection: hope. In their own unique way, both of these men are cultivators of hope and peace. They both break stereotypes and the common mold about what is "acceptable" practice. What Shane Claiborne has done for many in the American church by inviting us into self-giving love, Rabbi Shaul has a similar message for his Jewish sisters and brothers.
In fact, Rabbi Shaul studied under the late great Rabbi Menachem Froman who taught that peaceful existence is possible in the Holy Land between Jews and Arabs. He went as far as teaching that, as one article puts it, that "religion and the love of the land could bring together Jews and Muslims instead of dividing them."
With this same vision of reconciliation comes the disciple – and now Rabbi – Shaul. He is an advocate for a holistic view of Judaism and its connection to the land as environment. He believes peace is possible. And he's a settler. Yep, that's right. He is a settler in the West Bank. He's one of those people you hear about being "radical" in all the wrong ways. He occupies a small spot in the West Bank with a vision for being a cultivator of good between Palestinians and Israelis.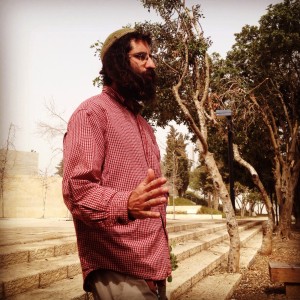 He has created a shared project with his Palestinian sisters and brothers: an organic farm. He partners with his dear friend Ziad Abed Sabateen, a Palestinian farmer. Heavens Field Farm creates a shared space for cultivation between Palestinians and Israeli settlers and will focus "emphasis on belonging to the land, not ownership of it" (CS Monitor). The proceeds of which will help families in need as well as building relationships between two groups that have, in recent history, struggled to coexist. The idea behind the name, Heavens Field, is telling: "so named because we envision this land being a place where heaven and earth "meet" … a place of dialogue, reconciliation, community, harmony, and peace between the different peoples of the Holy Land."
This is just one of many things that Shaul shared with us! He also spoke of active peacemaking through a story, recorded here by an article:
"A few months ago, a Molotov cocktail was thrown at a Palestinian taxi; the client was burned very badly," Judelman recalls, one hand clasping the zizit (knotted fringes) of his tallit (prayer shawl), the other curling hispeyots (sidelocks), all symbols of his status as an ultra-Orthodox Hasidic Jew.

"Afterwards, I went with my wife to visit them. It's like God's design that there would be a news camera while we were there. They've shown a clip of me praying with the brother, one of the kids. When people in Bat Ayin saw that, they're like, 'What are you doing? You're claiming the guilt….'

"But at the same time a lot of people also came forward and said, 'Shaul, right on that you went there. It was such a good thing to do.' Some said they also wanted to go to the hospital. So, even within the [Israeli] settlement, you have lots of different voices."
When he shared that story, I remember feeling a deep sense of hope. Not only is there hope for the Israeli/Palestinian conflict, but there's hope for humanity. We can cross boundaries and engage in radical love.
This applies in the hostile context of the Holy Land, just like it does you your city or neighborhood. Conflict and injustice are all around us, if we have the eyes to see it. Rabbi Shaul Judelman, like one of his Christian counterparts, Shane Claiborne, models the possibility that a better world is possible. Conflict may be normal, but peace confounds! So let's confound our world by learning from this Rabbi that we can reach into unlikely places and love our neighbors as ourselves.