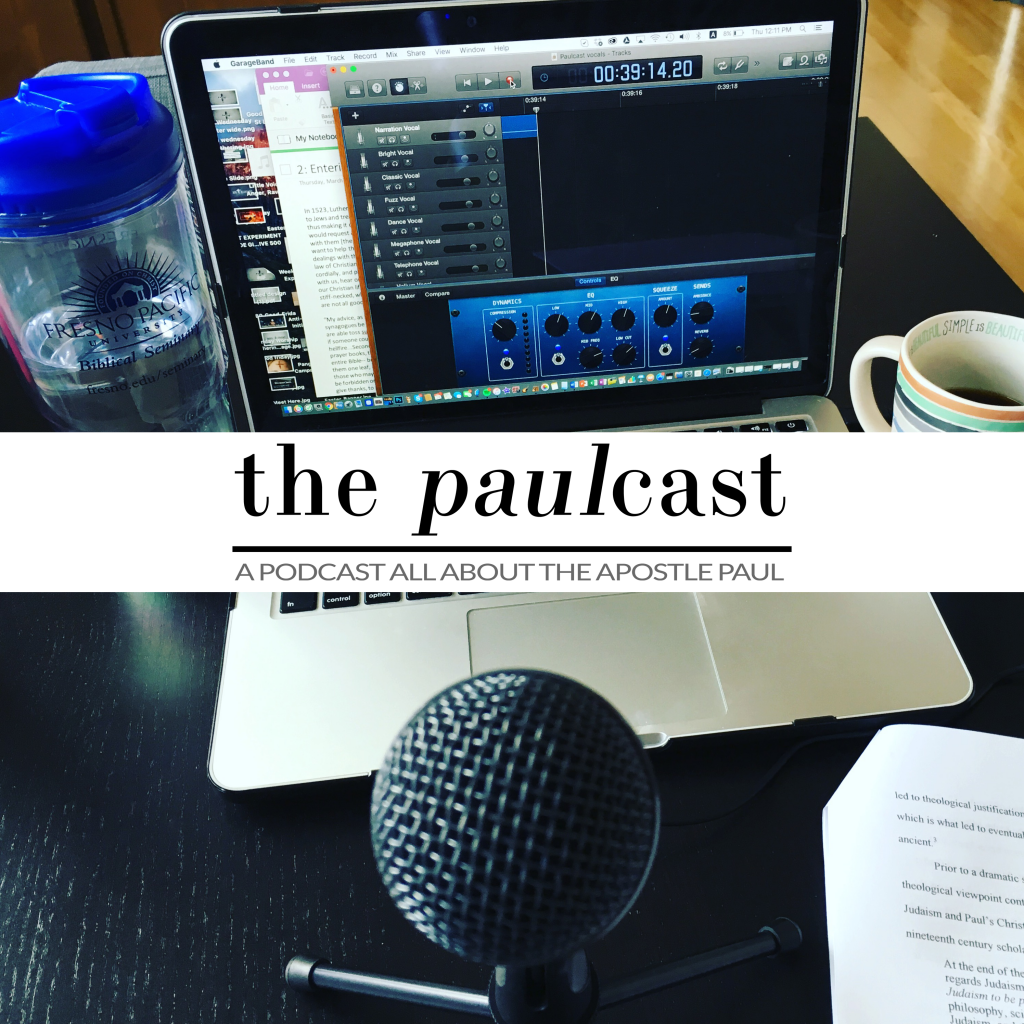 It has been a long time since I've been on the blog. Way. Too. Long.
As some of you know, I've been steeped knee deep in it: grad school, a great church start-up, and my awesome family. All wonderful things–but I've had to put some creative extracurriculars on hold.
But now it is time to re-engage with my online friends who have cheered me on over the years. So…
I
…
started
…
a
…
PODCAST!
The Paulcast: A Podcast All About the Apostle Paul is my latest project.
Here's the deal: in order to create the sort of momentum a project like this needs, I need your help.
This is a shameless plug.
But I want to make it worth it for you. So… I'm hosting a book giveaway!
I'm giving away 10 different books to 10 different winners, who will be chosen randomly this coming Saturday morning. I will list the books below.
In order to both help me out and enter my little contest, here's what you need to do (this is on the honor system, so I'm giving you all my trust 😉 )–
Subscribe to The Paulcast via iTunes. (Sorry if you don't use iTunes. But please do subscribe via Feedburner)
Leave a quick review (5 stars is preferred!) on iTunes for The Paulcast. This helps iTunes notice us! (Find the podcast in the iTunes store via the above link or by searching the word, "Paulcast." Then, click on the "reviews" tab and click the link that says).
Share this blog post link on Facebook with a brief "status update" inviting others to enter this blog contest and subscribe to the podcast!
Comment on this blog post (not on the FB thread) indicating that you you have done the above 3 steps. Leave me an email address or other contact info so I can find you if you happen to be a randomly chosen winner. Also, make sure you pick your favorite book from the list to let me know which one you'd prefer.
***CONTEST IS OFFICIALLY OVER! BUT PLEASE DO SPREAD THE WORD ABOUT THIS PODCAST!!!!!****
Well, thanks for reading and please leave me feedback about The Paulcast!
Books I'm Giving Away (all about Paul!)