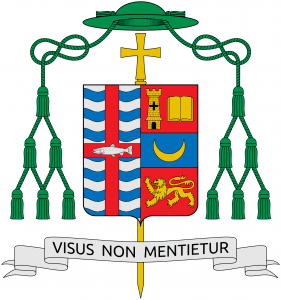 Bishop Robert Morlino of Madison posted a letter today which is a nice start of a response to McCarrick and the Pennsylvania Grand Jury report. The word "sin" or its variations appear 46 times in the letter. You can read it all in the Catholic Herald (diocesan paper).
"I Am Tired of Sin"
Morlino begins forcefully expressing his personal outrage at the situation.
For my part — and I know I am not alone — I am tired of this. I am tired of people being hurt, gravely hurt! I am tired of the obfuscation of truth. I am tired of sin. And, as one who has tried — despite my many imperfections — to lay down my life for Christ and His Church, I am tired of the regular violation of sacred duties by those entrusted with immense responsibility from the Lord for the care of His people.

The stories being brought into light and displayed in gruesome detail with regard to some priests, religious, and now even those in places of highest leadership, are sickening. Hearing even one of these stories is, quite literally, enough to make someone sick. But my own sickness at the stories is quickly put into perspective when I recall the fact that many individuals have lived through them for years. For them, these are not stories, they are indeed realities. To them I turn and say, again, I am sorry for what you have suffered and what you continue to suffer in your mind and in your heart.
"The Depravity of Sinners within the Church"
He goes deep into the depravity of the situation both the sexual abuse and the cover-up of that abuse:
There is nothing about these stories that is okay. These actions, committed by more than a few, can only be classified as evil, evil that cries out for justice and sin that must be cast out from our Church.

Faced with stories of the depravity of sinners within the Church, I have been tempted to despair. And why? The reality of sin — even sin in the Church — is nothing new. We are a Church made of sinners, but we are sinners called to sanctity. So what is new? What is new is the seeming acceptance of sin by some in the Church, and the apparent efforts to cover over sin by them and others. Unless and until we take seriously our call to sanctity, we, as an institution and as individuals, will continue to suffer the "wages of sin."

For too long we have diminished the reality of sin — we have refused to call a sin a sin — and we have excused sin in the name of a mistaken notion of mercy. In our efforts to be open to the world we have become all too willing to abandon the Way, the Truth, and the Life. In order to avoid causing offense we offer to ourselves and to others niceties and human consolation.

Why do we do this? Is it out of an earnest desire to display a misguided sense of being "pastoral?" Have we covered over the truth out of fear? Are we afraid of being disliked by people in this world? Or are we afraid of being called hypocrites because we are not striving tirelessly for holiness in our own lives?

Perhaps these are the reasons, but perhaps it is more or less complex than this. In the end, the excuses do not matter. We must be done with sin. It must be rooted out and again considered unacceptable. Love sinners? Yes. Accept true repentance? Yes. But do not say sin is okay. And do not pretend that grave violations of office and of trust come without grave, lasting consequences.

For the Church, the crisis we face is not limited to the McCarrick affair, or the Pennsylvania Grand Jury Report, or anything else that may come. The deeper crisis that must be addressed is the license for sin to have a home in individuals at every level of the Church. There is a certain comfort level with sin that has come to pervade our teaching, our preaching, our decision making, and our very way of living.
"There Must Be No Refuge for Sin"
He then goes on to have an action plan beginning with each of us.
There must be no room left, no refuge for sin — either within our own lives, or within the lives of our communities. To be a refuge for sinners (which we should be), the Church must be a place where sinners can turn to be reconciled. In this I speak of all sin. But to be clear, in the specific situations at hand, we are talking about deviant sexual — almost exclusively homosexual — acts by clerics. We're also talking about homosexual propositions and abuses against seminarians and young priests by powerful priests, bishops, and cardinals. We are talking about acts and actions which are not only in violation of the sacred promises made by some, in short, sacrilege, but also are in violation of the natural moral law for all. To call it anything else would be deceitful and would only ignore the problem further.
"The Problems Are Both and They Are More"
He reiterates that the problem is sin, and we should fight all sin. Some sins like homosexuality are now culturally acceptable, but they are still sins. we Christians and priests must avoid them just like sins which are crimes.
There has been a great deal of effort to keep separate acts which fall under the category of now-culturally-acceptable acts of homosexuality from the publically-deplorable acts of pedophilia. That is to say, until recently the problems of the Church have been painted purely as problems of pedophilia — this despite clear evidence to the contrary. It is time to be honest that the problems are both and they are more. To fall into the trap of parsing problems according to what society might find acceptable or unacceptable is ignoring the fact that the Church has never held ANY of it to be acceptable — neither the abuse of children, nor any use of one's sexuality outside of the marital relationship, nor the sin of sodomy, nor the entering of clerics into intimate sexual relationships at all, nor the abuse and coercion by those with authority.
"There Is a Homosexual Subculture"
Then he dives right into one of the most controversial issues. The estimates of how many priests are sexually active homosexuals always astonish me. In 2005, the Vatican decreed, "The Church, while profoundly respecting the persons in question, cannot admit to the seminary or to holy orders those who practice homosexuality, present deep-seated homosexual tendencies or support the so-called 'gay culture.'"
It is time to admit that there is a homosexual subculture […] that is wreaking great devastation in the vineyard of the Lord. The Church's teaching is clear that the homosexual inclination is not in itself sinful, but it is intrinsically disordered in a way that renders any man stably afflicted by it unfit to be a priest. And the decision to act upon this disordered inclination is a sin so grave that it cries out to heaven for vengeance, especially when it involves preying upon the young or the vulnerable. Such wickedness should be hated with a perfect hatred. Christian charity itself demands that we should hate wickedness just as we love goodness. But while hating the sin, we must never hate the sinner, who is called to conversion, penance, and renewed communion with Christ and His Church, through His inexhaustible mercy.
"We Are Called to Go Forward in Faith"
Morlino Finishes with a sense of hope. We know the link between mercy and justice: that they are two sides of God's magnificence. This bishop offers a short meditation.
At the same time, however, the love and mercy which we are called to have even for the worst of sinners does not exclude holding them accountable for their actions through a punishment proportionate to the gravity of their offense. In fact, a just punishment is an important work of love and mercy, because, while it serves primarily as retribution for the offense committed, it also offers the guilty party an opportunity to make expiation for his sin in this life (if he willingly accepts his punishment), thus sparing him worse punishment in the life to come. Motivated, therefore, by love and concern for souls, I stand with those calling for justice to be done upon the guilty.

The sins and crimes of McCarrick, and of far too many others in the Church, bring suspicion and mistrust upon many good and virtuous priests, bishops, and cardinals, and suspicion and mistrust upon many great and respectable seminaries and so many holy and faithful seminarians. The result of the first instance of mistrust harms the Church and the very good work we do in Christ's name. It causes others to sin in their thoughts, words, and deeds — which is the very definition of scandal. And the second mistrust harms the future of the Church, since our future priests are at stake.

I said that I was tempted to despair in light of all of this. However, that temptation quickly passed, thanks be to God. No matter how large the problem, we know that we are called to go forward in faith, to rely upon God's promises to us, and to work hard to make every bit of difference we can, within our spheres of influence.
His last line is: "As for me and my household, we will serve the Lord."
If you want to read the rest, follow this link.