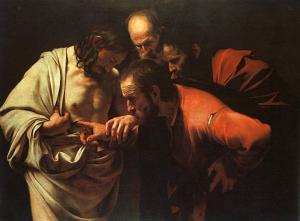 This Sunday we read the story often called "Doubting Thomas," even though I bet most of the others would have been just as incredulous as he was. In this story, Jesus comes to Thomas and enters into his messy life. We can often have an over-idealized vision of Jesus' appearances after the resurrection. However, the reality is messier than most artwork. Jesus lives in our messy lives, not is some idealized state.
As we celebrate Divine Mercy Sunday (readings), I offer my last in my series of April Homilies for Homiletic & Pastoral Review.
I don't know how many of you have ever seen a painting called The Incredulity of Thomas, painted by Caravaggio. Often, when we think of the Resurrection, we think of a perfectly manicured lawn with everything sitting perfectly. Then, we imagine the upper room where the apostles hid as some kind of idyllic setting with wide windows looking down on Jerusalem.

[Reality is Messy, & Jesus Enters It]

Caravaggio breaks these notions. In this painting we see Jesus pulling aside his cloak while the dirty hand of Thomas reaches inside. The apostles don't look like these idealized figures, but like the tough fishermen Caravaggio used as models. This is a more realistic image than we often have. It wasn't that Jesus rose in some idealized world, but he rose in the midst of our difficult and messy lives. The room was probably pretty barren, as they were hiding out, wondering if the Sanhedrin would get them next and crucify them.

As Jesus entered the messy world, he enters our messy lives. Today's readings each tell us something about accepting him in. The second reading shows how Jesus comes even when we are down. The Gospel tells us that it is a personal relationship. The first reading tells us how Jesus heals us. Finally, the Psalm tells us how to respond.

In the second reading, John seems completely abandoned. He's alone and imprisoned on the island of Patmos; imprisoned for proclaiming Jesus's name. He feels despair. All seems lost. It is like the darkest moments we've had. Nothing seems to work. Then, John says, "I was caught up in spirit on the Lord's day. . . . When I caught sight of him, I fell down at his feet as though dead." It was a powerful revelation of the risen Lord to him. He was not alone. God did not abandon him in his moment of need.

[Our Response when Life Is Messy]

Do we turn to God in our need? In our messiness? God wants to be with us in these most difficult moments. We might not be "caught up in the spirit," but we will be helped along the path.

Then we move to the Gospel. Our society might consider Jesus some shadowy figure or ghost, but he is a person. Not only that, he wants a personal relationship with each of his followers. Thomas was not there the first time. Maybe he was afraid, or maybe he was the opposite, out running errands for the rest hiding inside — whichever way it was, he wasn't there and has trouble believing the wonderful news. The next time Jesus comes, he doesn't chide Thomas, but he doesn't ignore him either. Jesus looks at Thomas and invites him to take up his doubts. He responds exactly to what Thomas wanted. Jesus wants to respond specifically to our messy situations. When we have our doubts or troubles, Jesus wants to come there and heal us.

Moving on to the first reading, we see how Jesus does that. He heals us. As Peter would walk by the crowds coming close to him after the Resurrection, the people would be healed. Likewise, in our lives, when we get close to Jesus, especially after his resurrection, he can heal us of so many spiritual ailments. He may or may not heal us of physical ailments, but definitely of the spiritual ones. So often these spiritual ailments are what cause the real messes in our lives.

Finally, after Jesus has come into our lives and helped us be cured of spiritual sicknesses, what do we have? We have today's psalm where we repeated two lines: "Give thanks to the Lord for he is good, his love is everlasting," and "His mercy endures forever." When we see how much God does in our lives, that should be our reaction. Thanksgiving is the proper response to a God who comes into the messiness of our lives and cures us. A God who raises us up to be with him. Let's prepare for the final day where we too will be raised up with him in glory.
If you missed any of my April homilies, they are all on the H&PR website.
Please help me out if you can.
Become a Patron!