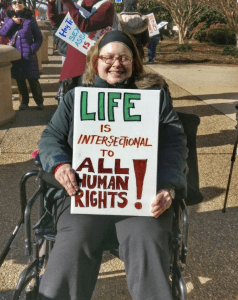 I wrote up on why the pro-life and disability rights movements should work together as I think that there are common principles. Today, it was published in America.
When I read about disability rights advocates who accept or silently condone abortion, or when I look at pro-life materials and find almost nothing on the disabled, I cringe. Both disability rights and pro-life groups adhere to the same basic principle—that humans have inherent dignity based on who they are, not what they can do—yet they too often disagree.

The two groups should be wayfarers on a common path. I say this not only because of their common principles but also based on my own experience. A few years ago I was diagnosed with autism while in my 30s, finally understanding why I had struggled in certain areas. Reading up on the topic, I realized that one challenge for adults with autism is overcoming discrimination. Autistics are thus part of the disability rights community, working to protect their rights under the Americans with Disabilities Act.

But abortion (and even euthanasia) is becoming more targeted toward the disabled. And this is the greatest way the disabled can be discriminated against. Killing someone due to a disability is akin to participating in an attempt to erase the disabled community. Not only is this far worse than, say, refusing to build a wheelchair ramp or to provide signage for the sight-impaired, it works toward removing the disabled community from society's consciousness and thus makes it more difficult to build support for disabled rights.
You can read the rest over there.