Fr. Harrison Ayre and Michael Heinlein just released Finding Christ in the Crisis. It's a short book reflecting on the current COVID crisis with lockdowns, etc. It is a good simple reflection thinking about how we – individually and communally – can profit from this situation. This is not a collection of one-liners that work as pull-quotes but a more thoughtful reflection.
They take the pandemic seriously but without hysteria. Their book can be divided into three topics: general reflections, personal reflections, and institutional reflections. The book is brief – only about 100 pages – so easy to read in an evening.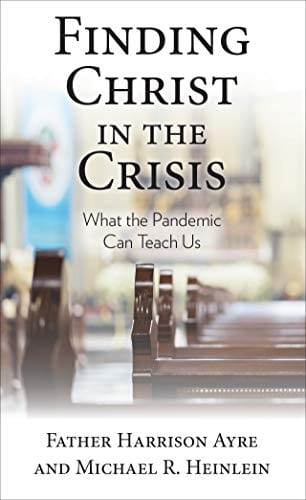 Reflections on the Pandemic
They start out noting, "In order to hear God in this moment, we must seek him as the Truth and approach the facts surrounding the pandemic with humility." (10-11) I think humility is one of the things most missing from many discussions of the pandemic.
They continue this humble attitude later. They explain, "We can be assured that the Church was right to proceed with caution amid the coronavirus pandemic. Given how little we knew about the virus early on in the outbreak, it was both prudent and consistent with protecting the common good, which is always a principal aim in the Church's decision-making process." (29-30)
Ayre and Heinlein suggest we use every opportunity God presents us with. They state: "Taking advantage of the opportunities presented by the coronavirus pandemic, we can welcome and allow to take root the new life God is always offering us." (48-49)
The final general point they make is "the elderly have found themselves cut off from care and seen as expendable." (58-59) Nobody is expendable, but each is beloved in God's sight.
Reflections for Holiness
Sacraments
They admit that the lack of sacramental life is tough. But, they want to use this as an opportunity for growth in holiness: "While we lament the loss of the sacramental life, perhaps God is taking away the things that give us life and identity as a means to call us to conversion. This is not to say, of course, that God directly brought about the virus. Rather, God can and will use this historical event… to purify the Church and bring us closer to his heart." (25) Seeking to grow no matter the circumstances is a sign of spiritual maturity.
Ayre and Heinlein note the importance of presenting info in line with Church teaching when looking to return to normalcy. They note: "While the Eucharist is the source and summit of our faith, we need to be careful about how we express that. If we are unable to receive the Eucharist… through no fault of our own, such as amid a pandemic, we are not cut off from God's grace." (36-37) Instead, they hope that such an absence of this ordinary means of grace will lead us to a deeper faith in and love for the Eucharist.
Prayer and Sacrifice
They lead us to ask deep spiritual questions now. One example: "Could the Lord be inviting us through this present moment to renew our commitment to him through the cross?" (56) With the cross, Jesus makes suffering no longer meaningless but helps us find meaning for our crosses in him.
However, they note the pandemic can cause certain spiritual maladies to be more likely such as spiritual narcissism and acedia. The former forgets that our prayer isn't just for us but should help others either directly or through our service. Acedia is a kind of spiritual sloth that can creep in easier when time is all out of proportion like during this pandemic.
Finally, they hope, "One final fruit that can arise in this time of pandemic is a greater understanding of and reliance on the centrality of personal prayer." (74) Times of struggle like this are often great times to grow in holiness.
Reflections for Ministry
Ayre and Heinlein don't ignore real threats the Church needs to look at during the pandemic and after. Ministry is more difficult now. They note, "there is the real likelihood that some of the people who were unable, or who chose not, to come to Mass during the pandemic might never return in person. The pandemic undoubtedly will lead to a high degree of disengagement in ecclesial life, and those negative effects will outlast any threats to our physical health." (42-43)
However, they want it not just to be a reinvestment in the same ministerial systems designed for prior situations. They ask, "Could the deleterious effects of the pandemic be an opportunity to reconsider our current approach to ministry? Do we need the massive institutional structures we now support? Is there a way our resources can be repurposed so that we can move away from maintaining an outdated structure and get on with doing the work of the Gospel in ways that support the Church's mission more effectively? And how does a renewed and reinvigorated understanding of baptism play into this?" (44)
If we look at a lot of the places where we see a lot of vibrancy in the Church in recent years like this. Lay movements have reinvigorated the laity, reminding them of their baptismal commitment. In Regnum Christi, we specifically speak of the baptismal call of every Christian to be an apostle.
Each location will need to pray and reflect on better ways to allocate resources. There is no one-size-fits-all solution. However, we need to look at what will transform people into apostles / missionary disciples. Another factor in determining where to invest resources has to with the different spiritual gifts each person has (Cf. 1 Corinthians 12: 4–6).
Conclusion
Don't expect too many fireworks in this book. As I noted above, it is reflective not a collection of pull-quotes. I give this book four and a half stars out of five. It has valuable reflections on the situation we find ourselves in. They should help a large spectrum of people, from a Sunday Mass regular up to a bishop. Hopefully, we can all make good use of this time to grow in prayer and come out of the pandemic strong with ministries that really transform people's lives.
Notes:
I was given a free review copy of this book.
I rely on donations for my writing. Please support me on Patreon.